.
.
The future for spa and wellness travel post-COVID may seem a bit unclear now with so many new regulations, that some might worry we won't enjoy the experience as we once did.
So why are many hospitality property owners optimistic?
Welcome to another edition of Hospitality Property School.
I am your instructor, Gerry MacPherson.
.
.
No matter how you look at it, the last year and a half have been stressful—from worries about catching the virus to job stress and all the other problems in the world around us. Through all of this, not everyone has taken the time to focus on themselves and their own wellness. As COVID-19 has caused so many changes in the world, it has also affected how people look at health and wellness going forward.
.
So, what can hospitality properties do? I'm going to give you spa and wellness travel options to consider.
.
1. Increased cleanliness procedures
Spas have to adopt new cleanliness methods every day. While sanitation has always been a priority, it's clear that constant sanitization and disinfection will have to increase. As properties reopen their spas we can expect staff to take on extra responsibilities when it comes to cleanliness. These steps not only protect customers but also help employees stay safe as they return to work.
.
.
2. Outdoor facilities will become more popular
People will focus on outdoor activity more since many are tired of the stay-at-home restrictions. For the foreseeable future, their focus will be more on getting outside, where they feel safer and more socially distant as the impact of COVID still remains a problem in congested areas. The ability to be in a location where there is access to top-quality facilities to help reset their mind and body, yet isolated from crowds, will be in great demand.
.
Hospitality properties can enhance their onsite offerings with engagement activities like biking, hiking and outdoor fitness classes.
3. Smaller guest experiences
The spa experience may become more personal. That's why some spas may take a more personal approach, as they'll want to reopen methodically. They may only accept a few customers at a time so that it's easier to social distance. This method could be a two-for-one for spas and customers since an exclusive experience often makes people want to visit more.
.
.
4.

Air purification
Customers are interested in new filter technologies capable of capturing and destroying particles and will expect hospitality properties to add filtration systems to rooms, common areas, restaurants, fitness centers and spas. These air filtration upgrades can be listed as an amenity to entice customers.
.
.
5. Mental wellness
Mental wellness is finally getting the attention it deserves, and many properties be including apps offering micro-sessions or mini-mental breaks through guided meditations. You'll now see more devices with built-in alerts to remind guests to stop and breathe when it measures the heart rate is up, identify habits and help track progress toward reducing stress and being healthier.
.
More holistic classes will be offered that connect the body and mind to strengthen total well-being.
.
Hotels and resorts can help promote mental well-being with wellness packages that combine facility assets for full- or multi-day retreats or with in-room evening audio meditation sequences.
.
.
6. More science-backed evidence
Guests want more and more information about how health-focused remedies benefit them. COVID-19 has pushed us to become more conscious about what we do for our bodies. This urge may translate to spas directly, especially when you consider the treatments they provide. This is not to say that spas haven't provided evidence to their customers in the past, it's that they'll need to ensure that each experience has the data to back up its claims.
.
It's all about transparency from the business itself. If your experiences can help your guests lead fuller, healthier lives, you'll want to make their benefits clear.
.
Do these make sense?
Let me know in the comments.
.
7. Virtual training
For almost two years, with fitness centers only opened in a limited capacity—or not at all—many trainers have turned to virtual classes. Health-conscious consumers shifted workouts from the gym to home and this preference for home workouts is accelerating the hotel in-room fitness trend.
.
Post-COVID, many travellers will want in-room hotel fitness and virtual options to eliminate worry about being in a communal workout facility during their stay. In addition, the convenience of on-demand programming has solved the challenge of meeting scheduled classes or finding a trainer while travelling. Hospitality properties are keeping pace with this trend by offering in-room fitness experiences.
.
.
8. Circadian health
People are looking beyond the mere number of hours of sleep they get to better understand their quality of rest. Research has shown how a person's internal clock or circadian rhythms, impact health.
.
Circadian rhythms are influenced by environmental factors, number one being light, and there will be devices that will flood the market that filter out blue light from screens on tablets, phones and computers, which interfere most with sleep.
.
The hospitality industry is working to combat these natural cadences by providing sleep coaches, circadian lighting, apps to fight jet lag and circadian dietary options. As we look into the future, the manner in which we respond to our circadian rhythms will only become more prominent in our understanding of how it contributes to modern-day wellness.
.
If you are a member of the Hospitality Property School Group, as a bonus, I am going to share with you four more health and wellness travel options you could consider for your property.
.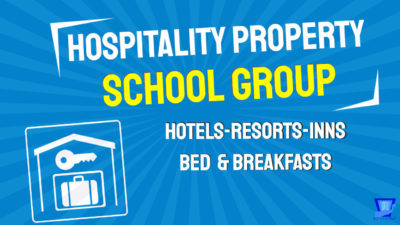 .
.
If you are a member of the Hospitality Property School Group, as a bonus, I am going to share with you four more health and wellness travel options you could consider for your property.
.
.
In conclusion
It may take a little while for spas and wellness travel to find their stride, but they will be able to overcome the barriers that COVID-19 has created and some of the trends introduced during and post-pandemic will be here to stay. With a little thought and a few tweaks, you to can take advantage as we navigate this new reality.
.
Do you currently or are planning to offer spa and wellness travel options at your hospitality property?
Let me know in the comments.
.
You will have access to this episode for the next six weeks and then it's locked in the vault for Hospitality Property School Group members only.
.
To see all the other valuable material you'd have access to as a member of the Hospitality Property School Group, check out the short video in the episode post-show notes.
.
.

.
.
In the next episode, I will talk about the future of hospitality property technology.
.
.
That's it for today's episode,
Until next time, have a fun day.
.
Are you getting your weekly INNsider Tips? You can find the link in the show notes.
.
⇒ TO READ OR LISTEN TO THIS EPISODE ON KEYSTONE HOSPITALITY PROPERTY DEVELOPMENT:
https://keystonehpd.com/a-food-and-beverage-strategy-for-success-post-covid-265
.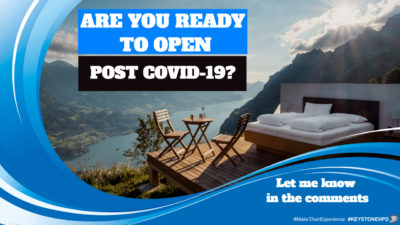 .
.
Post COVID-19 Action Plan
KeystoneHPD.com/PostCovid19ActionPlan 
.
.
.
Get Your INNsider Tips
.
.
Join one of your private groups
https://keystonehpd.com/private-groups
.
.
Say hi on social
Facebook: https://www.facebook.com/KeystoneHPD
.
Twitter: https://twitter.com/KeystoneHPD
.
LinkedIn: https://www.linkedin.com/company/keystone-hospitality-development
.
.
Listen to The Hospitality Property School PODCAST here
keystonehpd.com/hospitality-property-school-podcasts
.
.
YouTube
.
.
A Division of Keystone Hospitality Property Development
.