.
.
Although COVID-19 is an unexpected temporary disruption, the growth of hotel technology for the future is evolving and will define the future of the hospitality property industry.
Here's what you can expect.
Welcome to another edition of Hospitality Property School.
I am your instructor, Gerry MacPherson.
.
.
Why is new hotel technology for the future important
New machine-learning-based systems will play an important role as hotels, resorts, bed and breakfasts recover losses in the post-pandemic period. They are useful for:
Automated revenue management
.
.
.
Predicting seasonal demands
.
Personalized search and booking engines with learned preferences
.
.
Customized, personalized experiences
.
.
Here are seven of the most important technologies that have emerged as essential for hospitality businesses in a post-pandemic future.
Machine learning & AI systems
New developments in these technologies shaped by online search engines and booking apps have a huge potential to revolutionize the hospitality property industry, including:
Automated Revenue Management Tools
.
Evolving Search and Booking Databases
.
.
The biggest advantage of developments in machine learning is the ability of businesses to personalize experiences and provide constantly improving, streamlined services and marketing, based on customer data.
.
.
In-property communication
Clear communication amongst hospitality property employees will become more vital in the future and this can be made more efficient by moving things onto an app. Your staff will be able to easily share pictures of rooms that need cleaning or tasks that need specific attention across all different departments so you can quickly react.
.
Training can also be moved online so that all of your employees are able to stay up-to-date with any new changes.
AI voice assistants & smart rooms
With the need for contactless service during and post-pandemic, more properties have begun to install Artificial Intelligence (AI) voice assistants, such as Alexa and the Amazon Echo into updated 'Smart Rooms'. Integrated into the room tech and the Internet of Things (IoT), these voice-activated, digital butlers can do everything from searching for local attractions to lowering the room lights. Not only can this advanced technology provide an attractive and safe service for guests, it can also collect and analyze data.
.
.
Virtual reality travel experience
Before the pandemic, virtual reality (VR) technology was only just being touched upon in the hospitality sector but had yet gained widespread appeal. The real value of VR has slowly started to take on a life of its own during coronavirus lockdowns when would-be travellers sat at home, wishing they were somewhere else.
.
The pandemic has prompted a flood of creative VR travel experiences crafted by a diverse range of providers including national parks, hotels, tourism companies, public broadcasters and museums.
.
Hospitality properties have jumped on VR as an opportunity to showcase local attractions, market destinations or entice customers to take tours of rooms and facilities. Even if customers can't travel right now, they will be enticed to visit later if provided with some memorable experiences and the chance to 'try before they buy'.
.
.
Mobile app integration
Mobile app integration is when your phone becomes your tool for practically everything, and it has been a progressively growing trend for years. The pandemic has accelerated adoption.
.
Today it is becoming more common for apps to allow guests to make pre-check-in requests, easy check in, unlock the room, communicate with staff, look at menus and services and control room features.
.
These are just a few of the apps and integrated mobile technologies providing convenient solutions for customers. Others include, Travel apps, booking apps, review sharing apps, and social media content aggregating apps.
.
There is endless potential in mobile integration not only to help customers but also to help hospitality businesses to track data, manage revenue, offer new products or improve services.
.
Do these make sense?
Let me know in the comments.
.
Rising contactless solutions
Human contact will always be central to an industry defined by service, but now there are ways to manage safety that will still never replace customer service with a smile.
Restaurants replacing paper menus with scannable QR codes
.
Contactless check-in options
.
.
Because many of these contactless solutions are also easy, convenient, fast, and integrated with smart hotels and mobile apps, they've had the additional benefit of streamlining customer experiences.
.
.
AI chatbots
Customers want a fast response to their queries, especially online and can abandon their effort if they fail to get assistance promptly. Where human intervention is not immediately available, AI chatbots can help provide the needed support to staff by managing multiple customers needs simultaneously and seamlessly.
.
AI chatbots, while useful in collecting data, can go a step further and conduct a customizable conversation that addresses the individual needs of every visitor in a more helpful way than the traditional website fill-in forms, which can help improve the customer experience.
.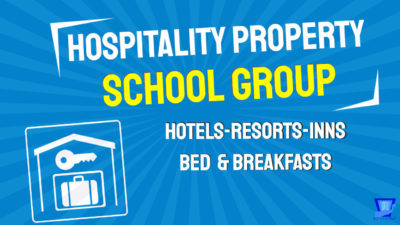 .
.
If you are a member of the Hospitality Property School Group, as a bonus, I am going to share with you four more hotel technology for the future.
.
.
In conclusion
7 out of 10 employees want and believe that the global pandemic will profoundly change work habits. Faced with new social behaviours and other challenges arising from Covid-19, the classic hospitality industry will have to evolve by launching new initiatives.
.
New hotel technology for the future is imperative and artificial intelligence is an obvious way to move forward as it can be personalized. Personalized service will be more pivotal in the hospitality property industry and will drive customer experience. The properties that wish to grow their customer base and revenue will need to embrace technology to enhance their chances of achieving these goals.
.
What new technology are you going to adopt at your property?
Let me know in the comments.
.
You will have access to this episode for the next six weeks and then it's locked in the vault for Hospitality Property School Group members only.
.
To see all the other valuable material you'd have access to as a member of the Hospitality Property School Group, check out the short video in the episode post-show notes.
.
.

.
.
In the next episode, I will talk about getting more website traffic.
.
.
That's it for today's episode,
Until next time, have a fun day.
.
Are you getting your weekly INNsider Tips? You can find the link in the show notes.
.
⇒ TO READ OR LISTEN TO THIS EPISODE ON KEYSTONE HOSPITALITY PROPERTY DEVELOPMENT:
https://keystonehpd.com/bona-fide-hotel-technology-for-the-future-267
.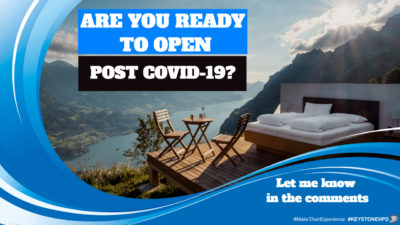 .
.
Post COVID-19 Action Plan
KeystoneHPD.com/PostCovid19ActionPlan 
.
.
.
Get Your INNsider Tips
.
.
Join one of your private groups
https://keystonehpd.com/private-groups
.
.
Say hi on social
Facebook: https://www.facebook.com/KeystoneHPD
.
Twitter: https://twitter.com/KeystoneHPD
.
LinkedIn: https://www.linkedin.com/company/keystone-hospitality-development
.
.
Listen to The Hospitality Property School PODCAST here
keystonehpd.com/hospitality-property-school-podcasts
.
.
YouTube
.
.
A Division of Keystone Hospitality Property Development
.