.
.
If you offer F & B services, now is the perfect time to test new approaches that will get your food and beverage strategy in the best shape ever, and generate much-needed income.
Find out how.
Welcome to another edition of Hospitality Property School.
I am your instructor, Gerry MacPherson.
.
.
Though the pandemic has had profound effects across all industries, few have felt the very real impacts of the major pandemic as much as the travel industry. Impacts for hospitality properties that also support restaurants, bars, or even room service have been especially fierce.
.
Exploring ways to keep hotel restaurants, bars, and other food services in business and making money is an important task of any hospitality property owner or manager.
.
.
Designing your food and beverage strategy
Creating a safe and comfortable environment is crucial at a time when Covid-19 is still on everyone's mind. Your first step is to find out which new and any updated rules and regulations you must implement in your F&B department. Check your local authority's guidelines and brainstorm how to put them into practice.
.
Since running a restaurant normally involves close contact with guests, you'll also need to adapt some of your SOPs while keeping everyone safe.
.
Standard operating procedure ideas
Standards for the correct use of PPE
.
Let staff serve the food at the buffet
.
New cleaning and sanitizing schedules and procedures for equipment, surfaces, etc.
.
A process for employees who feel ill or test positive for Covid-19
.
Plan for proper training when you update your SOPs
.
Keep the focus on your guests
Interacting with guests is going to be different and at times might be challenging. Regardless of the services you offer or how you change your procedures, make your guest's wellbeing your top priority. Give them space to accept or refuse certain services and show that you take their concerns and safety seriously.
Know your costs and revenues
Ask yourself the following questions:
How are other F&B outlets doing in your city, town, or region? What is their strategy?
.
Which new costs will you face?
.
Who is your main target market now?
.
How has your guest mix changed?
.
How many covers do you need to break even daily/weekly/monthly?
.
How can you provide top-quality service while keeping costs low?
.
Go through these questions carefully to better understand new and existing costs, and if necessary how you can lower them.
.
How are you going to promote your restaurant?
Getting the word out about your opening or reopening will play a key role in how successfully you can compete for business.
Optimize your Google My Business page. Make sure all information is up to date and you highlight all services. Don't forget to add photos.
.
Leverage online business listings such as Yelp and TripAdvisor to increase your exposure and attract guests.
.
Source out positive reviews and put them on all the appropriate sites to enhance social proof.
.
Target local guests via social media.
.
Partner with other businesses and cross-promote.
.
Highlight your new safety measures.
.
Invite your employees to share your updates on their social media.
.
Do these make sense?
Let me know in the comments.
. 
Boost your F&B sales
Once guests are in the door, it's time to offer them great service and maximize your sales.
Change your menu regularly to include seasonal specials and keep things interesting for returning guests
.
Update opening times and seating options to adapt to new capacity restrictions
.
If you haven't done so yet, consider partnering with pick-up and delivery services
.
Train staff to upsell and implement an incentive program to further encourage them
.
The COVID-19 crisis has led to major structural and operational changes for the restaurant industry, from the implementation of new health standards to the adaptation of new customer expectations.
.
If you are a member of the Hospitality Property School Group, as a bonus, I am going to share with you a pdf with 100 ideas to allow independent restaurateurs and hospitality property owners and managers to meet these challenges.
.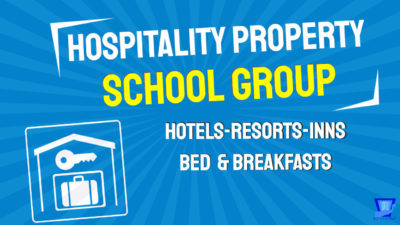 .
.
If you are a member of the Hospitality Property School Group, as a bonus, I am going to share with you a pdf with 100 ideas to allow independent restaurateurs and hospitality property owners and managers to meet these challenges.
.
.
In conclusion
All of these ideas are great, but the real challenge comes with implementing a plan and making it stick. Developing a strategy that will not only build trust but also offer incentives that will boost foodservice profits and keep customers coming back, is no easy task.
.
Fortunately, the vaccine rollout offers somewhat of light at the end of the tunnel for those in the travel industry and many in the industry are already making big plans.
.
The hope is that the travel industry will bounce back quickly as restrictions ease and people begin to feel safe travelling again.
.
What are you doing to make your F&B department succeed?
Let me know in the comments.
.
You will have access to this episode for the next six weeks and then it's locked in the vault for Hospitality Property School Group members only.
.
To see all the other valuable material you'd have access to as a member of the Hospitality Property School Group, check out the short video in the episode post-show notes.
.
.

.
.
In the next episode, I will talk about  Spa and Wellness Travel Post-COVID.
.
.
That's it for today's episode,
Until next time, have a fun day.
.
Are you getting your weekly INNsider Tips? You can find the link in the show notes.
.
⇒ TO READ OR LISTEN TO THIS EPISODE ON KEYSTONE HOSPITALITY PROPERTY DEVELOPMENT:
https://keystonehpd.com/a-food-and-beverage-strategy-for-success-post-covid-265
.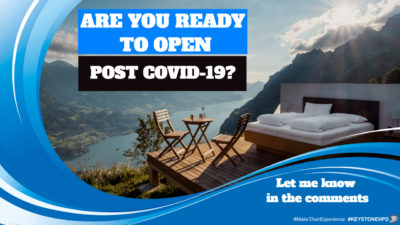 .
.
Post COVID-19 Action Plan
KeystoneHPD.com/PostCovid19ActionPlan 
.
.
.
Get Your INNsider Tips
.
.
Join one of your private groups
https://keystonehpd.com/private-groups
.
.
Say hi on social
Facebook: https://www.facebook.com/KeystoneHPD
.
Twitter: https://twitter.com/KeystoneHPD
.
LinkedIn: https://www.linkedin.com/company/keystone-hospitality-development
.
.
Listen to The Hospitality Property School PODCAST here
keystonehpd.com/hospitality-property-school-podcasts
.
.
YouTube
.
.
A Division of Keystone Hospitality Property Development
.