.
.
Post COVID-19 it will be more important than ever to build guests trust and provide a great experience.
Here are 6 ways your hospitality property can take advantage.
Welcome to another edition of Hospitality Property School.
I am your instructor, Gerry MacPherson.
.
.
Build guests trust introduction
Build your guests trust while offering a great experience, pre-COVID-19 strategies might not cut it. Even though we are still feeling our way into a new future, here are 6 techniques that have already show promise.
.
1. Personalize your guest's experience
Technology is going to be of utmost importance for the future of the hospitality property industry but we can not afford to totally get lost in the world of gadgets.
According to American Express Travel, 93% of travellers indicate that the value of personal service cannot be replaced, regardless of technological advances in the travel industry.
So what can you do to get to know your customers better?
Ask why they travel and what they are specifically looking for when they do. This enables you to build a more personable rapport with your guests.
.
Integrate a customer relationship management system and operating procedure, to keep track of everything.
.
Enact policies to provide all guests with a hyper-personalized service.
.
Partner with local companies to provide experiences and offers.
.
Collect all happy customers´ reviews. They will strengthen your online reputation. This does not mean ignoring guests who have had a less than stellar experience, you can still try to salvage it and turn it into a winner. More than often, guests with a complaint are very appreciative of being listened to and having their complaints addressed promptly.
.
Promote word-of-mouth marketing among your guests by asking them to tell their friends, family, and work colleagues of their positive stay. Word-of-mouth remains the most effective marketing strategy of them all.
.
.
2. How breaking the barriers can create an exceptional guest experience
What is more convenient and what allows for a better experience?
.
Having a fragmented guest experience without making a true connection with any staff member?
or…
Entering the property and having a seamless customer journey with the same employee?
.
his would essentially be a front-of-house staff member, with a personal touch, similar to that of a concierge.
.
An example of the experience could be as follows:
The guest is greeted upon arrival by this employee
.
They provide suggestions on what to do in the city. They can include their own personal and authentic perspective and opinion here.
.
Offer to make restaurant reservations
.
Provide a city tour catered to their own unique needs and preferences, working with local tour guides
.
Transportation is arranged
.
Bringing the guest a cup of coffee, tea, or refreshment on the house if, for instance, they are waiting for the rain to stop, or for a taxi to arrive
.
Providing them with an umbrella if it is raining (and not waiting for them to ask)
Providing such a high-level, personalized experience such as the above interactions allows for a relationship with the guest to be developed and is very doable for smaller or independent properties.
.
This makes the guest feel special and appreciated, and the interactions become much more natural.
.
.
3. Rethinking your add-on values
Customers are increasingly focused on experience as a differentiator, along the same lines in terms of importance as price and value. For this reason, it is important to no longer focus primarily on price alone.
.
Identify unique selling propositions that are non-price related that your competitors can't match? This applies to before, during, and after the guest's stay.
.
You can create value through outstanding service
A cocktail hour or to provide complimentary snacks. These act as low-cost opportunities to add value to the guest experience.
.
Get creative by having something unique for special occasions, birthdays, celebrations, or even certain times of the year, such as New Year's Eve, Halloween, or festive holidays.
.
Creating an itinerary for the guests for free, catered to their needs. Create a template, which can easily be amended to fit the guest's needs. For instance, a morning at the spa, before a bike tour in the afternoon, and a lunch basket prepared by your property or partnering business.
.
Every single interaction with your guests is an opportunity to create moments to inspire them. In return, this will help improve revenue and promote positive reviews and word-of-mouth marketing. It is a win-win-win outcome!
.
When marketing
When it comes to effective marketing, you can rethink offers to be unique, personalized and based on customer preferences recorded in your CRS and PMS systems.
.
Armed with the right customer data, you can send out personalized recommendations for events, activities inside the property and in the local area. In this way, you provide added value and reason to travel. When personalized to their needs, it is far more valuable and, as a result, appreciated.
.
Make sure all options such as packages, upgrades, add-ons, and so forth, are instantly bookable at the same time as booking with a simple online interface or over the phone.
.
For an extra revenue opportunity, you can build on your online strategy by offering a small portion of experiences that are exclusively available through direct bookings.
.
.
4. Your guests want attentiveness and responsiveness
To do this you have to understand them you have to get to know them. This can be done in various ways, or by bringing various tactics together under one unifying strategy.
.
They include the following:
Deliver exceptional service and then ask for and pay close attention to the provided feedback
.
You can ask guests if they have any personal requests or preferences that aren't cost-prohibitive for you to deliver.
.
Review the amenities that your property provides: what are truly useful to your guests, and which represent costs where an alternative could generate more value based on what guests really want? For example:
Choice of pillows (thickness, size, material)

Complimentary breakfast or cocktail hour – drinks and snacks (local delicacies)

Tablet or smartphone for guest use

Local turndown gift

Small exercise equipment for long-stay/regular guests
.
Listen to what guests are really saying and suggesting. Maybe they will mention something important.
.
Complaints should always be dealt with professionally and appropriately, without ever letting personal feelings come into play.
.
Do these make sense so far?
Let me know in the comments.
.
5. Leverage your property's data
Data is critical to optimize performance. Daily reporting on overall property performance is a must and should also include detailed accounts of guest complaints, including their reasons, how they were resolved, and how to prevent them from reoccurring.
.
Embracing advanced success tech is essential to achieve this. A good, reputable pairing of a property management system (PMS) and central reservation system (CRS) are prerequisites.
.
The right technology is also key to protect your company from malicious cyberattacks, guests with bad intentions, and other possible eventualities that could hurt your business.
.
.
6. Never stop learning by continually adapting
Be humble. When something doesn't work it is crucial to recognize that it doesn't and try a new approach. The ability to cut losses, and start again requires a strong ability to reflect critically.
For example:
Which key performance indicators (KPIs) can be improved?
.
What are your competitors doing better than your property?
.
How can you harness your team's individual and collective capabilities to improved outcomes?
.
Sharing goals among all employees can motivate and drive everyone in the same direction. The same applies to learning and knowledge sharing. Sometimes we can lose sight of the fact that our employees are the greatest levels of "on-the-ground" knowledge.
.
You should be constantly speaking with employees to gather valuable information.
For example:
What have they seen today?
.
.
.
Any comments about anything in particular on the property?
.
Without proper communication, it's so much more difficult to achieve goals and targets.
.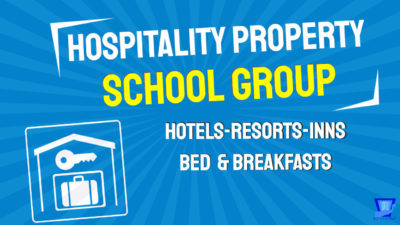 .
.
If you are a member of the Hospitality Property School Group, as a bonus, I am going to share with you 8 tips for successful customer experience management.
.
.
In conclusion
As a hotelier or innkeeper, there is no simple way to face all the oncoming changes. You might be among the lucky who have already taken action but, if not, and you don't start now, you will likely not be able to build your guest's trust. This kind of once-in-a-lifetime situation only leaves you with two choices: adapt to the new world or give way to those who can.
.
What are you doing to build your guest's trust?
Let me know in the comments.
.
You will have access to this episode for the next six weeks and then it's locked in the vault for Hospitality Property School Group members only.
.
To see all the other valuable material you'd have access to as a member of the Hospitality Property School Group, check out the short video in the episode post-show notes.
.
.

.
.
In the next episode, I will talk about Ways to Make Your Food & Beverage Department Successful.
.
.
That's it for today's episode,
Until next time, have a fun day.
.
Are you getting your weekly INNsider Tips? You can find the link in the show notes.
.
⇒ TO READ OR LISTEN TO THIS EPISODE ON KEYSTONE HOSPITALITY PROPERTY DEVELOPMENT:
https://keystonehpd.com/what-post-covid-measures-after-the-lockdown-will-look-like-263
.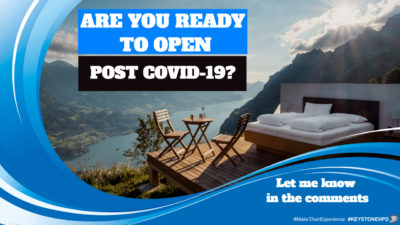 .
.
Post COVID-19 Action Plan
KeystoneHPD.com/PostCovid19ActionPlan 
.
.
.
Get Your INNsider Tips
.
.
Join one of your private groups
https://keystonehpd.com/private-groups
.
.
Say hi on social
Facebook: https://www.facebook.com/KeystoneHPD
.
Twitter: https://twitter.com/KeystoneHPD
.
LinkedIn: https://www.linkedin.com/company/keystone-hospitality-development
.
.
Listen to The Hospitality Property School PODCAST here
keystonehpd.com/hospitality-property-school-podcasts
.
.
YouTube
.
.
A Division of Keystone Hospitality Property Development
.