Did you know studies show your property can increase its revenue with good customer satisfaction?
I'm going to share 16 customer service techniques for your bed and breakfast.
Welcome to another edition of Hospitality Property School.
I am your instructor, Gerry MacPherson.
.
.
Training employees with strong customer service techniques will ensure your property generates profit while operating at a high standard.
This is crucial because a great guest experience can make the difference between a one-time booking and a guest for life.
.
Here are 16 customer service techniques for your bed and breakfast
1.    Know your guests and their requirements
It's nice to know your guests a little bit better, so you can tailor-fit their experience based on their interests. You can ask them about their favourite pastime and prepare activities related to it.
.
Keep in mind, that satisfying your guests' wants is one thing, and catering to their needs is another. Your guests may not always tell you what they need so it is important to be observant and sensitive.
.
.
2.    Make your first impression count
First impressions last. Give your guests the impression that they will have a relaxing stay by providing them with a nice welcome at the door.
.
Try and make your guest feel welcome. Greet them with a friendly smile, take a walk around the property, and introduce them to other staff or guests if possible. Give them ample time to settle in and then check to make sure they're comfortable. Leave a contact number on their bedside table so they can contact you if there's a problem or if they have questions.
.
If you want to step it up, you can prepare a "welcome tray" with cookies and fruits or a nice welcome drink.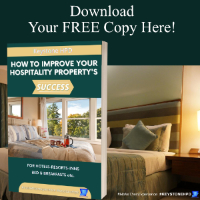 3.    Make your BnB comfortable and enticing
People usually book a bed and breakfast because they want to relax. Since the goal is to give your guests a tranquil experience, it's essential to keep your property comfortable.
.
Think stimulating interiors, clean sheets and plush pillows. You can also set up an area with a variety of games, magazines, and other reading materials.
.
.
4.    Create a personal connection
Studies have shown that about 66% of businesses' income comes from existing customers. Be sure to greet guests by name, shake their hands, and introduce yourself and your position at the property. Building this kind of connection could earn you a lifetime loyal guest. Make them happy and you'll end up with more customers in the future.
.
Using an online front desk system will allow you to research this information prior to arrival and build on the profiles of returning guests.
.
.
5.    Show you care
Make asking for feedback a normal practice when customers check out. This will help address any issues they might have and make sure they're fully satisfied before leaving any review.
.
If you're not sure your team is doing a good job, take some time to watch them talk to customers and gauge the customers' reactions. You could also gain insight by following up with guests by email after they leave to ask what they thought of the customer service.
.
.
6.    Personalized attentiveness
Often guests opt for a B&B stay as opposed to a brand-name hotel because they're looking for a one-of-a-kind experience with lasting memories.
.
By listening to your guests, your staff can make this happen without any added cost to your business.
.
Learn about their tastes, their budget, and their expectations. Use this feedback to guide you and your staff. Perhaps you can recommend a nice place for dinner on their anniversary and call ahead to let the restaurant know it's a special occasion or suggests an attraction that fits their budget.
.
Use every opportunity to personalize your customer interactions and provide a bespoke experience to every guest.
.
.
7.  Offer an adaptable check-in and check-out option
A fixed check-in and check-out schedule isn't convenient for all of today's guests.
.
Since convenience has become a key factor in the B&B experience, you have the opportunity to rise from the competition by offering this personalized service.
.
By negotiating the terms of a flexible schedule with your guests, often, you can let your guests pick a check-in and check-out schedule that works for them.
.
.
8.  Know your area
Your guests will probably want to explore. Make it easier for them to decide where to eat or go by collecting menus from local food establishments. Put together a list of nearby parks or attractions in the area.
.
Also, in the lounge area provide a list of houses of worship and updated service hours, so your guests can browse through them during their free time.
.
This will help your guests save time on research.
.
.
9.  Stand above the crowd
Instead of just providing the basics like coffee and tea sachets, offer a wider variety of drinks and snacks.
.
You can give fruits, homemade snacks, a variety of biscuits and cookies. You can also leave a wider selection of beverages in the fridge for an extra charge.
.
Provide your guests with top-quality bathrobes, slippers, and towels that you can make available for purchase, you can offer your guests luxurious souvenirs that will always remind them of their stay.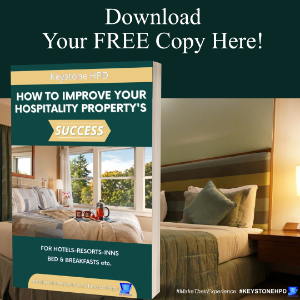 10.  Have extra supplies for your guests
Travellers sometimes forget to bring the essentials such as toiletries and towels, which can be inconvenient and frustrating for them.
.
Toiletries are a necessity, so purchase additional toothbrushes, toothpaste, and hygiene supplies. It's also a good idea to have extra phone chargers just in case your guests forget, lose, or break theirs.
.
.
11. Boost customer satisfaction with technology
People want convenience, so consider investing in technology that will boost customer satisfaction;
.
.
.
Be active on social media
.
.
12.  Go the extra mile
B&Bs have an advantage over larger hotel chains because they have fewer guests and can promote a more personalized experience. Keep in mind that the best advertisement is word of mouth.
.
When you keep your guests satisfied, they will recommend you to their family and friends, building your reputation. Don't forget the power of written reviews as more and more people will check them out before booking.
.
Excellent customer service begins the moment your guests book your B&B until the end of their stay and beyond.
.
.
13.  Don't take criticism laying down
Every problem should be considered an opportunity to impress your guest and show them you can handle anything so don't be offended if your guest isn't completely satisfied,
.
If they have a legitimate complaint about a room, if possible, make sure to move them to your best room. If they leave a harsh review, ask them if they would like a refund or an upgrade upon their next visit. (Make sure to get them offline before making this offer).
.
Ensure all issues are documented on the guest's file so if they do contact you with a complaint, you can quickly pull up their details on their previous stays and any other relevant information.
.
.
14.  Give your guests a complimentary gift
While not necessary, many guests appreciate a complimentary gift upon departure and if possible brand it with your property's information.
To let your B&B brand stay with your guests long after they've had their booking will put you top of mind when they are ready to rebook.
.
.
15.  Get them to rebook directly
To win over customers and obtain more direct bookings, consider offering discounts for extended stays or implementing a referral-based rewards program. Offering special packages for Christmas, New Year's and Valentine's Day can help secure bookings during the holidays.
.
.
16.  Stay in touch
Remember your goal is to have your guests return so it is imperative to stay in touch.
.
This is possible by working on customer loyalty. Send them an email after their stay, keep them up to date with your property's news, and special offers, happening in the region and greet them on special occasions.
.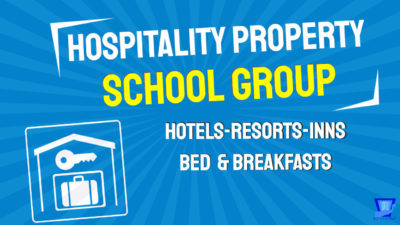 .
If you are a member of the Hospitality Property School Group, as a bonus, I'm going to share an "audit checklist for the front desk check-in process" pdf.
.
.
In conclusion
Hosting a B&B may be a little more challenging than it looks but by utilizing some or all of these customer service techniques for your bed and breakfast, there is no doubt your guests will remember their experience with you.
.
Customer service should be at the heart of your business and by making it a priority, you'll be reaping the benefits for years to come.
.
Do you currently use customer service techniques at your bed and breakfast?
Let me know in the comments.
.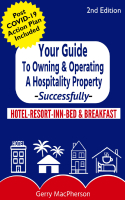 .
We cover more on organizational structure in "The Guide to Owning & Operating a Hospitality Property – Successfully" book & course. You find more information at KeystoneHPD.com
You will have access to this episode for as long as you would like but if you would like to see all the bonuses you would have access to as a member of the Hospitality Property School Group, check out the short video in this episode post-show notes.
.
.

.
In our next episode, I will be talking about What Do Hospitality Property Evaluators Look For.
.
That's it for today's episode,
Until next time, have a fun day.
.
If you haven't done so yet, make sure up sign up for the INNsider Tips, say hi on social and join one of our groups. And make sure you get your free copy of the "How to Improve Your Hospitality Properties Success".
.
You can find all the links in the show notes.
.
⇒ TO READ OR LISTEN TO THIS EPISODE ON KEYSTONE HOSPITALITY PROPERTY DEVELOPMENT:
https://keystonehpd.com/16-customer-service-techniques-for-your-bed-and-breakfast-308
.
"The Guide to Owning & Operating a Hospitality Property – Successfully" course.
https://KeystoneHPD.com/Course
.
..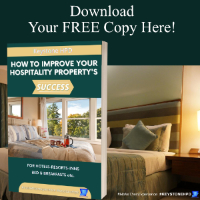 .
Did you get your copy of the "How to Improve Your Hospitality Properties Success" ebook?
KeystoneHPD.com/How-to-Improve-Your-Hospitality-Properties-Success
.
.
.
Get Your INNsider Tips
.
.
Join one of your private groups
https://keystonehpd.com/private-groups
.
.
Say hi on social
Facebook: https://www.facebook.com/KeystoneHPD
.
Twitter: https://twitter.com/KeystoneHPD
.
LinkedIn: https://www.linkedin.com/company/keystone-hospitality-development
.
.
Listen to The Hospitality Property School PODCAST here
keystonehpd.com/hospitality-property-school-podcasts
.
.
YouTube
.
.
A Division of Keystone Hospitality Property Development
.