I have spent the last number of episodes talking about creating the perfect BnB, but how do you get guests to your bed and breakfast?
I'm going to share 12 tactics to help you succeed.
Welcome to another edition of Hospitality Property School.
I am your instructor, Gerry MacPherson.
.
.
Attracting guests to book your bed and breakfast might be a bit of a challenge post-COVID-19 and encouraging them to re-book might even be more demanding. To get guests to your bed and breakfast and later re-book will be made much easier by following the 12 tactics listed in this episode.
.
12 Steps to Get Guests To Your Bed and Breakfast
.
1. Know the type of guests you want to attract
Determine your ideal guest. If you create a bed and breakfast that meets the wants and needs of your target audience, you're well on the way to getting them to return for more visits.
.
Knowing your customer's demographics and psychographics is very important to your property, your branding, and your bookings.
.
Whereas demographics is all about your customer's buyer personas, psychographics is another component that helps you understand your guests. Here you want to find out what type of values and opinions they have, their habits and hobbies and what is their lifestyle like. 
.
With information like this, you can truly understand why your ideal guest is choosing your property.  
.
.
2. It's OK to have more than one ideal guests
You may have groups of ideal guests who come for different reasons and this is OK. Keep in mind though, that each group has different needs. Try not to appeal to everyone, but appeal deeply to your ideal guest.
.
This doesn't mean you have to turn people away, but don't lose track of focusing on your ideal guests.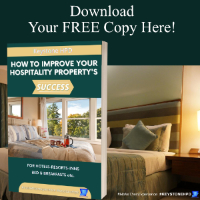 3. Why are guests coming to your area?
What attractions or events are in your area? Is there a way you can tie into them? Negotiating discount entrance tickets to the attractions or events or cross-promoting are ways you can benefit.
.
.
4. What do they ask about?
What do your guests ask about? Is it a local attraction, local history, local products or services? Find out and highlight it in your branding.
.
.
5. What else do your guests want?
Once you have a clear idea of who your customer is, ask them what else they would like. This will help you develop products or services the customer wants and you should be able to upsell.
.
You'll want to have an automated "upselling" process in place so that everybody who books with you knows about your additional products and services.
.
.
6. Keep the repeat guests you "inherit"
One of the main advantages of buying or taking over an existing bed and breakfast is if it has a high number of repeat guests, you can continue to benefit from that repeat business.
.
However, do make sure that you maintain or even improve the standards those guests are used to.
.
.
7. Exceed your guest's expectations
Having created a bed and breakfast that meets your guest's needs is important but an even more important factor in getting them to return is how they're made to feel during their stay. If your guests aren't cared for throughout the stay, they are unlikely to return.
.
You have to make their visit about them, not you.
.
.
8. Your facilities and the little extras
Many guests appreciate the attention to detail and the little extras. This is where sleeping around in similar BnBs helps. See what you liked and haven't liked in your travels and try to create a bed and breakfast that you would like to stay at.
.
One little extra that I remember from a BnB on the River Rhine in Germany was a little stash of chocolate treats in the cupboard. Being a chocoholic, this jumped out and is still a fond memory.
.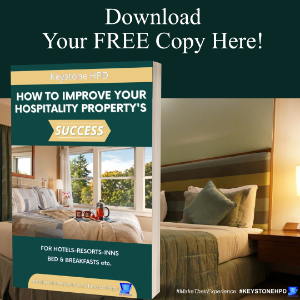 .
9. Fine-tune your website so that it speaks to your ideal guests
According to Travel Weekly, up to 80% of bookings are made online.
.
For this reason, it's vital your online presence is strong, and this should start with a good website that offers all the information your potential customers will need to make a booking decision and get guests to your bed and breakfast.
.
It should be responsive and work well on a desktop computer, a phone, or a tablet. It also needs to offer a positive user experience, which means easy to navigate and should present all of the information people might be looking for in a clear and concise way.
.
.
10. Use high-quality photos to advertise your B&B
It's extremely important to load your website and other online listings with lots of quality, honest photos so your guest will see exactly what they are booking.
.
This is particularly important if your idea guests are younger because it has been shown that around two-fifths of millennials choose a travel spot or accommodation based on how good it's going to look on Instagram.
.
Step up your game when it comes to imagery by investing in a good-quality camera or soliciting the help of a professional photographer.
.
.
11. Stay in touch with your past guests
For a couple of hours every day, it's important to put on your "marketer" hat to help your business grow. Work on attracting your ideal guests by using social media platforms, blogging, videos, groups and forums.
.
You have to let people know you exist.
.
And the last tactic to get guests to your bed and breakfast
.
12. Ask for reviews and referrals
Let your guests know why this is so important to you as a small business.
.
85% of consumers trust online reviews as much as personal recommendations. Therefore, to ensure prospective customers are confident about booking, it's well worth encouraging your visitors to leave reviews both on your website and on third-party platforms.
.
If your guests have had a good time, and they love what you do, in most cases they will be happy to write a review for you.
.
It's also important that you check and respond to your reviews — especially if they are negative. Addressing any concerns your visitors have will show that you truly care that they're happy and comfortable.
Potential customers will be far more likely to write off a bad review they see if it's clear you've taken the criticism seriously.
.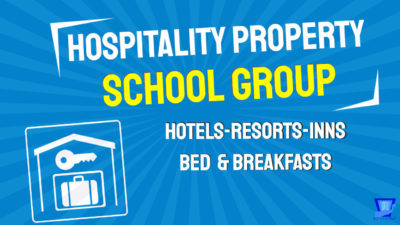 .
If you are a member of the Hospitality Property School Group, as a bonus, I'm going to share 7 more tactics to get guests to your bed and breakfast.
.
.
In conclusion
As you can see there are many elements that can go together to improve your chances of attracting guests and having them become repeat visitors.
Know what type of guests you attract and how to meet their needs
.
Be sure to #MakeTheirExperience
.
Continue to build a relationship with them by staying in touch with them on a regular basis, through social media and email, reminding them you are there
.
Making them feel important by offering them specials
.
Make sure it's as easy and secure as possible for them to book direct
.
These ideas should be enough to get you started on your campaign to get guests to your bed and breakfast.
.
How have you been attracting guests to your bed and breakfast?
Let me know in the comments.
..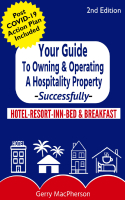 .
We cover more on organizational structure in "The Guide to Owning & Operating a Hospitality Property – Successfully" book & course. You find more information at KeystoneHPD.com
You will have access to this episode for as long as you would like but if you would like to see all the bonuses you would have access to as a member of the Hospitality Property School Group, check out the short video in this episode post-show notes.
.
.

.
In our next episode, I will be talking about Customer Service Techniques for Your Bed and Breakfast. 
.
That's it for today's episode,
Until next time, have a fun day.
.
If you haven't done so yet, make sure up sign up for the INNsider Tips, say hi on social and join one of our groups. And make sure you get your free copy of the "How to Improve Your Hospitality Properties Success".
.
You can find all the links in the show notes.
.
⇒ TO READ OR LISTEN TO THIS EPISODE ON KEYSTONE HOSPITALITY PROPERTY DEVELOPMENT:
https://keystonehpd.com/12-steps-to-get-guests-to-your-bed-and-breakfast-307
.
"The Guide to Owning & Operating a Hospitality Property – Successfully" course.
https://KeystoneHPD.com/Course
.
..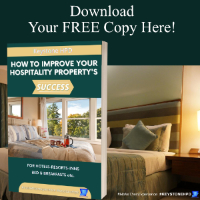 .
Did you get your copy of the "How to Improve Your Hospitality Properties Success" ebook?
KeystoneHPD.com/How-to-Improve-Your-Hospitality-Properties-Success
.
.
.
Get Your INNsider Tips
.
.
Join one of your private groups
https://keystonehpd.com/private-groups
.
.
Say hi on social
Facebook: https://www.facebook.com/KeystoneHPD
.
Twitter: https://twitter.com/KeystoneHPD
.
LinkedIn: https://www.linkedin.com/company/keystone-hospitality-development
.
.
Listen to The Hospitality Property School PODCAST here
keystonehpd.com/hospitality-property-school-podcasts
.
.
YouTube
.
.
A Division of Keystone Hospitality Property Development
.