.
.
Given the ever-changing market conditions due to COVID-19 and renewed fluctuating regional restrictions, what will your guests expect post lockdown?
Let me give you a few ideas.
Welcome to another edition of Hospitality Property School.
I am your instructor, Gerry MacPherson.
.
.
What Will Your Guests Expect Post Lockdown Introduction
When faced with the challenge of preparing to reopen a hospitality property in an uncertain environment, it can be difficult to know where to start.
.
Where will potential guests travel from?
.
What will they want from their stay?
.
What can be done to increase demand?
.
.
Tailoring to post-lockdown guests
Part of a reopening strategy should include understanding who your post-lockdown guests are likely to be and what stay experience they are pursuing.
.
With ongoing international travel restrictions in place and public concerns about the safety of air travel, hospitality properties will likely see guests arriving from driving, rather than flying. Given corporate travel is pretty much at a standstill, properties should anticipate that the domestic leisure market will be a key focus for the foreseeable future.
.
Local leisure guests, who may travel as families, will understandably be cautious of putting themselves at an unnecessary risk after social isolation measures are eased, and as such properties need to provide services that make them feel secure and safe from a public health standpoint.
.
If applicable, hospitality properties should review their dining offerings to provide flexible options which allow for guests to enjoy meals in their rooms. This could include facilitating in-room meal deliveries from outside providers and provide a boxed breakfast doorstep delivery instead of the traditional buffet.
.
Guests will likely be more conscious of limiting interactions in common areas and will want to move through these areas quickly, with minimal contact.
.
Properties should provide either virtual, kiosk or contactless check-in procedures and be properly staffed to handle front desk needs quickly, avoid lines and overcrowding.
.
Cleaning and hygiene procedures are now at the top of the list as a desirable service for guests. Where once making cleaning shifts visible throughout the day was avoided by many properties, it should now be encouraged to increase the frequency of cleaning and make this visible to guests seeking reassurance of their own safety. Hand sanitizers should continue to be made obviously available at all guest contact points within rooms and in toiletry kits.
.
For upend or larger scale properties, boosted sanitation protocols could extend to sectioning off part of your property were not only enhanced cleaning measures are practiced, but where only guests and staff who have undergone on-site COVID-19 tests are permitted access.
.
Your communal-use areas like fitness rooms should set capacity limitations and give guests the opportunity to reserve equipment with thorough cleaning conducted between each use.
.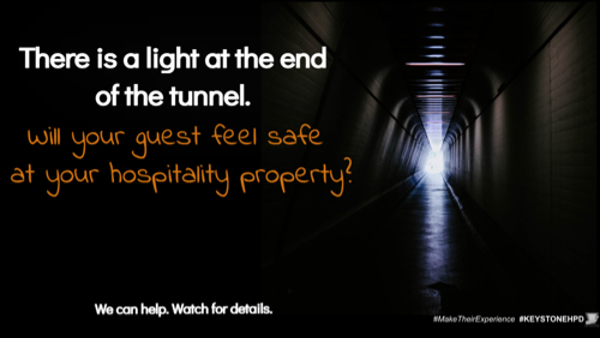 .
Recognizing a post lockdown recovery
Allowing those travel restrictions will be a key factor in future guest demand.
.
The observing of any changes to guidelines from the World Health Organisation, local infection control and government bodies is essential. It goes without saying that the loosening or tightening of travel restrictions will directly impact a hospitality property's ability to attract guests in the future.
.
To aid with recovery efforts, properties should carefully monitor growth in their business by segment as well as a geographic source by the setting of benchmarks to better understand if guest demand is returning and at what volume. Identifying noteworthy forecasts for future months, plus understanding which segments are responsible for the upswing will help you to accurately identify and target potential business.
.
Daily analysis of booking trends and patterns is important. Government announcements are driving quick surges in demand with short lead-time bookings and cancellations. Forecasting these scenarios and strategically planning a revenue response is and will continue to be a significant contributor to a hotel, resort, inn or bed and breakfasts success.
.
.
Tactics for increasing demand
As regions prepare to reopen, individual properties should review not only government travel guidance and market conditions, but also their competitors.
.
The change in business mix and segmentation means your competitor set has changed and your product, guest experience and price positioning need to be re-evaluated. To accurately assess competitor pricing activity, you need to study their historical and current pricing to establish if your property matches up in price points. In some situations, you could have a far superior product at a price point similar to a competitor's basic room and adjusting pricing accordingly could help grow demand and steal share.
.
Hospitality properties can expect large uncertainty during the transition period as lockdown restrictions end. Customers will need more flexibility in case the situation changes again, and some may be fearful of committing to advanced booking with inflexible terms. The property's that offer and promotes greater booking flexibility will be more likely to obtain bookings in uncertain times.
.
Customers who book higher-priced accommodations such as suites are generally less price-sensitive, but that does not mean it will still be the case in the future. You have to be aware that it may be harder to achieve the same room category premiums, so consideration must be given to your strategy when it comes to inventory sharing and how you upgrade guests within your property. Many airlines are operating with low passenger numbers and offering upgrades for all passengers. This approach provides a great experience and promotes loyalty, which should be fostered in a low-demand market.
.
Flexibility in pricing, restrictions and inventory management is likely to extend past this transitional recovery period. For example, if there is not enough demand for premium room types but there is excess demand for standard rooms, it may be wise to overbook standard rooms and provide complimentary upgrades to normally higher-priced rooms. Understanding demand by room type and analyzing this in combination with improving total hospitality property performance by using 'what if' modelling will enable property owners and managers to make informed, data-based decisions.
.
Is this making sense so far? Let me know by leaving a comment
.
Fortify a profitable business
Reviewing the significance of existing pricing in the post lockdown 'new normal' and using data to make thoughtful pricing decisions that support short- and long-term strategies is crucial now more than ever. An automated revenue management system (RMS) enables properties to price competitively and confidently under any circumstance, including at times of exceptionally low demand.
.
While profits will take time to recover, the best opportunity to generate revenue efficiently is to ensure the seizure of the right business at the right price. In such circumstances, hospitality properties should use an RMS which evaluates future pace, price sensitivity, unrestricted demand, and even prices by room type and market segment to ensure they drive the most profitable business to their property.
.
.
Be nimble in a fluctuating market
In times of uncertainty, it is difficult to predict a specific outcome. There will be plenty of time for historical review, but now is the time to purposefully plan, copy and prepare where you can, and to ensure your guests, employees and business are well protected in all aspects.
.
An agile approach to evolving market conditions and the ability to adapt to changing guest needs and business conditions will certainly help properties navigate a successful reopening.
.
If you are a member of the Hospitality Property School Group, you will have access to the actionable workshops section wherein the post-COVID mini-course, I go into more detail with 11 ways you can optimize your properties design to prevent the spread of communicable diseases.
They will include
Personal hygiene at restaurants

Devising the energy flow

Interior fabrics

Common area social distancing

Floor markings

Tableware

Go contactless

Hand sanitizer stations

Elevators

Near Field Communication (NFC)

Security checkpoints
.
.
In Conclusion
The funny thing about creativity and innovation – it doesn't usually happen unless you change the way you've been working. Sometimes that means stopping and not working on the problem. Sometimes it means throwing out assumptions. Sometimes it means redefining the problem. And sometimes it means you need to change the way people are working on the problem.
Given the ever-changing market conditions due to the COVID-19 post lockdown, you have to be flexible and willing to change and the guidelines shared will help you get started.
.
Are you currently making changes to make your guests more comfortable post lockdown?
Let me know in the comments.
.
You will have access to this episode for the next six weeks and then it's locked in the vault for Hospitality Property School Group members only.
.
To see all the other valuable material you'd have access to as a member of the Hospitality Property School Group, check out the short video in the episode post-show notes.
.
.

.
.
In the next episode, I will talk about Modifying through Covid-19: A Hospitality Property Checklist.
.
.
That's it for today's episode,
Until next time, have a fun day.
.
Are you getting your weekly INNsider Tips? You can find the link in the show notes.
.
⇒ TO READ OR LISTEN TO THIS EPISODE ON KEYSTONE HOSPITALITY PROPERTY DEVELOPMENT:
https://keystonehpd.com/what-will-your-guests-expect-post-lockdown-250
.
.
Get Your INNsider Tips
.
.
Join one of your private groups
https://keystonehpd.com/private-groups
.
.
Say hi on social
Facebook: https://www.facebook.com/KeystoneHPD
.
Twitter: https://twitter.com/KeystoneHPD
.
LinkedIn: https://www.linkedin.com/company/keystone-hospitality-development
.
.
Listen to The Hospitality Property School PODCAST here
keystonehpd.com/hospitality-property-school-podcasts
.
.
YouTube
.
.
A Division of Keystone Hospitality Property Development
.