.
.
Whether you're nurturing relationships with past and potential guests during this period of low demand, an active email list is the most valuable marketing asset for hoteliers and innkeepers.
Are you looking at how to build an email list with lead magnets? Stay tuned.
Welcome to another edition of Hospitality Property School.
I am your instructor, Gerry MacPherson.
.
.
How do you start an email list, if you haven't already? Is there a more effective lead generation method for hospitality property's beyond putting a "Subscribe here!" form onto your website?
.
Yes. It's called a lead magnet.
.
It's a shame, but very few hospitality property marketing teams use lead magnets to build their email lists and generate more leads for their property. "Subscribe to our property's newsletter" on your website is not really doing it anymore.
.
.
What is a lead magnet?
The term "lead magnets" might be new to you but the concept is a decades-old staple in advertising.
.
Simply put, a lead magnet is a freebie.
.
You're giving something of value away in exchange for the customer's contact information and permission to email them in the future.
.
.
Lead magnets work because you're:
Giving something valuable away
.
Demonstrating your unique selling proposition
. 
Providing instant gratification to the customer
.
Once you get it, you don't want to be too aggressive or spammy. Strike up a conversation and provide value. Building relationships is what generates bookings, and eventually, more revenue for your property.
Choosing lead magnets that will work for your property
Currently, most hospitality properties that use lead magnets are offering discounts to entice customers to sign up.
.
But if you're really interested in growing a subscriber list that's genuinely interested in what your property has to offer, undercutting your rate with a discount code is not the most effective strategy.
.
You actually have many other assets you could offer that provide real value! For example:
Organized itineraries for your location (tailor these to your audience personas)
.
Family travel ebook (specific to your destination)
.
Local language cheat sheet, if applicable, with useful phrases
.
.
Wedding planning checklist
.
.
There are so many different ways to create a compelling lead magnet. The main thing to remember is you want to deliver content that's useful and relevant to your clientele.
.
.
How to set up a lead magnet
Setting up a lead magnet is quite simple.
Here's what you need:
.
Ability to edit your website
.
An email system to deliver your content
.
When it comes to the placement of your sign-up form, consider your audience and objective.
.
If your lead magnet is designed with groups in mind, place the opt-in on a relevant page, like for wedding information, meeting rooms or events.
.
Placing your lead magnet on an exit pop-up has proven successful.
.
Make sure to incorporate a clear call-to-action in the copy that goes with your lead magnet opt-in. For example:
Sign up below to receive X
Tell us where to send your free X
.
If you're going the route of a free content download, you'll want to set up a "trigger campaign" using your email marketing platform.
.
A "trigger campaign" is where a user opts in on your website, then automatically receives an email with a link to your free download. Their signup "triggers" that email—no manual work required.
.
How do I stay GDPR compliant?
The EU General Data Privacy Regulation (GDPR) laws went into effect on May 25, 2018.
.
GDPR impacts hospitality properties in the European Union as well as property's welcoming European guests.
.
You might be wondering if a lead magnet is GDPR compliant. The simple is … not so much.
.
GDPR requires specific consent that's clear and freely given. So if a European user signs up to receive your lead magnet, you can't just add them to your regular newsletter list. Under GDPR, you need to ask for — and receive — consent.
*I am not a legal expert so this post does not constitute legal advice. Make sure to do your own research. 
.
Do these make sense? Let me know in the comments.
.
How can you stay GDPR compliant when using lead magnets?
Here are a few different ways:
Add an (unchecked) checkbox to your sign-up form, asking if the user would also like to receive occasional marketing communications from you.
.
In the automatic email containing your free download, include a link to a separate sign-up form where the user can also consent to receive your newsletter.
.
On the lead magnet itself, incorporate a call-to-action for the user to also sign up for your newsletter.
.
Rework your copy to show that the lead magnet is a bonus available to newsletter subscribers. Make it clear to the user that they're signing up for your newsletter but will also receive your lead magnet.
.
The key here is to be clear and consent.
.
It's also a good idea to segment your list into two groups: one for known non-EU subscribers and another for everyone else. You can then target "everyone else" with a campaign for gaining specific consent for your newsletter, another offer, etc.
.
.
How to promote your lead magnet
Once you've created a lead magnet for your property, get it on your website. If you don't edit your own website, work with your webmaster or web designer to get it applied.
.
The cool thing about lead magnets is that they are evergreen.
.
Once you have it up on your website and on a relevant page or pages, you really don't need to spend a lot of time promoting your lead magnet, but there's no harm in mentioning it on your social media.
.
Lead magnets are an effective way to change warm traffic (someone who is already interested in your property) into a qualified lead.
.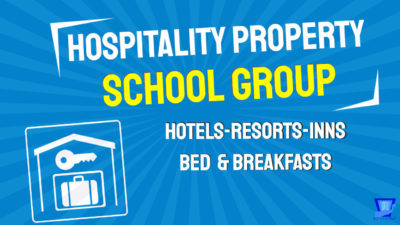 .
.
If you are a member of the Hospitality Property School Group, about as a bonus, I am going to share the dos and don'ts of successful guest data collection.
.
.
In conclusion
A successful hospitality property and revenue management plan of action must include a strong email marketing strategy. It is critical for guest conversion, whether for first-time or repeat stays. It also creates the ideal platform for upselling and cross-selling opportunities, as well as the possibility for cross-over from business to leisure and vice-versa.
.
In general, it enables you to gather higher-quality guest data.
.
Do you use lead magnets or can think of lead magnets your property could use?
Let me know in the comments.
.
You will have access to this episode for the next six weeks and then it's locked in the vault for Hospitality Property School Group members only.
To see all the other valuable material you'd have access to as a member of the Hospitality Property School Group, check out the short video in the episode post-show notes.
.
.

.
.
In the next episode, I will talk about the Other Side of the Lockdown.
.
.
That's it for today's episode,
Until next time, have a fun day.
.
Are you getting your weekly INNsider Tips? You can find the link in the show notes.
.
⇒ TO READ OR LISTEN TO THIS EPISODE ON KEYSTONE HOSPITALITY PROPERTY DEVELOPMENT:
https://keystonehpd.com/how-to-build-an-email-list-with-lead-magnets-in-2021-22-262
.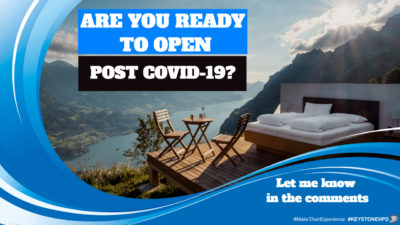 .
.
Post COVID-19 Action Plan
KeystoneHPD.com/PostCovid19ActionPlan 
.
.
.
Get Your INNsider Tips
.
.
Join one of your private groups
https://keystonehpd.com/private-groups
.
.
Say hi on social
Facebook: https://www.facebook.com/KeystoneHPD
.
Twitter: https://twitter.com/KeystoneHPD
.
LinkedIn: https://www.linkedin.com/company/keystone-hospitality-development
.
.
Listen to The Hospitality Property School PODCAST here
keystonehpd.com/hospitality-property-school-podcasts
.
.
YouTube
.
.
A Division of Keystone Hospitality Property Development
.