.
.
Netting guest data has become an essential part of any successful hospitality property business plan and collecting guest email addresses is the primary channel for staying in front of your customers.
Here's how.
Welcome to another edition of Hospitality Property School.
I am your instructor, Gerry MacPherson.
 .
.
With the impact of the global pandemic on the hospitality property industry, collecting guest email addresses is set to become an even more important medium through which property owners and managers can drive their business to ongoing success.
.
.
Why collecting guest email addresses are so important
Owning your list
Social media companies and search engines are constantly updating their algorithms and in many cases, we have seen traffic coming from specific websites drop dramatically. This is why it is important to build up and cultivate your email list and strategy.
.
With email, your property keeps a record of your guest information and there is no risk of any algorithmic change suddenly changing your ability to reach your customers.
.
.
Getting your guest information right
Guest data provides insights into their profile type, purchasing behaviour and unique preferences, so capturing the right data is key. This helps enable your property to provide excellent customer service.
.
.
Getting your email strategy wrong
It is important to gather the right data.
.
Useless guest data essentially makes offering a personalized service an exercise in guessing.
.
It is also important that all your employees understand your marketing strategy, otherwise, there can be a problem in trying to achieve the kind of customer experience that your email strategy describes.
.
If your email strategy does not focus on the best ways to drive guest engagement, you risk missing out on the possibility of attracting future guests and boosting your online presence with positive feedback.
.
Also, the right approach can help you to cross-sell and upsell to increase revenue.
Always be one step ahead
The guest experience starts long before your customers arrive at your property and you only get one chance to make a good first impression.
.
In a perfect world, you can begin making a good first impression by emailing your guests right after they book, making them feel taken care of by asking for specific requests or preferences, or ways that you can help make their stay even better.
.
How is this possible?
.
Improve your direct sales strategy
Direct sales give you an unfettered line to your guests – no third party in between. Not only can you save on OTA booking fees, but you also own the customer experience from the very beginning. This allows you to maintain a consistent experience for your guests and promote your property without limitations.
You can collect the specific guest information that you want.
.
To maximize your success, email capture screens should be well designed for both desktop and mobile.
.
You can also consider including a direct booking discount.
.
Put a pop-up on your website to gather guest data when they are about to leave your webpage.
.
Add a sign-up form to your blog.
Many guests aren't clear on the advantages of direct bookings over going through an OTA. You can make the benefits very clear via email campaigns.
.
Verify everything at check-in
For those guests who do come to your property via OTAs, it is important to verify the specific conditions of their booking, including a look at any all the details.
.
The use of competitions and promotions
Collecting guest email addresses can be made easier with competitions and promotions. For example, your property can find great success by offering a chance to win a free night's stay, a discount, a meal, or another such prize, in return for signing up to your email list.
.
.
Consider the step by step journey of your guests
There are different steps on the customer journey during their stay. Each requires a specific approach.
Pre-check-in
Not every guest wants to share their personal information, especially during the pre-check-in step. It is a good rule of thumb to only ask for the essential information necessary to complete a booking. You can gather more guest information at future touchpoints in the guest journey while at your property and after their stay.
.
For reservations with an email on record, you can send a welcome email letting the guest know what to expect and to provide helpful information, such as FAQs.
.
Check-in
At the check-in stage, email should be a mandatory field to be completed. If you use an automated self-check-in desk, require an email address to proceed. You can also incentivize email provision by highlighting the benefits of doing so, ideally as a package. These benefits may include one or more of the following:
Welcome gift upon arrival
.
Late checkout included or at a reduced cost
.
Free drink or cocktail hour
Access to concierge app or other services, including regional guide information, etc.
.
During the guest's stay
Depending on the size of your property, there may be opportunities to gather your guests' emails during their stay.
For example, it could be required for access to certain facilities,
swimming pool

spa

gym

for room service

lounge area access

to be eligible for discounts or upgrades, etc.
This process could be managed easily with an integrated PMS system.
.
Additionally, on-site services could also be offered via email.
These may include:
Reservations for restaurants and other activities

Guided day trips

City information – for example, in-house city guides or instructions for fun activities in the area
.
Check-out
Place a business card fishbowl at the front desk. This allows you to ask your guests to leave their business card if they still have a business card,  or have paper forms they can fill out in return for the chance to win prizes, for example,
a free weekend break

dinner for two
.
Another way to gather your guest email addresses is to ask for feedback.
.
To make sure that your email strategy is as efficient as possible, email address and other contact information that is gathered must be recorded in your PMS/CRM daily.
.
Do these make sense? Let me know in the comments.
.
Guest follow-up
The follow-up is an important after-stay step and also crucial for repeat bookings. You can make sure that inconsistencies and errors in data capture are recorded by checking all property guest data. Here it is crucial to avoid irritating guests by getting their data wrong.
.
.
Involve staff in driving higher results
As your employees are in contact most often with your guests, they are a vital source of ideas when you decide on initiatives to launch.
Involving your employees in such a way can help improve team morale and employee satisfaction.
To further improve guest data gathering results, you can incentivize your staff with prizes or even gamification techniques.
.
.
Transparency
It is so important to be totally transparent with your guests. If you want specific data, let them know why. Using customer data in any way that the guest doesn't expect is a sure-fire way to generate negative feelings towards your property.
This will help stimulate a sense of trust in your guests and enable you to cultivate a reputation for dependability..
 .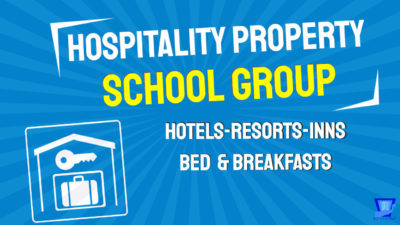 .
.
If you are a member of the Hospitality Property School Group, about as a bonus, I am going to share how to enhance your email open rate with a formula for subject lines.
.
.
..
In conclusion
With the impact of the global pandemic on the hospitality property industry, staying in front of your customers is going to be an essential medium through which property owners and managers can drive their business to ongoing success. Collecting guest email addresses will be imperative to that success. Keep these strategies in mind:
Own your list

Get your guest information right

Always be one step ahead

Improve your direct sales strategy

Be aware of your guest journey

Involve staff in driving higher results

Be transparent
.
 .
Do you currently collect email addresses from your guests?
Let me know in the comments.
.
You will have access to this episode for the next six weeks and then it's locked in the vault for Hospitality Property School Group members only.
To see all the other valuable material you'd have access to as a member of the Hospitality Property School Group, check out the short video in the episode post-show notes.
.
.

.
.
In the next episode, I will talk about the Other Side of the Lockdown.
.
.
That's it for today's episode,
Until next time, have a fun day.
.
Are you getting your weekly INNsider Tips? You can find the link in the show notes.
.
⇒ TO READ OR LISTEN TO THIS EPISODE ON KEYSTONE HOSPITALITY PROPERTY DEVELOPMENT:
https://keystonehpd.com/collecting-guest-email-addresses-step-by-step-guide-261
.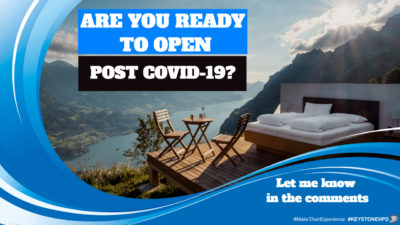 .
.
Post COVID-19 Action Plan
KeystoneHPD.com/PostCovid19ActionPlan 
.
.
.
Get Your INNsider Tips
.
.
Join one of your private groups
https://keystonehpd.com/private-groups
.
.
Say hi on social
Facebook: https://www.facebook.com/KeystoneHPD
.
Twitter: https://twitter.com/KeystoneHPD
.
LinkedIn: https://www.linkedin.com/company/keystone-hospitality-development
.
.
Listen to The Hospitality Property School PODCAST here
keystonehpd.com/hospitality-property-school-podcasts
.
.
YouTube
XXXXXXXXXXXXXXXXXXXXXXXXX
.
.
A Division of Keystone Hospitality Property Development
.