Have you ever dreamed of owning a bed and breakfast or small inn and opening the doors to the world but are not sure where to start?
Here is your buying a bed and breakfast checklist.
Welcome to another edition of Hospitality Property School.
I am your instructor, Gerry MacPherson.
.
.
How to find the right location for buying a bed and breakfast is a question I am often asked.
.
Choosing the right property can make a huge difference in whether you are going to be successful or not. So, it is extremely important, when you are in the initial planning stages, to seriously consider where you are going to invest.
.
For this reason, I have put together a buying a bed and breakfast checklist to follow. This checklist has also been used for those looking at other types of vacation rentals to purchase.
.
Something I have seen over and over again is aspiring bed and breakfast owners looking at their current property or finding one and are crazy about it. They invest a fortune in renovations and interior design and then list it on OTAs wishing for the best.
.
For many, they might have a little initial success but more often than not the success is fleeting.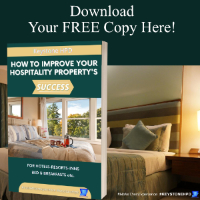 Buying a bed and breakfast checklist
Don't be rushed to find the right location
If you're dealing with a real estate agent, find one that's willing to take the time to find you the best deal. If you feel you're being pressured by them, my first instinct is to always walk away.
.
.
Just because a particular town or area has a lot of tourists, that's not always a basis for success, because if you go down that road, you'll find that you'll be in competition with everyone else, mostly on price, and you'll find it very hard to differentiate yourself and charge more.
.
.
Research the area you are considering opening and ask yourself these questions
What are at least five reasons people are visiting the area
.
What are all the main attractions in that area?
.
.
Which of those attractions would you enjoy the most and why?
.
.
Sleep around
Visit other hospitality properties in the area you're considering opening.
Talk with the owners and if they will tell you, find out their pros and cons.
.
.
Study the surroundings
I was once chatting with a gentleman who wanted to buy a hospitality property, sitting on a cliff overlooking the Atlantic Ocean.
.
The building was in great shape, beautiful view and loyal clientele and the current owner was willing to sell at a very low price.
.
He wanted to know my opinion so I asked him what the rate of the cliff erosion was. He had no idea and admitted, that he never considered it.
.
Upon further checking, we found that the cliff was eroding at an average of three metres a year and at that rate, he would have to move his property within 10 years.
.
This was a cost he had not considered and passed on the deal.
Examples of how elements could affect a site
Is the area prone to flooding?
.
Where do the winds come from?
.
Is there an industry in the area?
.
Is there heavy traffic or livestock farms nearby?
.
You have to be aware of the noise and potential smell.
.
Before committing to a site, visit it on several different days and times so you'll understand what your guests will experience.
.
.
Choose the business model 
You can purchase a property outright, rent the property from the permanent owner, or negotiate a rent-to-purchase agreement.
.
.
Obtain necessary permits and licenses
You will need to obtain the appropriate general business license and other permits, such as a food services certification. These will vary based on your location.
.
.
Make sure your design fits
Building an independent inn or bed & breakfast in an industrial zone is probably not the best way to attract your ideal guest. You have to know:
Is there an infrastructure in place? 
.
Do the roads make your property easily accessible?
.
Is public transportation usable?
.
Are there things for your guests to do? Restaurants or attractions?
.
"Details like this are extremely important"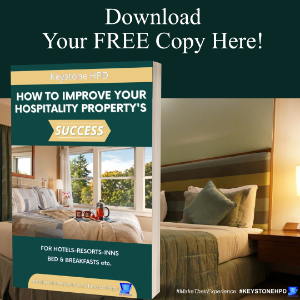 Before you do any building or renovating you have to decide
who is your target market? 
.
Are they going to be vacationers or business travellers?
.
.
Wealthy or budget travellers?
.
You should have a target market in mind and not try to be everything to everyone.
.
Now, that you know your target market, you are going to have to determine their needs and this can be done by researching other properties targeting your market, trends and technology.
.
When designing your inn or bed & breakfast, it will be well worth your while to hire an architect or designer who understands the hospitality industry.
.
Interview them away from your site, their office and ask to see the work they've done. When you feel comfortable with your choice, then bring them to your site.
.
.
Set your prices
Based on market conditions
.
.
.
.
Services and amenities offered
.
.
Set Your Expectations
Potential bed and breakfast owners should have a clear understanding of the finances involved. For example, the fewer rooms, the less income that will be generated making it more difficult to be a primary source of income.
.
Let me dive a little further into this example. If your B & B has four rooms at $80 per night and the rooms are filled every day of the year, you will gross $116,800 annually. However, the chances of every room being booked every night are next to impossible. Also, the gross amount is not a profit. You will have to factor in all your expenses and taxes.
You also have to determine:
what will you be offering them
.
why would they choose you?
.
.
Use the appropriate consultants as necessary
for example;
.
.
.
etc.
Benefit from their expertise but remember you're in charge. Overseeing this kind of development can be very time-consuming and if you're unable to do it yourself, hire someone you trust to manage the project.
.
"Create a budget and stick to it"
.
.
Walk and visualize everything
You want to draw out every aspect of your property and even a better option would be to have a three-dimensional model built. You want to understand how all aspects of your property will work together before the first nail is hammered or concrete is poured.
.
I had mentioned you need to have a budget and stick to it but it's also important to be flexible when necessary.
.
.
Set a schedule and an end date
Make sure everyone involved agrees to and signs on to the schedule and completion dates, keeping in mind any outside factors that could influence this time frame.
For example:
Weather, holidays, legal requirements etc.
.
Frequently visit the site to make sure there are no surprises and as each operational area is finished, do walk around, looking at it as your guests would.
.
.
Hire a great staff
B&B owners can suffer from burnout when they are faced with the daily challenges of cooking, cleaning, gardening, maintenance, marketing, hospitality, ordering, and accounting. If you choose to hire employees to take on one or more of these functions, you want to be sure that your staff, just like you, can thrive interacting with an ever-changing customer base.
.
.
Decorate to attract your target market 
If your bed and breakfast is near the ocean, a nautical theme is what your guests will be looking for. If you're appealing to guests looking for a tranquil or rural experience, then a country cottage should be the theme.
.
.
Become an authority
On your area, or a particular aspect of your area. By doing this, you can develop a following of guests who will only think of you when they think about visiting your area.
.
When the building renovations are almost complete and you might be thinking…
.
"I can hardly wait to open the doors and invite the world in, everything is almost done."
.
Not so fast!
.
Your property might almost be ready but now you need an organizational strategy in place, but that is for another day.
.
If you are a member of the Hospitality Property School Group, as a bonus, you will get a more detailed checklist of specifics you need to consider when buying a bed and breakfast.
.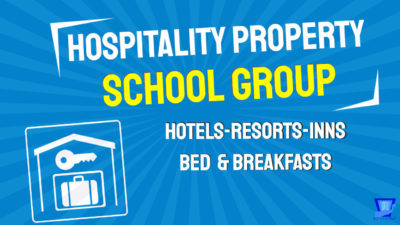 .
If you are a member of the Hospitality Property School Group, as a bonus, you will get a more detailed checklist of specifics you need to consider when buying a bed and breakfast.
.
.
In conclusion
Before I finish, I would like to give you one more tidbit of information. If the property you are considering purchasing already has a failed history as a vacation rental, there might be a reason. A bad reputation can be very difficult to shake off.
.
As long as you have a clear-cut idea of what you are buying and where you plan to take the business in the future, you should be ready to start your new adventure as a Bed and Breakfast owner!
.
Are you considering opening a bed & breakfast?
Let me know in the comments.
.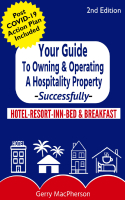 .
We cover more on organizational structure in "The Guide to Owning & Operating a Hospitality Property – Successfully" book & course. You find more information at KeystoneHPD.com
You will have access to this episode for as long as you would like but if you would like to see all the bonuses you would have access to as a member of the Hospitality Property School Group, check out the short video in this episode post-show notes.
.
.

.
In our next episode, I will be talking about Designing a Bed and Breakfast. 
.
That's it for today's episode,
Until next time, have a fun day.
.
If you haven't done so yet, make sure up sign up for the INNsider Tips, say hi on social and join one of our groups. And make sure you get your free copy of the "How to Improve Your Hospitality Properties Success".
.
You can find all the links in the show notes.
.
⇒ TO READ OR LISTEN TO THIS EPISODE ON KEYSTONE HOSPITALITY PROPERTY DEVELOPMENT:
https://keystonehpd.com/buying-a-bed-and-breakfast-checklist-303
.
"The Guide to Owning & Operating a Hospitality Property – Successfully" course.
https://KeystoneHPD.com/Course
.
..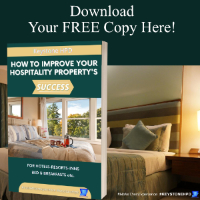 .
Did you get your copy of the "How to Improve Your Hospitality Properties Success" ebook?
KeystoneHPD.com/How-to-Improve-Your-Hospitality-Properties-Success
.
.
.
Get Your INNsider Tips
.
.
Join one of your private groups
https://keystonehpd.com/private-groups
.
.
Say hi on social
Facebook: https://www.facebook.com/KeystoneHPD
.
Twitter: https://twitter.com/KeystoneHPD
.
LinkedIn: https://www.linkedin.com/company/keystone-hospitality-development
.
.
Listen to The Hospitality Property School PODCAST here
keystonehpd.com/hospitality-property-school-podcasts
.
.
YouTube
.
.
A Division of Keystone Hospitality Property Development
.