.
.
I don't like patting myself on the back, but I am recognized as a hospitality property authority or influencer.
You as well can become an influencer for your region or property. I'll tell you how.
Welcome to another edition of Hospitality Property School.
I am your instructor, Gerry MacPherson.
.
.
In the past, if you had a celebrity promoting your business or product, that was worth its weight in gold. Today, when it comes to getting advice or recommendations on what to do, where to vacation, where to stay or where to eat, most people trust peers more than so-called "experts."
.
Now, you might be an expert in the hospitality property field, especially in your region, but to benefit an influencer in your field, your goal should be to become a peer and this can be done by sharing your content and insight in a certain way, so your returning and potential customer see you more as a peer.
.
Influencers are ordinary people who have earned a substantial loyal following because of their expertise and transparency. Unlike celebrities who actively endorse products on their social media accounts, influencers achieved their fame because of the valuable information they share with their followers.
.
Where do you start?
12 guidelines for you to follow
Choose the social media channel that you are comfortable with
As of this writing, Instagram is the channel where 93% of social media influencers spotlight their content because it gives them the best results., but before you pour all your energy into Instagram you have to determine if that is where your target market is spending their time.
In other words, if you want to grow your following and establish yourself as an influencer, you need to make sure that you choose the right social media channel based on your niche and ideal audience.
.
Here are three questions to ask to help guide you in choosing the right social media channel:
Who is your target audience?
.
Where are the other influencers in the hospitality property niche?
.
What type of content will you create?
You need to develop your content strategy
The format and quality of the content you publish will make or break your chances of successfully building yourself as an influencer.
Part of developing an effective content strategy is giving your audience the right balance of informative content and personal content. You should be able to both deliver valuable information and express your personality and voice.
A good rule of thumb is the 5-3-2 principle: Out of every 10 posts you publish in your social media account, five of these should be valuable content written by someone else, three are educational and informative content you created yourself, and two should be posts about yourself.
.
.
Distribute your content
You can have the best content in the world, but if nobody is seeing it and you're not engaged, it's not exactly useful.
It's important that you carefully plan out when you'll be publishing and distributing your content and it is critical to know how to post your content on social media.
.
.
Grow your network
While you're still in the process of proving your credibility and expertise as an influencer, you'll need to actively grow your follower base. One of the most effective ways of doing this is through blogging.
Blogging can help you kickstart your follower base by helping you get discovered and by including social media sharing buttons on each of your blog posts. Your visitors can share your content with their respective social media networks.
.
.
Engage with your followers
When your followers leave a question or comment on your posts, take the time to acknowledge and respond to them. That can make them feel like they're valued and that you sincerely want to help them. It will also help you develop a relationship with them, and be prepared, not all of the comments and questions will be positive. As an influencer, expect that you'll have your fair share of negative comments and criticisms. Make sure to keep your cool and address them professionally.
Stay up to date
If you've been active on any social media channel, you probably know how often networks update their algorithms, as well as their posting terms and conditions. As an aspiring influencer, you need to keep yourself updated with these changes to avoid penalties.
.
.
Be consistent
The one thing that surpasses quality content is consistency. That's because your followers need to be able to count on you to deliver quality content on a consistent basis. If you don't, they'll eventually stop following you, or at least pay attention to you.
.
Are these make sense so far?
Let me know in the comments.
.
Participate in off-site forums
Social media has its advantages, but in addition to social networks, it's also advantageous to participate in forums and other platforms in order to take part in online discussions.
Any discussion can increase your popularity, expand your influence, and make new relationships.
.
.
Build a website or blog
Conversations don't take place exclusively on social media.
If you build a website or blog, you can include a link to them on all your social media to direct your followers and improve the engagement rate.
A detailed blog post has more added value than a short post on social media.
.
.
Provide added value
If you don't add value, you'll never become an influencer.
You have to be on everyone's lips to become an influential influencer and if you can impress your readers with your knowledge and the added value gained from your articles, you will definitely be recommended.
.
.
Always stay authentic and be true to your brand
To many watchers, the Super Bowl commercials are just as excited as the game because big brands like GoDaddy, Budweiser and Ford keep putting out epic spots that tell their brand story.
You can do the same.
It is important that you are always authentic and stay true to your brand.
.
.
Respond to comments
Respond to any and all comments.
Always be polite and factual when replying to comments but when you come across trolls and haters make sure you have a well-thought-out strategy in place to use those comments to build your brand.
.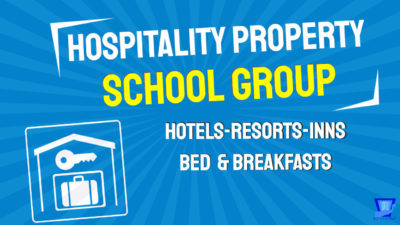 .
.
If you are a member of the Hospitality Property School Group, as a bonus, I am going to talk about what to look for and how to benefit from an influencer staying at your property.
.
.
In conclusion
By following the 12 guidelines I have posted, you will be well on your way to becoming a hospitality property influencer.
Positioning yourself will take some time, so you'll need to be patient, and stay consistent. Now keep in mind, becoming an influencer in the hospitality property industry is not the end destination, instead, it's a stepping stone to increase your property's patronage and profit.
.
Are you currently an influencer in your community?
Let me know in the comments.
.
You will have access to this episode for the next six weeks and then it's locked in the vault for Hospitality Property School Group members only.
.
To see all the other valuable material you'd have access to as a member of the Hospitality Property School Group, check out the short video in the episode post-show notes.
.
.

.
.
In the next episode, I will talk about content writing.
.
.
That's it for today's episode,
Until next time, have a fun day.
.
Are you getting your weekly INNsider Tips? You can find the link in the show notes.
.
⇒ TO READ OR LISTEN TO THIS EPISODE ON KEYSTONE HOSPITALITY PROPERTY DEVELOPMENT:
https://keystonehpd.com/brilliant-tips-to-help-become-an-influencer-269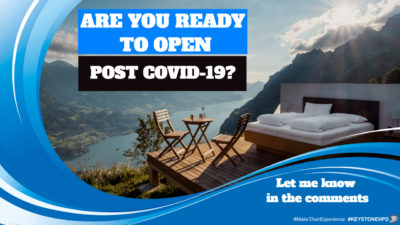 .
.
Post COVID-19 Action Plan
KeystoneHPD.com/PostCovid19ActionPlan 
.
.
.
Get Your INNsider Tips
.
.
Join one of your private groups
https://keystonehpd.com/private-groups
.
.
Say hi on social
Facebook: https://www.facebook.com/KeystoneHPD
.
Twitter: https://twitter.com/KeystoneHPD
.
LinkedIn: https://www.linkedin.com/company/keystone-hospitality-development
.
.
Listen to The Hospitality Property School PODCAST here
keystonehpd.com/hospitality-property-school-podcasts
.
.
YouTube
.
.
A Division of Keystone Hospitality Property Development
.