To design a Bed and Breakfast takes time and planning.
You have to set achievable goals, establish your target market and ensure your property works for your plans. Here are 14 guidelines you need to follow.
Welcome to the Hospitality Property School.
I am your instructor, Gerry MacPherson.
.
.
A bed and breakfast is many vacationers' idea of a charming place to spend time when travelling.
Thinking of opening a bed and breakfast can inspire many to make the leap into this business, but there is far more to running a successful bed and breakfast than renting out rooms in an old home and that starts when you sit down to design a bed and breakfast.
.
.
Here are 14 guideline tips to help through the process
1.    Consider the user-experience
From the moment guests book their stay to the moment they check out, mapping a wonderful user experience is all-important for rental property owners. Guests will appreciate that you've made sure every step of their stay is catered for.
.
You'll need to know your target market, so you can recognize exactly who you'll be welcoming into your B&B and their unique needs. Knowing your clientele is crucial.
Things to consider:
The all-important high-speed WIFI
.
Providing a workspace for guest
.
Installing well-placed reading lights
.
Adding multiple USB ports above bedside tables
.
When your guests have everything to make their stay pleasant, it guarantees a more enjoyable experience all-round.
.
.
2.    Your layout & space
When planning your B&B's layout, make a list of all the necessary furniture items that will be required in the space. Consider how guests would navigate through your B&B and map out their probable movements and place furniture accordingly.
.
This will help to create a super function space with a great flow.
.
Keep in mind the more furniture and decor, the more cleaning and maintenance you'll need to do.
Other factors to take into consideration:
Determining purpose and defining zones
.
.
Where is the best natural light 
.
Electrical socket locations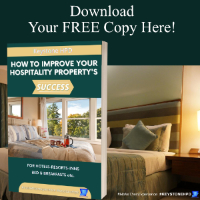 3.    Working  with existing floor plan
Due to the fact that many bed and breakfasts are older homes, you might find yourself working with a challenging floor plan. This could mean rooms that don't feel like they flow together and small rooms that make furniture placement difficult. One of the greatest challenges designers face with bed-and-breakfast house plans is working with existing structures.
.
Transforming a historic home into a functioning bed and breakfast might mean removing a closet door to turn it into an alcove or removing an interior wall to combine separate rooms into one larger bedroom. This can also mean building a bookshelf around a column to create 4 sides or even adding storage space under the stairs. Working alongside a creative contractor can enable you to make the most of your bed and breakfast property, giving it new life and keeping it fresh for guests.
.
.
4.    Plans for fire safety
Building codes vary from one area to another, so be sure to comply with them during bed and breakfast house construction.  Failure to comply with the local fire code could get your bed and breakfast fined or might cause guests to be hurt in case of an emergency. Examples of fire-safety precautions for your bed-and-breakfast include:
Smoke and CO2 detectors in each bedroom
.
A fire suppression system
.
Fire escapes for upper floors
.
Multiple exits for each room
.
It is always better to be more cautious than the fire code requires for safety. You have to make your guest and employee safety a priority. If you are considering buying a bed and breakfast or property to convert, carefully consider the extent of the renovations it will need to come up to today's safety codes.
.
.
5.    Give each room easy access to amenities
One very important consideration when designing a floor plan designs is creating one that grants guests similar access to amenities. Although bed-and-breakfast guests understand that they are not staying at a hotel and so each room might be different, renovating the floor plan to give each room similarly easy access to a bathroom, the staircase and the kitchen can make a property more attractive.
.
.
6.    Sourcing quality furniture
You can impress your guests with your level of comfort and style and not spend a fortune. You can source second-hand furniture from many different places including local auctions or online marketplaces. They are also a great way to find high-quality and affordable furniture. This can bring the cost of setting up a unique look to any space more affordable.
.
Whether you want to create a modern feel to a space or something more traditional, sourcing quality second-hand furniture is an affordable option. The added bonus is that investing in second-hand items, it's good for the planet and reduces the carbon footprint.
.
.
7.    Create a unique brand
You want your establishment to make a statement while at the same time aligning a space perfectly to the ideal guests. Simply put, branding is a necessary communication strategy used to help identify and distinguish one brand from another.
.
In competitive markets, branding is crucial in paving the way for a bed and breakfast's success as it increases customer recognition and recall of the property
To look at it holistically, branding is comprised of the following main factors:
.
.
.
.
By improving on these factors, your bed and breakfast brand can go from good to great.
.
.
8.    Install pleasant and effective lighting
In a perfect world, you want your BnB to reflect a cozy ambience. To do this you could illuminate your space with multiple lamps, wall lights and directional task lighting instead of overhead general lighting. This will create a  more effective lighting scheme with a relaxing atmosphere. 
.
You should also switch out all bulbs for LED to reduce energy use and reduce running costs.
.
The lighting should reflect the time of day, general mood and functionality of your space.
.
.
9.    Use colours to enrich a look
Whether you want a contemporary feel or a vintage look to your B&B, there's a superb choice of colour options and palettes to suit your style.
.
The right colour can transform the look and feel of a space. For a calming feel opt for cool tones like blues and greens and for social spaces I would recommend warmer tones like pinks and oranges.
.
If you want to create a space with the most possible impact then try layering warm and cool tones together in a room. This can be in the form of furniture, decor, textiles and paints!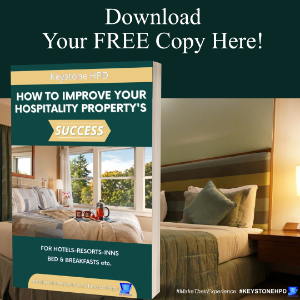 .
10.                  Consider your guests' wants and needs
When making bed-and-breakfast plans, it's important you consider guests' potential needs. A family travelling with children might only want a room that has its own bathroom, and guests without children might want to be located far from the noises of a young family.
.
.
11.                  Include thoughtful gifts
A thoughtful gift here and there can also make all the difference. Things to consider include:
A welcoming basket full of local delicacies
.
A personalized guest guide book full of places to visit
.
Quality organic cotton linen and towels
.
Complimentary items such as fairtrade tea and coffee and soaps, even ear plugs if you are situated near a road. 
.
Your guests will love the fact they are being offered something which could encourage great reviews.
.
.
12.                  Consider your guest's length of stay
Your property's design and layout will depend on how long your guests are going to be staying. You should align your interior design to suit your needs and that of your guests.
.
You should ask yourself:
Will they need laundry facilities
.
.
What about additional kitchen equipment
.
etc.
.
As a bed and breakfast owner, you have to make sure that your guest's needs are catered to no matter how long they stay.
.
.
13.                  Is your B&B going to be family-friendly, wheelchair accessible, pet-friendly
If your BnB is going to be family-friendly, you have to consider:
.
Installing wall-mounted TVs
.
Fitting child-safe, cordless blinds
.
Make sure fireplaces are covered up
.
If you are going to be a pet-friendly establishment, you have to consider:
.
.
Durable finishes and furniture
.
.
To be wheelchairs accessible, you'll need:
Space to park a wheelchair under a counter
.
.
.
Wider corridors and turning areas
.
.
.
.
14.           Keeping your B&B clean
Your B&B must be kept glittering clean. Choosing the right furniture, carpets, flooring and window furnishings can make this a lot easier.
Things to consider include:
Easy clean and durable furniture
.
.
Mixed tone, woven textiles that don't stain easily
.
.
.
.
.
If you are a member of the Hospitality Property School Group, as a bonus, I'm going to share 7 more factors to consider when looking to design a bed and breakfast.
.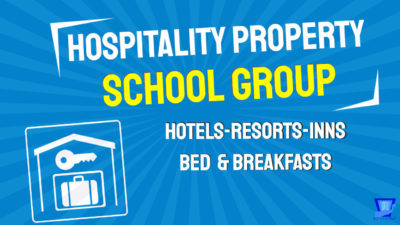 .
If you are a member of the Hospitality Property School Group, as a bonus, I'm going to share 7 more factors to consider when looking to design a bed and breakfast.
.
.
In conclusion
There are lots to consider when you set up a B&B many of which I cover in this episode. Getting it right from the outset is crucial if you want your B&B to stand out and be somewhere that creates great memories for your guests.
.
Now you've read our 14 guideline tips to follow when planning to design a bed and breakfast, you can have peace of mind knowing you starting on the right foot.
.
Have you ever designed or renovated a bed and breakfast?
I would like to hear your story.
Let me know in the comments.
.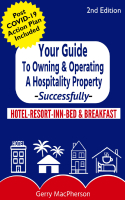 .
We cover more on organizational structure in "The Guide to Owning & Operating a Hospitality Property – Successfully" book & course. You find more information at KeystoneHPD.com
You will have access to this episode for as long as you would like but if you would like to see all the bonuses you would have access to as a member of the Hospitality Property School Group, check out the short video in this episode post-show notes.
.
.

.
In our next episode, I will be talking about Buying Furniture for My Bed & Breakfast. 
.
That's it for today's episode,
Until next time, have a fun day.
.
If you haven't done so yet, make sure up sign up for the INNsider Tips, say hi on social and join one of our groups. And make sure you get your free copy of the "How to Improve Your Hospitality Properties Success".
.
You can find all the links in the show notes.
.
⇒ TO READ OR LISTEN TO THIS EPISODE ON KEYSTONE HOSPITALITY PROPERTY DEVELOPMENT:
https://keystonehpd.com/14-guidelines-to-design-a-bed-and-breakfast-effectively-304
.
"The Guide to Owning & Operating a Hospitality Property – Successfully" course.
https://KeystoneHPD.com/Course
.
..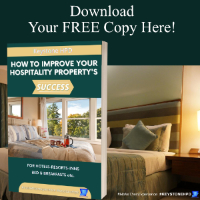 .
Did you get your copy of the "How to Improve Your Hospitality Properties Success" ebook?
KeystoneHPD.com/How-to-Improve-Your-Hospitality-Properties-Success
.
.
.
Get Your INNsider Tips
.
.
Join one of your private groups
https://keystonehpd.com/private-groups
.
.
Say hi on social
Facebook: https://www.facebook.com/KeystoneHPD
.
Twitter: https://twitter.com/KeystoneHPD
.
LinkedIn: https://www.linkedin.com/company/keystone-hospitality-development
.
.
Listen to The Hospitality Property School PODCAST here
keystonehpd.com/hospitality-property-school-podcasts
.
.
YouTube
.
.
A Division of Keystone Hospitality Property Development
.