Looking to breathe new life into your hospitality property brand?
Discover the top tips and tricks for reviving your brand and reigniting your success.
Welcome to another edition of Hospitality Property School.
I am your instructor, Gerry MacPherson.
.
.
Today's episode, Reviving Your Hospitality Property Brand: Tips and Tricks, is a guest post written by Courtney Rosenfeld.
.
Your Hospitality Property Brand
Hospitality property businesses are constantly evolving with the times. There's so much competition out there, and it's essential to remain current and relevant. One of the best ways to accomplish that is to refresh your brand.
.
Updating your image and messaging will help your business stand out and attract new customers. But how do you go about refreshing your brand, and where do you start? Keystone HPD shares some tips and tricks for giving your hospitality property a fresh new look!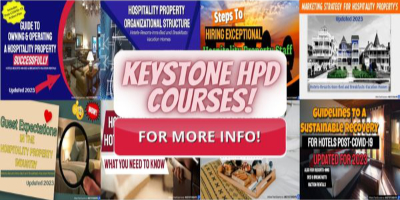 Why Is It Important To Refresh Your Brand in the Hospitality Industry?
Revitalizing your brand is crucial for a number of reasons. First, it helps keep your company relevant and contemporary. As the world changes, so do consumer preferences. So you must be aware of emerging industry trends and ensure your brand aligns with them.
.
Refreshing your brand can also help attract new customers. You may be able to appeal to a new demographic or audience by simply modifying your image and message.
.
Keep in mind that if everyone in your industry is doing the same thing, a unique and fresh brand will make your business more noticeable and memorable. In other words, you'll distinguish your bed-and-breakfast or hotel from your rivals!
.
.
Using Your Brand in Your Marketing Materials
Once you've developed a new brand image, you want to make sure it's reflected in all your marketing materials. This includes your website, social media pages, menus, flyers, business cards, and any other promotional materials. Confirm that your staff are aware of the new branding and are appropriately trained on communicating it. Consistency is key, so you want your new branding to be visible everywhere your business is represented.
Consider designing a trifold brochure that incorporates your new branding elements. You can use an online brochure maker (this may be a solution) and customize a premade template to fit your needs. An attention-grabbing brochure that perfectly showcases your business and its offerings can do wonders for brand recognition!
Revisiting Your Values and Mission
Your brand isn't just about your official identity — it also represents who you are as a company. When refreshing your brand, remember to revisit your values and mission. Doing so will help ensure your new branding aligns with your business goals and philosophy.
.
If you haven't yet defined your company values and mission, now is the time to do it. They should inform your brand messaging, be evident to customers, and drive every step you take as an organization.
.
.
Creating a New Logo
Your logo is a crucial part of your brand identity. It's the visual representation of your company and should convey your brand identity in a concise and memorable way. If your old logo isn't working for you anymore, make a new one. Just make sure it is scalable, easy to read, and in line with the rest of your branding elements.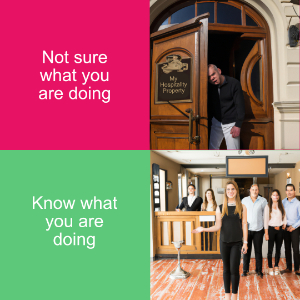 Click the image to find out more
Selecting a New Colour Scheme
Your colour scheme is another critical aspect of your brand identity. Different colours evoke different feelings and emotions in people, so go with a palette that fits your brand values and messaging.
.
Consider what emotions you want your brand to inspire, and choose colours that align with those emotions. Make sure the colours match your new logo and are consistent across all your marketing materials.
.
.
Do You Have a Good Slogan?
Any consumer will tell you that a good slogan can help them remember a business and what it stands for. Resolve to come up with a new slogan if your old one is no longer getting it done! Focus on creating a slogan that aligns with your brand identity and mission while standing apart from the rest of the hospitality property industry; keep it short, memorable, and easy to say.
.
.
In conclusion
Refreshing your hospitality business's brand is a vital step toward staying relevant and attracting new customers. From evaluating your values to updating your marketing materials to creating a slogan, you can create a fresh new identity that accurately reflects who you are as a property.
.
Don't be afraid to take risks and try something new — it might just pay off in the long run. Keeping your business up-to-date and in touch with the latest trends will help ensure it remains competitive and successful!
.
Would you like to read more helpful content or learn about our property development services? Visit KeystoneHPD.com today!
.
"Courtney started Gig Spark to be a resource and the first step for people who are looking to join the gig economy, either to supplement their income or as a way to fulfil their dreams of becoming an entrepreneur."
.
Have you ever considered reviving your hospitality property brand?
Let me know in the comments.
.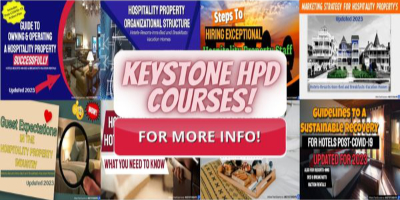 .
Check out all we have to offer to help you succeed
https://courses.keystonehospitalitydevelopment.com/
.
.
You will have access to this episode for as long as you would like, but if you would like to see all the bonuses you would have access to as a member of the Hospitality Property School Group, have a look at the short video in this episode post-show notes.
.
.

.
In our next episode, I will be talking about Hotel Maintenance Employees Qualifications To Look For.
.
.
That's it for today's episode,
Until next time, have a fun day.
.
If you haven't done so yet, make sure to sign up for the INNsider Tips, say hi on social and join one of our groups. And make sure you get your free copy of the "How to Improve Your Hospitality Properties Success" e-book.
.
You can find all the links in the show notes.
.
⇒ TO READ OR LISTEN TO THIS EPISODE ON KEYSTONE HOSPITALITY PROPERTY DEVELOPMENT:
https://keystonehpd.com/reviving-your-hospitality-property-brand-tips-and-tricks-347
.
"The Guide to Owning & Operating a Hospitality Property – Successfully" course.
https://KeystoneHPD.com/Course
.
..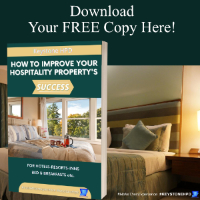 .
Did you get your copy of the "How to Improve Your Hospitality Properties Success" ebook?
KeystoneHPD.com/How-to-Improve-Your-Hospitality-Properties-Success
.
.
.
Get Your INNsider Tips
.
.
Join one of your private groups
https://keystonehpd.com/private-groups
.
.
Say hi on social
Facebook: https://www.facebook.com/KeystoneHPD
.
Twitter: https://twitter.com/KeystoneHPD
.
LinkedIn: https://www.linkedin.com/company/keystone-hospitality-development
.
.
Listen to The Hospitality Property School PODCAST here
keystonehpd.com/hospitality-property-school-podcasts
.
.
YouTube
.
.
A Division of Keystone Hospitality Property Development
.