.
.
Cross-selling and upselling products can be a win-win for both guests and hospitality property owners.
Here's what you need to do to increase your profits?
Welcome to another edition of Hospitality Property School.
I am your instructor, Gerry MacPherson.
.
.
Promoting your hospitality property can be a daily grind, but it doesn't have to be.
And you don't have to do it alone.
You can increase your client base and improve your bottom line by using cross-promotion and marketing with comparable business partners.
Cross Promotion is a great way of tapping a target group of partners without investing much. With more businesses competing for a slice of the market share, creative businesses of all sizes are trying more cross-promotion campaigns, in the hopes of driving sales and increasing brand loyalty.
It can be a win-win situation for all of the parties involved.
.
.
Sometimes there is confusion over cross-promoting and cross-selling
Cross-promotion may involve two or more companies working together in promoting a service or product whereas cross-selling or upselling, is the act of selling (or upselling) an additional product or service to an existing guest.
If you have additional products or services to offer at your hospitality property, you and your employees must know how to cross-sell or upsell.
Let's look at some ways to cross-sell your products or services
You can do this within your own business by offering customers a product or service you offer at your property. It can be as simple as the waiter asking if the customer wants a salad to go with that main course. A subtle way of encouraging a guest to spend a little more.
Generally, guests don't mind.
Surveys show that most buyers appreciate being told about additional products or services that might better meet their needs or about new items that were not offered in the past. It's a way of demonstrating that you are aware of their needs and care about their satisfaction.
The key to successful cross-selling is to focus on meeting the guest's needs rather than simply pushing products or services. Treat the cross-selling process like a suggestion so customers will volunteer more information about their requirements.
.
.
Ways to Improve your opportunities for upselling products
Stay attentive
Don't overload customers with unrelated cross-selling suggestions or they will not take anything. To gain the extra sale, you could simply mention that have other products or services are available.
.
Train your employees to upsell
Build your approach around serving the customer, not just selling more stuff. Explain how the additional products or services can further solve a guest's problem and enhance their stay.
.
Cross-sell on your website
Locate cross-sell items on your website where they can help educate shoppers on the depth and variety of what you offer. Mix and match items.
.
Offer a variety of prices
If you suggest three items to complement a product, try to offer a mix of price points.
.
Post expert recommendations
One way to enable cross-selling is to state-specific recommendations from professionals, experts or other customers. This could be a chef's recommendation on a menu or a list of related items other customers have purchased on your website.
.
Try product or service packages
Packages have long been used as a way to tempt shoppers to buy not just a single item, but a complete group of items that go together. Offering a deal on packages will help close the sale.
Training to upsell is a step in the right direction to increasing your bottom line.
.
.
Let's continue with ways to cross-promote
Organize cross-specials
You already know that you can target guests during or after the purchase with related specials, such as free giveaways, discounts, coupons, and/or gift cards. Try increasing your reach by working together with another local business. While your and your partner's businesses might be unrelated in terms of product, both of you should have similar target clientele and a reputation for high-quality products or services.
.
Make use of each other's assets
Cross-promotions can provide an opportunity to make use of assets you already have, saving you money.
One of those assets you're already paying for is space. Why not exchange a little retail space with your partner? The space can be as small as your partner's counter, where you might place your business logo and description to cross-promote your brand. You can increase the effects of this approach by combining it with other cross-promotional methods like offering coupons and discounts.
.
Cooperate with influencers
So what is an influencer? A person or group can influence the behaviour or opinions of others.
You and the influencer could cross-promote to each other's audiences, or you could partner with a second business to bring a mutually beneficial influencer on board, splitting the cost of hiring an influencer.
Collaborating with an influencer can allow local businesses to create highly-targeted campaigns by zeroing in on an influencer's specific qualities, like geography or target audience.
.
.
Combined Advertising
Many Fast Food Restaurant Chains often indulge in joint advertising with beverages companies. You can do this by partnering with the company where marketing to your target audience is mutually beneficial.
.
Co-sponsor a good cause
Joint charitable sponsorships are likely to attract more contacts than if only one business sponsors a cause. Such alliances provide co-sponsors exposure to each other's audiences and access to that of the charity. And, as sponsorship fees rise, you can stretch your budget by spreading costs with like-minded partners.
You may sponsor related events / TV shows to get more reach. This result might more beneficial if the event is also sponsored by other large sponsors.
.
Are these make sense so far?
Let me know in the comments.
.
Co-produce a newsletter
You and a partner can co-produce a newsletter that ties your brands together in an organic way. Co-production will keep expenses low while expanding the types of expertise you can offer your clients.
The newsletter doesn't have to be about your businesses; it could be about a related subject. For instance, your hospitality property and a local tour operator could co-produce a newsletter talking about tourist activities in their area.
.
Cross-promote your brands on social media
If both you and your partner have an established social media presence, the opportunity is calling. By cross-promoting each other's brands to particular followers, you can double your visibility and win new guests.
Remember, cross-promotion doesn't mean simply cross-posting one message from your social profile to all of your partner's social media channels at the same time. That may just turn off your potential new audience. Instead, design your messages in a way that relates to each particular audience.
Social media cross promotions require diplomacy. Your messages have to meet certain expectations which highlight the benefits of each company, why your companies are the best and how easy it is for travellers to get to you.
.
.
If your partner has a blog, write guest posts
Bloggers often guest post on other websites to get more exposure and increase their website traffic. This type of partnership is a good deal for both parties as one party gets quality content while the other get more exposure and a backlink to his website.
.
Finding the right partner
Since your customers will associate your partner's marketing with your own in a cross-promotion, it's crucial to work with businesses that leave a great first impression.
Your next step is finding the right partner.
Consider your customers: what sorts of services or products would add value for them? Narrow the field by focusing on businesses whose services, products, and marketing you respect.
Don't be shy about getting to know a prospective partner—Google them, check out their LinkedIn profiles, look for reviews and recommendations of the business online, and, of course, ask your network!
.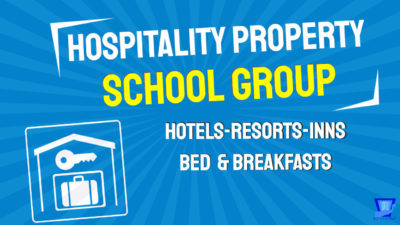 .
.
If you are a member of the Hospitality Property School Group, as a bonus, I am going to talk about 5 ways to cross-sell in your hospitality property.
.
.
In conclusion
Cross-selling or upselling is an excellent way to add a revenue stream to your business, even if you don't have the infrastructure of a luxury hotel. You can implement cross-selling tactics at different touchpoints in your property, whether offering a bottle of wine upon arrival, a spa treatment or parking spaces, you can increase your revenue with ease without disrupting your operations.
Put these ideas into practice and you will quickly see the results. A pre-stay communication with automated messages and personalized questionnaires is the ideal communication channel to cross-sell your services and products efficiently.
Well-designed cross-promotion can be a win-win for everyone.
.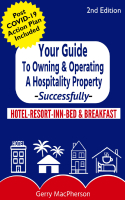 .
We cover more on marketing in "The Guide to Owning & Operating a Hospitality Property – Successfully" book & course. You find more information at KeystoneHPD.com
.
Do you currently or are planning to cross or upsell at your property?
Let me know in the comments.
You will have access to this episode for the next six weeks and then it's locked in the vault for Hospitality Property School Group members only.
.
To see all the other valuable material you'd have access to as a member of the Hospitality Property School Group, check out the short video in the episode post-show notes.
.
.

.
.
In the next episode, I will talk about content writing.
.
.
That's it for today's episode,
Until next time, have a fun day.
.
Are you getting your weekly INNsider Tips? You can find the link in the show notes.
.
⇒ TO READ OR LISTEN TO THIS EPISODE ON KEYSTONE HOSPITALITY PROPERTY DEVELOPMENT:
https://keystonehpd.com/profit-with-cross-selling-upselling-products-ep-271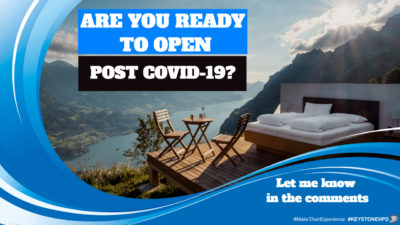 .
.
Post COVID-19 Action Plan
KeystoneHPD.com/PostCovid19ActionPlan 
.
.
.
Get Your INNsider Tips
.
.
Join one of your private groups
https://keystonehpd.com/private-groups
.
.
Say hi on social
Facebook: https://www.facebook.com/KeystoneHPD
.
Twitter: https://twitter.com/KeystoneHPD
.
LinkedIn: https://www.linkedin.com/company/keystone-hospitality-development
.
.
Listen to The Hospitality Property School PODCAST here
keystonehpd.com/hospitality-property-school-podcasts
.
.
YouTube
.
.
A Division of Keystone Hospitality Property Development
.