The challenges of the pandemic will pass
and we will need more quality hotels.
If this is your dream, do you know how to start a hotel business?
Stay with me and I'll share what you need to know.
Welcome to another edition of
Hospitality Property School.
I am your instructor,
Gerry MacPherson.
.
.
If you've ever wondered how to start a hotel business, you're not alone.
.
Even as we are coming to terms with COVID-19, the dream of owning a hotel is alive and well and it is more important than ever for aspiring hoteliers to be strategic and attentive.
.
.
So where should you start?
You have to determine if operating a hotel is a good fit for you, what it takes to operate a successful hotel and what are going to be the upfront costs.
.
.
What is the number one skill necessary for a hotelier?
You need to be able to manage and work with a diversified workforce. Not everyone will be your clone or even have your understanding of how things should work. To be honest, having employees that are not able to think for themselves can be counter to the greater good.
.
A great hotel owner must be the go-between for their employees, understand their needs and be open-minded.
.
Diversity in your employees will help your property shine.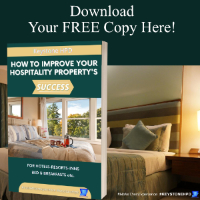 What are some personality traits of great hotel owners?
You have to be well-rounded, with at the very least a basic understanding of marketing, sales, revenue management, design or innovation management, technology and employee development.
.
You must have the ability to work with and listen to people who are better skilled in aspects of hotel operations or are unconventional thinkers.
 .
You have to be able to offer and take constructive criticism.
 .
You need to have the desire to serve
 .
You definitely have to have an entrepreneurial mindset.
 .
You may not be dealing face-to-face with your guests every minute of every day but your approach will filter down through management to your employees.
.
.
A prosperous hotel is always born from the culture of its top management, and the culture of top management is always born from the hotel owner.
To be specific, the qualities of successful small hotels owners include:
.
A desire to delight guests
.
.
.
.
In good physical and mental health
.
Capable of multitasking, especially in the beginning when you may not be able to afford all the staff you need
.
.
What makes an outstanding hotel?
What makes an outstanding hotel depends on its target clientele and what appeals to them, it's all about the experience.
.
If your hotel caters to families, then you have to make sure that all family members can be kept delighted and content.
.
Let me give you examples of what a top-tier family hotel would include:
.
Year-round activities for the whole family, including holiday programmes for the children
.
.
.
Plenty of complimentary services
.
.
.
Friendly and helpful employees
.
On the other hand, an extravagant hotel will have elegant furnishings and would offer high calibre services that the more average hotel wouldn't usually contemplate.
.
From the aspect of day-to-day service, employees would be highly trained and authorized to do whatever it takes to satisfy their guests.
.
Your most important consideration is whether you can offer something that other hotels in your area, including branded properties, do not.
.
Finally, your location. It must cater to the needs of your target market. Is it close to a train station and other public transportation? Are there attractions, entertainment and eating establishments within walking distance?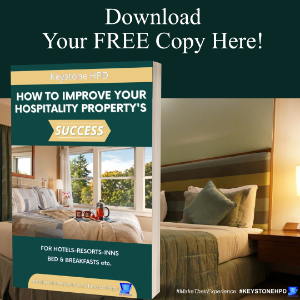 What does it cost to start a hotel business?
The range is totally based on your location and country. For example, a small hotel in the U.S. could start at a million dollars and go up to $22,000,000 for a 115-room property.
.
You might have to take into consideration the type of hotel you would like.
A motel, boutique or 5-star hotel
.
The purchase price of land or an existing building
.
.
.
.
.
.
.
.
Franchise or management fees
.
.
.
.
Can a hotel be profitable?
As we have witnessed in the last couple of years, there are many variables to could affect the bottom line.
.
According to the EBITDA margin or the measure of a company's operating profit as a percentage of its revenue, a well-run hotel should typically run at a 25-40% profit but a poorly run hotel may not be very profitable at all.
.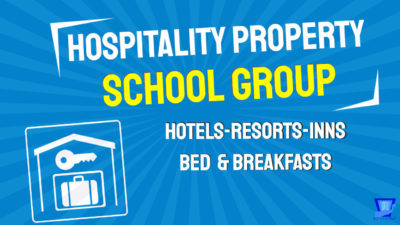 .
If you are a member of the Hospitality Property School Group, as a bonus, I'm going to share ways to raise startup capital for your hotel.
.
.
Members Material
.
Raise startup capital
In order to secure financing for your hotel, you need to have a solid, well-researched business plan to prove to investors that they'll generate a good return on their investment.
.
Methods for raising capital include:
.
Take out a small business loan.
.
Find angel investors who would be keen to get a share of your hotel business.
.
Look for venture capitalists who can also offer valuable advice.
. 
Another idea is to set up a crowdfunding campaign to get small amounts from a lot of different people.
. 
Enquire about start-up accelerators or incubators to help introduce you to potential investors. 
. 
·Yet another avenue is friends and family – you never know who will believe in your idea. Be sure to treat them as an investor; avoid the temptation to be sloppy in presenting to them just because they're friends or family.
.
When asking anyone for money, either as an investment or loan, make sure you are prepared and clear about the numbers. This is important because it's the first clue as to whether you will make a good business founder they can trust.
.
Create a strong, well-thought-out plan and then present it to investors and lenders to raise the required funding. It is vital to show confidence and that you've given your new business idea enough thought.
.
Remember that people are only going to help you if they believe your hotel will make money and if they trust that you and the management team will be able to lead your hotel to profit. 
.
.
How to start a hotel business on a budget
Start off small by booking out a room in your own home. The key to making this work is to make students or low-budget guests your primary market so that affordability attracts them, or to offer a unique experience.
.
Once you begin making money by booking out a part of your home, you can begin to grow, offering more services as you expand, and eventually, setting up a full-fledged hotel.
.
Try the vacation rental way of instant Hotelling. Hire out your home or other property you own; when it gets booked, move yourself to cheaper accommodation so that you still make a profit. The key is just to get started.
.
Hire a business capital broker who has networks of contacts and investors.
.
If you have some money, find cheap land in a good location and expand as you make a profit.
.
.
In conclusion
It will be extremely important you prepare yourself well, do a lot of research and make sure to develop a detailed business plan to ensure success. Over the next number of episodes, I'll be going into more detail about how to start a hotel business.
.
Have you thought about starting your own hotel? How far did you get?
Let me know in the comments.
.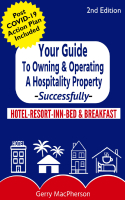 .
We cover more on organizational structure in "The Guide to Owning & Operating a Hospitality Property – Successfully" book & course. You find more information at KeystoneHPD.com
You will have access to this episode for as long as you would like but if you would like to see all the bonuses you would have access to as a member of the Hospitality Property School Group, check out the short video in this episode post-show notes.
.
.

.
In our next episode, I will be talking about Finding Success in Service.
.
That's it for today's episode,
Until next time, have a fun day.
.
If you haven't done so yet, make sure up sign up for the INNsider Tips, say hi on social and join one of our groups. And make sure you get your free copy of the "How to Improve Your Hospitality Properties Success".
.
You can find all the links in the show notes.
.
⇒ TO READ OR LISTEN TO THIS EPISODE ON KEYSTONE HOSPITALITY PROPERTY DEVELOPMENT:
https://keystonehpd.com/how-to-start-a-hotel-business-311
.
"The Guide to Owning & Operating a Hospitality Property – Successfully" course.
https://KeystoneHPD.com/Course
.
..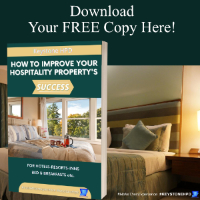 .
Did you get your copy of the "How to Improve Your Hospitality Properties Success" ebook?
KeystoneHPD.com/How-to-Improve-Your-Hospitality-Properties-Success
.
.
.
Get Your INNsider Tips
.
.
Join one of your private groups
https://keystonehpd.com/private-groups
.
.
Say hi on social
Facebook: https://www.facebook.com/KeystoneHPD
.
Twitter: https://twitter.com/KeystoneHPD
.
LinkedIn: https://www.linkedin.com/company/keystone-hospitality-development
.
.
Listen to The Hospitality Property School PODCAST here
keystonehpd.com/hospitality-property-school-podcasts
.
.
YouTube
.
.
A Division of Keystone Hospitality Property Development
.
.