Hey there, vacation rentalpreneurs. Welcome to the maiden episode of the Vacation Rental Resolutions blog post.
Have you ever stared at your calendar during off-peak seasons and thought it looked lonelier than a beach on a rainy day? Here's how to increase vacation rental bookings.
Every vacation rental, from beachside bungalows to mountaintop chalets, faces the challenge of keeping those bookings coming, especially when the seasons are, well, a little 'meh'. Let's break down some strategies to keep your calendar as full.
.
Increase vacation rental bookings
Be a Pricing Picasso:
Switch on that dynamic pricing! Adjusting rates for seasons, local happenings, or even those midweek stays can work wonders.
.
How about a cheeky offer like "Book 3, and the 4th's on the house!" to tempt those fence-sitters? Or crafty packages like "Sizzling Summer Stays" with season-relevant perks.
.
Boost Your Online Curb Appeal:
First, get listed on the big boys – Airbnb, Vrbo, Booking.com. No compromises.
.
Stunning photos are worth a thousand bookings. Maybe not a thousand, but you get the gist.
.
Reviews! Showcase those star-studded feedbacks. And make sure your listing title's jazzed up with keywords to get noticed. SEO is your BFF.

Be the Local Hero:
Link up with local businesses. A wine tour with a stay? Yes, please! Give guests the inside scoop with curated local packages. Because who wouldn't love an authentic wine-tasting experience at a nearby vineyard?
.
Marketing Magic:
Flaunt your property with a sleek website and snazzy social media posts. Show off a bit!
.
Keep in touch with former guests with emails (no spamming, promise). Maybe a newsletter with the lowdown on upcoming events or fresh additions. And hey, don't shy away from targeted ads. Facebook, Google, Instagram—they're your ticket to reaching those vacation-hungry folks.
.
Go Above & Beyond:
Spruce up! Regular updates to your property can make it irresistible. Think game rooms, snazzy kitchen gadgets, or even a hot tub for those chilly nights.
.
Extra goodies like guided tours, rental bikes, or a fancy chef for dinner? Total game-changers. And lastly, arm your guests with a local guidebook. Let's help them fall in love with the area as much as they do with your rental.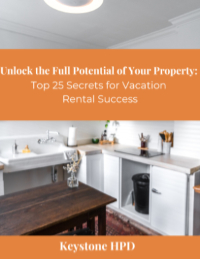 Alright, sprinkle in these strategies and watch your off-peak calendar fill up. Hungry for more insider secrets? Dive into our free download, 'Unlock the Full Potential of Your Property: Top 25 Secrets for Vacation Rental Success'. It's the playbook every vacation rental owner needs. Grab your copy, and let's light up those booking charts!
.
Do you have a booking strategy that works for you?
I would like to hear your thoughts.
.
In our next episode, I will share ways to deal with bad reviews.
.
In conclusion
In the dynamic world of vacation rentals, staying ahead and keeping that calendar bustling requires a mix of creativity, strategy, and tenacity. From smart pricing to tapping into the local charm, every detail matters. Remember, the goal isn't just to have guests but to provide them with experiences they'll cherish, prompting them to not only return but also become ambassadors for your property.
.
Dive deep into these strategies, fine-tune your approach, and embrace the evolving vacation rental landscape. Stay tuned, because our journey to becoming the ultimate vacation rentalpreneur is just beginning. With these tips to increase vacation rental bookings, your calendar won't remain empty for long, not with these tools in your arsenal. See you in the next episode, and until then, keep those bookings coming!
.
⇒ TO READ OR LISTEN TO THIS EPISODE ON KEYSTONE HOSPITALITY PROPERTY DEVELOPMENT:
https://keystonehpd.com/how-to-increase-vacation-rental-bookings-001
.
Serious about taking your business to the next level? Sign up for the "Vacation Ventures: Turning Property Into Profitable Rentals" course.
https://keystonehpd.com/vacation-ventures-profitable-rentals-wait-list/
.
Grab your copy of the "Unlock the Full Potential of Your Property – Top 25 Secrets for Vacation Rental Success" PDF.
https://keystonehpd.com/vacation-rental-resolutions-pdf/
.
Hospitality Property School Group
Learn the benefits—https://member.keystonehpd.com
.
Join one of our groups
https://www.facebook.com/groups/vacationrentalresolutions
Say hi on social
Facebook: https://www.facebook.com/KeystoneHPD
LinkedIn: https://www.linkedin.com/company/keystone-hospitality-development
.
Listen to The Hospitality Property School PODCAST here
https://keystonehpd.com/vacationrentalresolutionspodcast
.
YouTube
https://www.youtube.com/@VacationRentalResolution
.
A Division of Keystone Hospitality Property Development