Welcome, hoteliers and restless dreamers, to the maiden voyage of the 'Hotelier Helpcast Podcast!' I'm Gerry MacPherson, your host in this wild world of hospitality properties.
If the thought of empty rooms and not sure how to increase hotel bookings has you tossing and turning on those high-thread-count sheets, you're in the right place! Let's dive into turning those vacancy signs into 'Fully Booked!'
.
Finding ways to increase your hotel bookings, can be a huge problem for many property owners, so what are some ways to increase that sweet, sweet occupancy? Let me share a few ways you can consider.
How to increase hotel bookings
1️⃣   Dynamic Pricing:
Think of it as the stock market for hotel rooms. Prices go up, they go down, depending on the demand, local events, or even that surprise snowstorm! Learn and use revenue management software. Ever thought of slashing rates during those ghost-town weeks? Yup, that could lure in those spontaneous adventurers!
.
2️⃣   Online Travel Agencies (OTAs):
Ah, the giants like Booking.com, Expedia, and Airbnb. Yes, they take a bite with commissions, but think exposure! That being said, don't forget to sprinkle some magic on your website – a little 'Book Direct & Save' incentive never hurt anyone.
.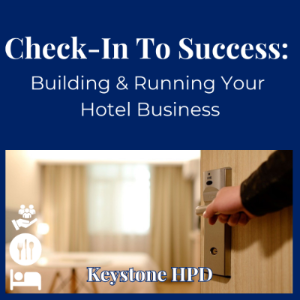 3️⃣   Loyalty & Local Lovin':
Get your guests coming back for more with loyalty programs! Free nights, fluffy robes, or maybe a spa day? Speaking of local – think partnerships! How about a room plus tickets to the town's quirky cheese festival?
.
If you have taken advantage of the "Check-In to Success – Building and Running Your Hotel Business" course, or are a member of the Hospitality Property School Group, you can check out the interview with loyalty property guru Mark Ross Smith or material on cross-promotion for more ideas.
.
4️⃣   Guest Experience:
Rule number one – Happy guests = more referrals. From top-tier service to dealing with that 'not-so-great' feedback, every touchpoint counts. And, if you're not rolling out the red carpet for repeat guests, it's time to reconsider!
.
5️⃣   Marketing Magic:
Unleash your inner marketing expert with SEO, catchy ads, and social media blitzes. And while we're here, how about a contest? "Post your best hotel-room jump shot and stand a chance to win!" And, remember, adjust that marketing hat for different times and audiences.
.
Bonus Tips:
Finding crickets on your website? Time to jazz up that online presence. Remember, if they can't Google you, do you even exist?
.
Not hitting the right crowd? Well, adjust that aim! Know your audience and cater to them.
.
Build those local partnerships! Maybe it's time for that coffee shop down the road to be your new best friend.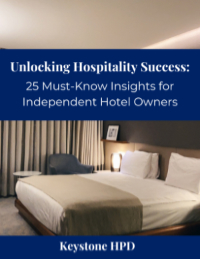 .
Alright, wonderful listeners! Before we call it a day, remember, regularly checking out your occupancy stats, keeping an ear to the ground for guest feedback, and staying updated on market buzz will keep you ahead of the game!
.
If you're thirsting for more gold nuggets of wisdom, grab your FREE copy of "Unlocking Hospitality Success: 25 Must-Know Insights for Independent Hotel Owners" in the show notes because why make rookie mistakes when you don't have to?
.
Do you have a booking strategy that works for you?
I would like to hear your thoughts.
.
In conclusion:
Well, that wraps up our introductory episode of the 'Hotelier Helpcast Episode!' From dynamic pricing to forming local partnerships, and ensuring your guests always leave with a smile, we've covered some essential strategies to keep those rooms booked and your business thriving. Every week we will continue to serve up ideas, in bite-size portions, to help your business grow.
.
Gerry MacPherson, here, reminding all the hoteliers and dreamers that success in the hospitality world comes not just from filling rooms, but creating memorable experiences for every guest. And remember, every challenge is an opportunity in disguise.
.
Tune in next time as we tackle the delicate art of handling negative reviews.
.
Until then, keep dreaming big, and may your vacancy signs forever read, 'Fully Booked!'
🌟🛎️🔑 Safe travels on your hospitality journey!
⇒ TO READ OR LISTEN TO THIS EPISODE ON KEYSTONE HOSPITALITY PROPERTY DEVELOPMENT:
https://keystonehpd.com/how-to-increase-your-hotel-bookings-vacancy-to-victory-001
.
Serious about taking your business to the next level? Sign up for the "Check-In to Success-Building and Running Your Hotel Business" course.
https://keystonehpd.com/check-in-to-hotel-success-wait-list/
.
Grab your copy of the "Unlocking Hospitality Success: 25 Must-Know Insights for Independent Hotel Owners" PDF.
https://keystonehpd.com/the-hotelier-helpcast-pdf/
.
Hospitality Property School Group
Learn the benefits—https://member.keystonehpd.com
.
Join one of our groups
https://www.facebook.com/groups/thehotelierhelpcast
Say hi on social
Facebook: https://www.facebook.com/KeystoneHPD
Twitter: https://twitter.com/KeystoneHPD
LinkedIn: https://www.linkedin.com/company/keystone-hospitality-development
.
Listen to The Hospitality Property School PODCAST here
https://keystonehpd.com/thehotelierhelpcastpodcast
.
YouTube
https://www.youtube.com/@TheHotelierHelpcast
.
A Division of Keystone Hospitality Property Development