Alright folks, picture this: You've got this cozy little Bed and Breakfast, and some mornings you wake up to more crickets than guests. Sound familiar?
Here's how to increase your bed and breakfast bookings.
Running a Bed and Breakfast isn't all freshly baked muffins and making besties with your guests. Sometimes it feels more like throwing a party where no one shows up. Ouch, right? But hold onto your breakfast trays, because we've whipped up five sizzling strategies to make sure those rooms are as full as your breakfast plates!
.
Ways to increase bed and breakfast bookings
1. Be the B&B with the secret sauce!
Why not spice things up a little? Think culinary weekends, art hideaways, or wellness breaks. Got a haunted attic? Maybe historical tours! Let's give that old ghost something to moan about.
.
 2. Become the local rock star!
Team up with your local friends. Imagine this: 'Stay at our B&B and get a complimentary wine tasting!' Courtesy of the winery next door. And hey, if there's a local pie-eating contest, you better be front and centre!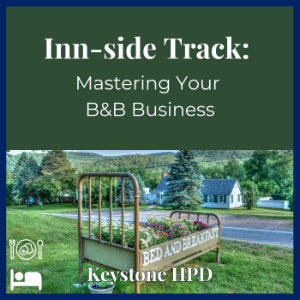 3. Go digital, but make it fancy!
We all know first impressions count, and these days, that happens online. So, jazz up that website, make it snap and crackle on mobiles and flaunt those drool-worthy pics. And please, let's remind folks that booking directly with you is like getting a backstage pass at a special event!
.
4. Personalize till They Can't Forget You!
Remember Mrs. Smith's obsession with blueberry muffins? Make her day. Celebrating an anniversary? Champagne breakfast! The devil's in the details, and who doesn't love a good spoil?
.
5. Be the networking ninja and party guru!
Think bigger—host mini weddings, organize 'knit-a-thons', or even alpaca yoga retreats! Make your B&B THE place to gather.
.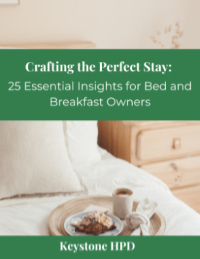 So, B&B owners, it's time to let your unique flag fly high! Make the most of your charm, and remember, there's no B&B quite like yours. And if you're itching for more juicy insights, we've got a treat for you: Download our FREE guide, 'Crafting the Perfect Stay- 25 Essential Insights for Bed and Breakfast Owners'. Because we're all about sharing the love!
.
Now, what are you waiting for? Go grab that guide, and let's turn those empty rooms into booked-out bliss!🌟🔥🥳🛏️🍳🎉🎙️🚀
.
I was wondering, How do you encourage bed and breakfast bookings?
Let me know.
.
In our next episode, I will share tips on getting great guest reviews.
.
In conclusion
And there you have it, innkeepers and B&B aficionados! From embracing the quirks of your property to teaming up with local allies and making the digital world your oyster. There are myriad ways to ensure your rooms echo with the sound of laughter rather than the lonely chirps of crickets. Remember, at the heart of every successful bed and breakfast is a host who listens, innovates, and loves what they do.
So let your passion shine through, create experiences that are worth sharing, and you'll see your bed and breakfast bookings roll in. And as you venture forth, keep your ears open to the tales and feedback from your guests – they're your compass to even greater success. Until next time, stay charming, stay vibrant, and most importantly, keep those breakfast trays brimming!
🍳🥞🛌 Join us on our next journey as we uncover the secrets to raking in those coveted 5-star reviews.
Cheers to full houses and even fuller hearts! 🥂🌟🛎️
.
⇒ TO READ OR LISTEN TO THIS EPISODE ON KEYSTONE HOSPITALITY PROPERTY DEVELOPMENT:
https://keystonehpd.com/how-to-increase-bed-and-breakfast-bookings-the-guide-to-packed-calendars-001
Serious about taking your business to the next level? Sign up for the "Inn-side Track-Mastering Your B&B Business" course.
https://courses.keystonehospitalitydevelopment.com/course/inn-side-track-mastering-your-bb-business/
.
Grab your copy of the 'Crafting the Perfect Stay- 25 Essential Insights for Bed and Breakfast Owners' PDF.
https://keystonehpd.com/beds-breakfasts-business-pdf/
.
Hospitality Property School Group
Learn the benefits—https://member.keystonehpd.com
.
Join one of our groups
https://www.facebook.com/groups/thehotelierhelpcast
https://www.facebook.com/groups/bedbreakfastbusiness
https://www.facebook.com/groups/vacationrentalresolutions
Say hi on social
Facebook: https://www.facebook.com/KeystoneHPD
LinkedIn: https://www.linkedin.com/company/keystone-hospitality-development
.
Listen to The Hospitality Property School PODCAST here
https://keystonehpd.com/bedbreakfastbusinesspodcast
.
YouTube
https://www.youtube.com/@BedBreakfastBusiness
.
A Division of Keystone Hospitality Property Development