Welcome to INNsider Tips.
In today's INNsider Tip, I will talk about How to Get Guests to Tell You Their Complaints.
.
.
I have an example, not from the hospitality property but a restaurant, a very well-known restaurant, on the waterfront in Halifax, Nova Scotia, Canada. 
.
Over the years, I had recommended this restaurant to many people and one day, while eating there, the owner came over to me and said: "Gerry, you send many people our way, do you ever get negative feedback?"
.
I said, "No, I don't, why do you ask?"
.
He said "I know our restaurant has a great reputation, but I also know we cannot do everything right all the time and if I don't know there's a problem, it's very difficult to fix. If you ever get any complaints, please let me know".
.
This is a restaurant, but the same applies to hotels, resorts, inns and bed & breakfasts.
.
Most people are not comfortable with the idea of being confrontational and would much prefer leaving a property, not saying anything, but never returning.
.
So, how can you get a customer, a guest, who was not happy with something to tell you?
.
There are a couple of ways I have seen work. 
.
Have a specific e-mail address on the bill, on the evaluation form and in the room's information packet for complaints. 
For example, complaints@myproperty.com
.
I've also seen the same idea with a specific telephone number – a complaint hotline.
.
The best way is to have employees who can read a guest. This is done with proper training. 
.
If the guest is in front of you, with training and practice you can tell if a guest is as unhappy by listening to their voice, watching their facial expressions or body language.
.
If the guests are on the phone, listen to the tone of voice. 
.
Here you have an opportunity to be proactive and by asking the right questions a guest might tell you their concerns.
.
That is it for today's INNsider Tip.
.
If you haven't done so yet, make sure to subscribe, so you don't miss any future tips and make sure to join one of our groups that best serve your needs.
.
You can subscribe at
https://keystonehpd.com/how-to-get-guests-to-tell-you-their-complaints-innsider-tips-057
.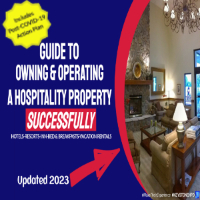 .
Take advantage of the Courses May Sale https://courses.keystonehospitalitydevelopment.com/
Use code – celebrate50
.
.
To find your best group option visit
https://keystonehospitalitydevelopment.com/private-groups
.
.
Get Your INNsider Tips
.
.
That's today's INNsider tips.
Until next time, have a fun day.
.
A Division of Keystone Hospitality Property Development
.