Welcome to INNsider Tips.
In today's INNsider Tip, I will talk about How to Empathize with Your Guests.
.
.
A great hospitality property employee is one who has the ability to be compassionate.
.
To empathize with your guests.
.
A great hospitality property employee is one of the guests who feel is on their side.
.
What other traits and skills are necessary for your hospitality property employees if you want to be able to offer consistent and great customer service?
Patience
The ability to remain calm, quiet, even temperate, and diligent when confronted with what could be considered a stressful situation.
.
Attentiveness
The ability to really listen to customers is so crucial for providing great customer service, and by listening to I mean the actual words and watching the body language.
.
Clear Communication Skills
For those of you who love to talk and talk and talk, or for those of you that are mumblers, this is important.
.
Knowledge of the Product
Make sure all your employees know about your property and any services you may provide.
.
Able to Use "Positive Language"
Language is a very critical part of influence, and guests create opinions about you and your property based on the language you use.
.
Acting Skills
This is a skill that every great hospitality property employee needs. There are going to be people that you come across, that will not be happy no matter what you do. Here you have to fake it.
.
That is it for today's INNsider Tip.
.
If you haven't done so yet, make sure to subscribe, so you don't miss any future tips and make sure to join one of our groups that best serve your needs.
.
You can subscribe at
https://keystonehpd.com/is-your-customer-service-working-innsider-tips-051
.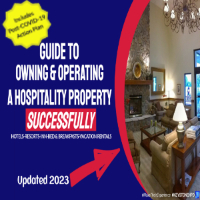 .
We cover more on independent hotels, resorts, inns, bed & breakfasts, vacation rentals in
"The Guide to Owning & Operating a Hospitality Property – Successfully" course.
You find more information at KeystoneHPD.com/course
.
.
To find your best group option visit
https://keystonehospitalitydevelopment.com/private-groups
.
.
Get Your INNsider Tips
.
.
That's today's INNsider tips.
Until next time, have a fun day.
.
A Division of Keystone Hospitality Property Development
.