.
.
Standing out Post COVID-19 is going to be challenging.
Independent hotels, resorts, inns and bed & breakfasts will need to use different methods to make an impression on their guests and here are some methods for you to try.
Welcome to another edition of Hospitality Property School.
I am your instructor, Gerry MacPherson.
.
.
What do I mean by memorable?
We have all visited properties that have friendly staff, nice rooms, a good view, and an enjoyable breakfast. There is nothing wrong with this hospitality property and you feel satisfied paying.
You get what you paid for.
Does this make this hospitality property memorable?
I am sorry to tell you, nope!
Now, what I have just stated should be the minimum standards every property would strive for, understanding the fact that sometimes a good view might not be possible.
.
.
What can you do to go the extra step, to make your hospitality property memorable?
The possibilities are endless but let's look at a few.
Start from when your guests arrive – make sure your hospitality property is inviting and to do this you need to look at your property from your guest's perspective:
.
Is your entrance is well lit; with a welcoming, attractive company sign is posted.
.
Is it easy for your guests to park and get to the front door without getting soaked if it's raining?
.
Is it easy to get luggage through the front door?
.
Are your guests welcomed with a smiling face and help if necessary?
.
Are your guests treated the way you would want your parents or grandparents to be treated?
.
Are there specialties in your region that could be unique to your hotel that guests can take home or share with others? e.g. fruits, maple sugar, woodcarvings, wine glasses with the properties name etched into them. These are items that could be available to sample or buy?
.
Ensure you have a simple and seamless registration system.
.
Tell an interesting story. What makes your hospitality property unique? Is there a historical or family store you can share? This can be done in the form of a small booklet or a postcard your guests can take with them.
Encourage your guests to send the photographs they have taken during their stay and if suitable, post them on your website's gallery.
.
Send a personalized follow-up thank you cards a few days after your guest's departure. I know this may seem like a lot of work but if you calculate the revenue from return business against the time it takes to write the cards, you will soon find that is more than worth it.
Develop systems to collect your guest's emails through surveys, contests, or by just asking.
Stay in touch with information, offers and incentives. Share knowledge of your area and let your guests know what's going on in your region or send them a copy of your great aunt's favourite cookie recipe.
.
Know where you can see reviews for your property, for example, your website or property booking engines and review them frequently. Don't be afraid of reviews and deal with any negative – quickly. It is much easier and less expensive to regain the customer you had and lost than to gain a new customer.
.
Recruit the right people. You can't do it alone, so choose your team wisely. Be clear about what you are looking for. As I said in an earlier podcast you want to choose staff that can show empathy. People can be taught how to clean a room, take a reservation, to serve wine, but it is far more difficult to teach someone how to be welcoming, stay calm under pressure or use their initiative. You want to be able to instil your values on your team and be sure they understand.
.
This isn't only important for your frontline staff but also the back-of-house staff. Everyone's attitude towards customer service, as a unit, will have a great effect on your client's experience, their likelihood of coming back and referring other people. Your kitchen staff's openness to guests' tastes, your maintenance staff's appearance, and your housekeeper's discretion all have an impact on your guest's impression.
.
Encourage your team to see everything from a customer's perspective. The more of your services and products your staff are able to experience first-hand the better. Allow staff to be waited on in the restaurant, stay a night as a guest, and sample any of the extras you offer. Encourage them to make recommendations and suggestions to improve the products and service. This gives your team confidence – which will be apparent to your customers – and provides consistency.
.
Empower employees to make immediate decisions and then take action will quickly resolve most problems to the satisfaction of your guests. There is nothing worse than having to tell a guest that you are not able to help them and that you will have to call the Supervisor to resolve their issue? Any problems that may arise during a guest's stay should be able to be handled by the front desk and the hotel staff. This can be done by having a well-trained staff.
.
Ensure any promotional material is visible and eye-catching. No point having it tucked away out of view! Put them in high traffic areas – by reception, entrance to the restaurant, in elevators?
.
Collaborate with competitors. When you are full, you can refer people to other properties that you have a good working relationship with and vice versa. Recognize that your guests won't necessarily want to eat with you every night, so where do you recommend? A competitor's restaurant can offer a discount for your guests, and in return, you give a preferential rate to their customers?
.
Be visible in your hotel, and talk to your guests. Strike a balance between being friendly and not over intrusive. When you get to know your customers personally, you get to know their likes and dislikes; you hear their suggestions and get their feedback. This all builds rapport and trust. Make sure to reward customers who give you the contact details of others. The more referrals you have the greater the likelihood of gaining new customers.
.
Are these make sense so far?
Let me know in the comments.
.
If your hospitality property has Green Programs and Policies, promote them. Travellers are becoming more concerned than ever with protecting the environment. Companies that practice and promote themselves as being green have an advantage over their competition that has not kept up with the population's changing views. Although the best way to be environmentally friendly is to start with the design and construction of a new property, existing hotels can also do a lot to become greener. If you are looking for a quick, visible and inexpensive program to start becoming greener, add recycle baskets in the rooms for paper and bottles.
.
Make every guest room inviting and comfortable. When people are travelling, their room could be very important to them. Whether your guests are vacationers or business travellers, many would like to be able to relax or need a space to work. For this reason, each room should have the basics. A good size, flat-screen TV to keep them entertained; free wireless internet connection is a must; a coffee machine; an upgraded shower head; a mini-fridge and possibly a microwave will be appreciated by all your clients.
.
Promote upcoming events in either your property or in the surrounding area so guests see what you've got coming up in the future. This may prompt a return visit or guest to pass the details onto friends or colleagues. Use flyers or leaflets, which people can take away as a reminder, or to pass on to others.
.
Do something exceptional that could be of high value to your customers but low cost to you so you can give added value. Give people a real reason to talk about you. For example a DVD with beautiful pictures of your property and area that can be used as a screensaver.
.
Have a customized aroma created for your property. This can extinguish objectionable odours and freshen the property's internal atmosphere.
.
I know I have mentioned this before but it is imperative you talk with your guests. If customers aren't complaining, it does not mean they are happy. The truth is it's easier for most customers to walk than talk. In other words, they would rather just give their business to one of your rivals than spend time complaining and hoping for a resolution. Occasionally, when a client complains, you might feel like saying "Let them walk. It's just one customer." The thing is that it isn't just one client.
.
In the past, you might have heard that if someone does not like something they will tell a dozen friends. That's no longer the case. With the popularity of social media, an unhappy customer can tell thousands about their bad experience with your hospitality property. So, don't be so quick to let them walk away angry. Be willing to do everything in your power and be willing to bend your own rules if it keeps you from irreparably damaging a relationship with a guest.
Keep in mind that cheap room rates aren't always enough to win over customers. The truth is customers are willing to pay more for better quality and part of that can come with great customer service.
.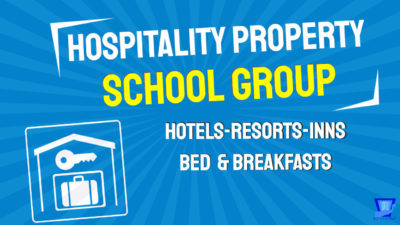 .
.
If you are a member of the Hospitality Property School Group, as a bonus, I am going to share an additional 15 more ways to make your hospitality property memorable.
.
.
In conclusion
Having a brand identity doesn't just make your property more memorable, it makes your brand more authoritative in the marketplace. A brand that establishes a face, and maintains that face consistently over time, develops trust among guests and credibility among its competitors.
.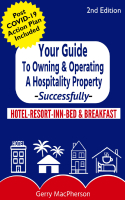 .
We cover more on marketing in "The Guide to Owning & Operating a Hospitality Property – Successfully" book & course. You find more information at KeystoneHPD.com
.
I would like to know one thing you do to make your property memorable.
Let me know in the comments.
You will have access to this episode for the next six weeks and then it's locked in the vault for Hospitality Property School Group members only.
.
To see all the other valuable material you'd have access to as a member of the Hospitality Property School Group, check out the short video in the episode post-show notes.
.
.

.
.
That's it for today's episode,
Until next time, have a fun day.
.
Are you getting your weekly INNsider Tips? You can find the link in the show notes.
.
⇒ TO READ OR LISTEN TO THIS EPISODE ON KEYSTONE HOSPITALITY PROPERTY DEVELOPMENT:
https://keystonehpd.com/guaranteed-ways-to-make-your-hospitality-property-memorable-ep-275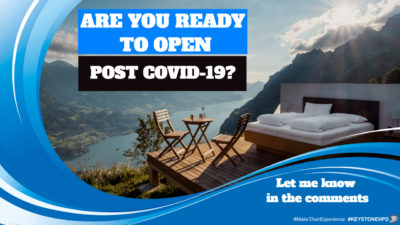 .
.
Post COVID-19 Action Plan
KeystoneHPD.com/PostCovid19ActionPlan 
.
.
.
Get Your INNsider Tips
.
.
Join one of your private groups
https://keystonehpd.com/private-groups
.
.
Say hi on social
Facebook: https://www.facebook.com/KeystoneHPD
.
Twitter: https://twitter.com/KeystoneHPD
.
LinkedIn: https://www.linkedin.com/company/keystone-hospitality-development
.
.
Listen to The Hospitality Property School PODCAST here
keystonehpd.com/hospitality-property-school-podcasts
.
.
YouTube
.
A Division of Keystone Hospitality Property Development
.