Welcome to INNsider Tips.
In today's INNsider Tip, I will talk about Employee Responsibility.
.
.
If you have utilized the proper hiring process and have incorporated step-by-step and ongoing training, then it should be obvious to your employees that you have a vested interest in them. At this point, employees should have an invested interest in your property.
.
So don't stop there.
.
If you have major decisions that have to be made about your property and will affect your employees, let them have a say before a decision is made.
For example:
major renovations, group insurance, policy changes for the operations manual.
.
Make sure you educate them on all aspects of the decision, but then let them have a vote.
.
You might be thinking "wait a minute, this is my business" but think about it.
.
If your employees see that you value their opinions, they will feel like they have more of a vested interest in the business and reward you with incredible loyalty.
.
Be open with them on how business is going.
.
If bookings are great and revenue is up, tell them. If things are slow, tell them that as well.
.
You might be feeling that you're giving up control when in actual fact, it has been proven many times, employees that who feel they have a vested interest will work harder for your success.
.
It's all about open communication.
.
That is it for today's INNsider Tip.
.
If you haven't done so yet, make sure to subscribe, so you don't miss any future tips and make sure to join one of our groups that best serve your needs.
.
You can subscribe at
https://keystonehpd.com/employee-responsibility-innsider-tips-046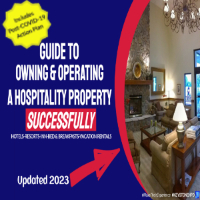 .
We cover more on independent hotels, resorts, inns, bed & breakfasts, vacation rentals in
"The Guide to Owning & Operating a Hospitality Property – Successfully" course.
You find more information at KeystoneHPD.com/course
.
.
To find your best group option visit
https://keystonehospitalitydevelopment.com/private-groups
.
.
Get Your INNsider Tips
.
.
That's today's INNsider tips.
Until next time, have a fun day.
.
A Division of Keystone Hospitality Property Development
.