Welcome to INNsider Tips.
In today's INNsider Tip, I will talk about Effective Communication at Your Property.
.
.
Communication is something we do automatically- like breathing. We have been talking since we were small; talk to our partners, kids, and friends without giving it a thought.
.
It might seem easy, but communicating efficiently actually takes quite a bit of skill.
.
Choosing the right words, listening with our minds instead of just our ears, and getting our message across are skills that we all need to work on.
.
When at home or with friends, not finding the appropriate words or miscommunication can lead to problems or even arguments. 
.
At work, the results could be much worse. 
.
Unenthusiastic employees, poor productivity, and even legal issues can be the result of bad communication skills.  
.
This does not have to be an issue at your property if you incorporate a few changes to your communications practices. 
.
Since the end of the last century, many companies have become dependent on e-mail or texts as their primary source of communication with colleagues and outside clients.
.
Many of us have become so reliant on our computers and smartphones that we've neglected the art of conversation, but unfortunately for many, the desire for speed has almost created a whole new language of short sentences and abbreviations.
.
When speaking to someone face to face, a conversation is more than the words themselves. It's the tone of voice, facial expressions and body language.  
.
Take body gestures and smiles out of the equation, and recipients can easily get the wrong idea, especially when the sender isn't the most coherent writer.
.
Take the time to practice the art of speaking.
.
That is it for today's INNsider Tip.
.
If you haven't done so yet, make sure to subscribe so you don't miss any future tips and make sure to join one of our groups that best serve your needs.
.
You can subscribe at
http://keystonehpd.com/effective-communication-at-your-property-innsider-tips-042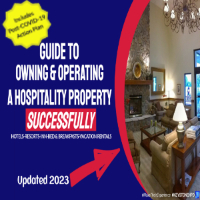 .
We cover more on independent hotels, resorts, inns, bed & breakfasts, vacation rentals in
"The Guide to Owning & Operating a Hospitality Property – Successfully" course.
You find more information at KeystoneHPD.com/course
.
.
To find your best group option visit
https://keystonehospitalitydevelopment.com/private-groups
.
.
Get Your INNsider Tips
.
.
That's today's INNsider tips.
Until next time, have a fun day.
.
A Division of Keystone Hospitality Property Development
.