.
.
Any business can offer good or basic customer service but your guests expect more.
How can you fulfill their expectations?
Give me a few minutes – and I'll share with you wonderful tips for amazing customer service.
Welcome to another edition of Hospitality Property School.
I am your instructor, Gerry MacPherson.
.
.
Introduction
If you have been an owner/operator of a hospitality property for a while, then you might have seen the average hotel occupancy rate fluctuated dramatically over the past couple of years.
There has been no guarantee of consistent repeat business.
You may have welcomed new customers, hoped they would enjoy their stay and maybe someday return but have you been asking yourself these questions.
.
.
How can I get them to return?
And if your customers don't return …Why?
You want to ensure that your customers have a wonderful experience at your property and avoid disappointing them by only fulfilling the basics.
Here are some of the reasons guests might not return, according to a study conducted by the Research Institute for Leisure and Tourism.
 .
 .
 .
5 % because of change of habits
 .
9% because of the wrong price policy
 .
14% because of lack of product quality
 .
68 % because of lack of service quality
 .
Well, if you can say …
.
"We only offer quality service, none of these other factors apply and our occupancy rate is always 90% or better" 
.
…then your business is in perfect shape and you need not read any further.   
.
If this is not the case…
Then you might be interested in how both unhappy and happy customers might describe their experience at your property.
.
1 unsatisfied guest tells 10 other persons about it
.
1 satisfied guest brings 3 new guests
.
Delighted guests spend 5 times more money
.
 . 
"I know my guests and if they were unsatisfied with their experience, they would complain."
.
.
WRONG!
.
.
Statistically, only 4 out of every 100 guests complain and up to 75 % will choose your competition for their next stay.
Only 8-20 % stay loyal despite their dissatisfaction.
.
 .
What does this all mean?
Well simply…
.
"Unsatisfied guests do not complain, they just do not come again."
.
How can you ensure your guest will return?
About 85 % of unsatisfied guests whose complaints were handled appropriately, will remain as loyal guests.
There are many factors that you can control by ensuring that you are consistent with your Chain of Service.
.
Books with Tips & Strategies for

Your Hotel, Resort, Inn,

Bed and Breakfast 
.
What does Chain of Service mean?
.
You focus on the care of your customer from the first contact until after they arrive back home.
Have a step by step guidelines and scripts for each aspect of your guest's interaction and ensure your employees know them.
.
Taking a Reservation (Guidelines for reservation staff)
.
Have a standardized script for all phone reservations and follow the same procedure every call.
.
A list of the required information you need as well as a section for special requests.
.
Eliminate any distractions or disturbing noises at reservations desk e.g radio or TV
.
Answer the phone no later than the 4th ring, avoid long waiting
.
Do not keep the client on hold longer than 1 minute, otherwise, promise to call back.
.
Greet the guests with the hotel's name, employee name and/or a salutation like: "How can I help you" or a typical regional greeting.
.
Have a pad of paper and pen to write down the guest's name and use it as often as possible. This creates a personal atmosphere and guests a feeling of being paid attention.
.
.
Your employee should convey friendliness and reliability while on the phone; smile because the guest can hear you smiling. Have a stimulus such as a happy face or humorous picture hanging by the phone. It may sound corny but it works.
.
To avoid mistakes, ask for the spelling of important facts (e.g. names, reservation data, account details) and repeat them to confirm.
.
Offer extras if applicable e.g. restaurant reservations, shuttle service.
.
Please, Thank You and With Pleasure are phrases which can never be used too
.
Clearly verbalized payment practice
.
.
After the call:
.
If necessary complete your notes immediately while the conversation is still fresh.
.
Sent booking confirmation, brochures etc. immediately (within 24hrs or the next day)
.
Prepare realization of guest's wishes
.
Begin a file on each guest.
.
Have your registration employees sign the checklist once it is complete. This is for both the guest's benefit and for the success of our company.
.
.
Reservation via the Internet
.
Ensure all instructions are easy to find, this means clear and easy enough for a young child to understand (I am serious about this).
.
The website is easy to navigate.
.
A FAQ page and/or reliable contact resource.
.
.
Mail via Post
.
Answer all questions as well as the most commonly asked questions by other guests.
.
.
Be proactive and include significant, relevant and appealing material with every post.
.
To find out more about customer service training, check out our training tutorials.
Visit KeystoneHospitalityDevelopment.com
and click tutorials in the menu bar.
.
.
Now I would like to go into a little more detail about the customer service for when your guests arrive, during their stay and when they depart.
.
First impressions are crucial
.
When your guests arrive for check‐in
Have well-lit parking and entrance for guests
.
Special service for arrival during bad weather
.
When greeting, use guest's name for welcome
.
Offer an uncomplicated, fast check-In
.
Short info-briefing (where, what, when?)
.
Luggage service (if applicable)
.
.
Glasses cleaning cloth, tissues at the reception counter
.
.
Corner with information about the region and small snacks (local favourites such as in-season fruit, if possible)
.
.
The Lobby
Warm, comfortable ambiance; welcoming impression with a light pleasant fragrance (one of the best memory triggers is smell)
 .
 .
 .
 .
The Room
 .
Reasonable room temperature
 .
 .
 .
Calmness, no disturbing noise
 .
 .
 .
 .
During Your Guests Stay these are extras you could consider
 .
Personal wake-up service with up-to-date newsletter or information about the weather
 .
Pillow- bar: choice of various pillows
 .
Reading corner: choice of different books with comfortable seating and tea corner
 .
Free internet or Wi-Fi service
 .
Lending service (hiking map, umbrella, reading glasses, power plugs…)
 .
 .
Employees Participation
You want to hire employees that can show real (authentic) kindness
 .
Competent and qualified for their position
 .
Trustworthy and can keep promises
 .
Empathetic – can listen attentively
 .
Management of complaints is focused on customer
 .
Are able to remember the customer might not always be right but try to make them feel as if they are.
 .
 .
Guests Departure
 .
Friendly and fast check-out
 .
 .
Never let your guest leave empty-handed
 .
Wish them a nice homeward journey and look forward to seeing them when they return
 .
 .
Down the Road
 .
Follow up on any problems or issues that your guest may have had. To recognize problems is the right step to find a solution
 .
Send information about new offers by email and post
 .
 .
How do you know if your customer service is working?
 .
Ask!
 .
 .
You need to get honest feedback from your guests and you can do this by
.
being available to talk with your guests
 .
use guest surveys or questionnaires
 .
 .
feedback from your employees, to name a few.
 .
When looking at reviews, surveys and feedback from your guests and employees, look at any complaint or criticism as a chance to improve.
 .
 .
Let's look at this a little closer
 .
Take every opportunity to ask questions
 .
During breakfast or dinner ("I hope you find everything to your satisfaction?")
 .
During check-out ("Did you enjoy your stay?")
 .
When using questionnaires offer a small reward (a small upsell during their next stay or possibly something unique like a rubber ducky with your properties name)
 .
 .
Basic questionnaire guidelines you should follow
 .
The questionnaire should not be too long, only a few minutes necessary to fill it out very easy to fill out, e.g. with check marks.
 .
Make sure your guest knows that their opinion is important. You could say, please help us, to make your break as relaxing and enjoyable as possible.
 .
Anonymous questionnaires are more honest but if an address is given, you have the opportunity for further enquiries
 .
Increase rate of questionnaires returned by:

Asking early in your guest stay for them to fill it out. (it's too late after check-out)
A small reward for it returned, an easy hand-over
 .
Allow space for your guest to add more information
 .
Ask for the date and duration of stay. This could influence any source of irritation e.g. noise, not enough variety of meals
 .
A more detailed questioning is possible with regular guests
 .
 . 
This is an example of the type of questionnaire I would give a guest.
.
Dear Valued Guest,
.
We are delighted you choose the "Your Property Name" for your stay and trust that you enjoyed your time with us We are always looking for ways to improve our service quality so, in order to maintain the highest possible standards, we would be grateful if you could fill in the questionnaire below and return it to us.
.
Thank you very much!
Hotel Managers Name Signature
.
PS: Please drop the questionnaire at the reception for your free gift or just hand it to one of our employees.
You can also leave it on the desk in your room.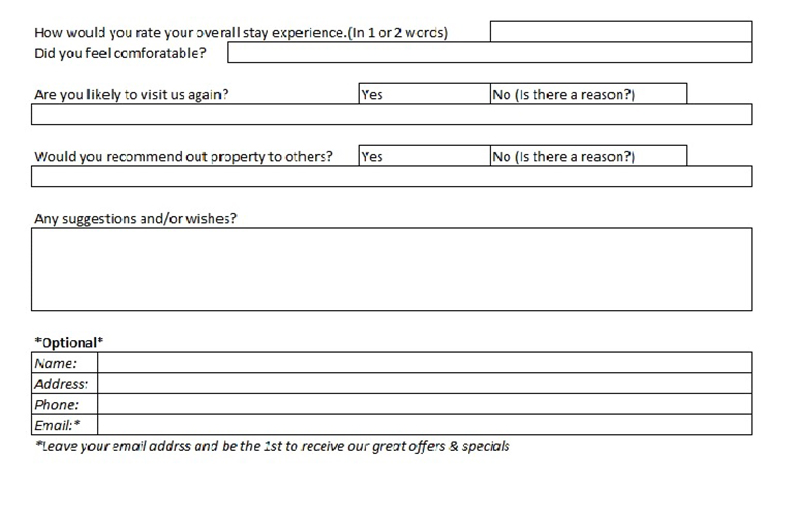 Is this making sense? Let me know in the comments
.
When reviewing evaluations remember
 .
A good questionnaire can show a very authentic and realizable picture of strengths and shortcomings in service quality.
 .
Don't be afraid of honest and critical self-assessment
 .
Accept complaint in a positive and professional way
 .
Handle complaints fast, be uncomplicated and obliging
 .
Provide employees with extensive efficiency in providing solutions.
 .
"Look at any complaint as a chance to improve and if your guest sees you are taking them seriously!"
 .
The guest's contentment rises
 .
Customer loyalty is advanced; customers, who complain still want to stay at your property
 .
Impressive complaint management is often the topic of conversations between customers, that means promotion
 .
 .
Customer loyalty is always cheaper than finding new customers!
.
.
Set up the occasional Mystery Check. Similar to mystery shoppers, this is when you have guests check-in and assess every aspect of your services.
This hidden test can help find out about your property's service qualities.
.
.
Remember
A minimized error rate in service quality is unavoidable… Dissatisfied guest – not!
.
Creativity and motivation produce not only a satisfied but also an enthusiastic and loyal guest, willing to recommend you!
.
.
Other tips that can improve your guest's experience.
 .
provide music with announcements, and offers for when guests are on telephone hold
 .
Include an automated email response "Thank you for your message; you will receive a response within…!"
 .
a small gift as a thank you for trust in debit or fast bank transfer
 .
 .
Afterwards, you could try one or more of these ideas.
(This is why building an email or address list is important).
 .
Don't let the guest leave empty-handed – a small souvenir, favourite recipe, typical regional products (e.g.. seeds of flowers…) or pictures of stay or the regional landscape during different seasons
 .
Postcard "Welcome back home" (send 2 days before guest's check out)
 .
Call guest to inquire if he arrived safely
 .
Extraordinary end of letter e.g. season's greetings, Christmas greetings
 .
 .
Your customers return visit
.
Keep a file of each guest with their likes and wishes. With the proper checks and balances in place, this information can be gathered by employee questions, without the guest's realizing and then without the guest asking you can provide, for example, their favourite coffee, drink, newspaper etc.
.
If you operate any type of hospitality property, your number one priority for success is great customer service.
.
Great customer service is an essential aspect of a hospitality industry. The level of service you offer can make or break your hotel, resort, inn or bed & breakfast, so it is imperative that you fine-tune your policies until you hit near-perfection.
.
If you don't, you will lose potential and repeat guests.
.
"Social media raises the stakes for customer service".
.
In the old days, if a guest or customer was happy with your service they would tell 3 people. If not, they would tell eleven people. Today, with the advent of social media. If someone is not happy with an aspect of your service, within a day tens or even hundreds of thousands could see this on their timeline.
.
Hospitality property owners/managers need to instil best practices for their employees to follow.
.
By understanding the following best practices, you and your employees will ensure your customer service reaches a standard that's not only acceptable to the general public but will also confirm your status as a quality establishment.
 .
.
Begin with a warm welcome
.
First impressions are everything.
The first step you need to master and to teach your employees is the appropriate customer greeting. This will be your guest's first face-to-face contact and could set the tone for their overall experience. A good welcome needs to be warm, polite and informed but not fake. If the greeting is overbearing or suffocating it could make a guest feel uncomfortable. It is really important to find a healthy balance, so your guests walk away from the check-in more content and happier than when they arrived.
.
.
Keep your employees happy
I have seen way too often hospitality property owners/managers focus on the little things and disregard their staff. A guest can easily determine if your staff are not happy and this will most often reflect on their desire to return. By keeping your staff happy, it will help generate a better atmosphere make them feel more at ease and at home, thereby giving them a better experience.
.
Ways this can be accomplished is by ongoing training, rewarding great work and empowering them to make frontline decisions..
.
.
Surpass your guest's wants and expectations
We all know that the hospitality property industry can be very competitive and by meeting your guest's needs is not always enough. In order to stay ahead of your competition, you must strive to give your guests the WOW factor.
.
You must exceed their expectations with little touches that will elevate you to a higher level of customer service
.
.
Constantly take feedback
A hospitality property that is willing to accept feedback & criticism and then use these remarks to improve is definitely serious about maintaining great customer satisfaction. This to work, you have to make available ways for your guests to speak to you either through, online reviews, surveys or questionnaires. You have to be able to look at any criticism objectively and be willing to implement changes as necessary.
.
.
Conclude your guest's stay with a warm send-off
'All good things must come to the end' – that is what your guest to be thinking when it comes to leaving. And what better way to say goodbye is than with a fond farewell?
A sincere goodbye will last in the minds of your departing guests and if done right, will only leave a positive impression of your property. Use your guest name, offered in your hand and treat them as if it was your family that was leaving.
Undoubtedly, customer service is of fundamental importance to the hospitality industry and should be specific to your hospitality property.
The level of service your guests receive could make or break your business and cannot be ignored.
.
.
In Conclusion – Your Customer Service
I have shared with you a framework of ways other properties have developed their customer service. Take these ideas and mould them into strategies that will not only benefit your guests but have them expound about their time with you. It's up to you.
.
I would like to hear about your customer service.
Let me know in the comment.
.
You will have access to this post for six weeks before it gets locked in the "vault" for Hospitality Property School Group members only. When you see that we have something new, don't mark it "Unread" or file it away in the belief you'll read it later because you might miss your chance.
.
To see all the other valuable material you'd have access to as a member of the Hospitality Property School Group, check out the short video in the episode post-show notes.
.
.

.
In the next episode, I will talk about handling customer complaints.
.
.
That's it for today's episode,
Until next time, have a fun day.
.
.
PS. Did you see the last edition of INNsider Tips? If not, make sure you sign up so they are delivered directly to your inbox.
You can find the link below.
.
.
⇒ TO READ OR LISTEN TO THIS EPISODE ON KEYSTONE HOSPITALITY PROPERTY DEVELOPMENT:
https://keystonehpd.com/Customer-Service-Bona-fide-Techniques-215
.
.
Get Your INNsider Tips
https://keystonehpd.com/Sign-up-for-INNsider-Tips
.
.
Join one of your private groups
https://keystonehpd.com/private-groups
.
.
Say hi on social:
Facebook: https://www.facebook.com/KeystoneHDC
.
Twitter: https://twitter.com/KeystoneHDC
.
Linkedin: https://www.linkedin.com/company/keystone-hospitality-development
.
.
Listen to The Hospitality Property School PODCAST here:
https://keystonehpd.com/itunes-podcast
.
https://www.spreaker.com/keystonehdc
.
.
YouTube
.
.
A Division of Keystone Hospitality Property Development
.