Welcome to INNsider Tips.
In today's INNsider Tip, I will talk about Why Employee Feedback is Important.
.
.
In an earlier INNsider Tip, I said praise was important for your employees. Just as significant as praise is feedback.
.
If you have employees working hard for you, tell them; and if you have employees who are not pulling their weight, tell them.
.
You don't have to hold regular meetings to share feedback, you can let employees know what you're thinking by e-mail, a phone call or the way I think works the best, in person.
.
When offering feedback, be as clear as possible. If you're giving praise, give specific examples. Most employees enjoy hearing details when they are doing something right.
.
And if there's a problem, don't just say "You're not finishing your tasks on time", offer a solution. You could say, "There seems to be a problem with your workload, what can we do to help?"
.
Never talk down or demean a person. This is a solution that never works.
.
I cannot emphasize this enough, unless it is emergency or highly confidential, you should not hold a meeting with an employee in your office.
.
You're the face of your property, you have to be out and about as much as possible talking with your guests. So with this in mind, if you have to meet with an employee, go to where they are.
.
This way you can share the information you need to share and watch how things are going, and you're not taking that employee away from their duties.
.
That is it for today's INNsider Tip.
.
If you haven't done so yet, make sure to subscribe, so you don't miss any future tips and make sure to join one of our groups that best serve your needs.
.
You can subscribe at
https://keystonehpd.com/how-to-handle-conflicts-innsider-tips-044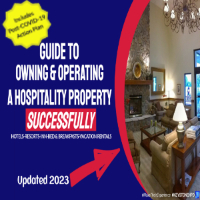 .
We cover more on independent hotels, resorts, inns, bed & breakfasts, vacation rentals in
"The Guide to Owning & Operating a Hospitality Property – Successfully" course.
You find more information at KeystoneHPD.com/course
.
.
To find your best group option visit
https://keystonehospitalitydevelopment.com/private-groups
.
.
Get Your INNsider Tips
.
.
That's today's INNsider tips.
Until next time, have a fun day.
.
A Division of Keystone Hospitality Property Development
.