Welcome to INNsider Tips.
In today's INNsider Tip, I will talk about Ways to Surprise Your Guests.
.
.
Something I have noticed over the years is that it is the little things that people remember.
.
One way to surprise your guests is by doing a little research. When taking the reservation, whether it be online or over the phone, you should have a question or space for special occasions.
.
For example, when taking a phone reservation, and it's for the weekend, you could say "the weekends here are wonderful, great for special getaways".
.
This is a type of leading sentence, and the guest might give you the reason for the booking.
.
If the guest mentions the booking is for a wedding anniversary or a birthday, you could leave a box of chocolates in the room the day they arrive.
.
This question or one similar should be part of a standard script when taking reservations but made to sound like part of the conversation.
.
That is it for today's INNsider Tip.
.
If you haven't done so yet, make sure to subscribe, so you don't miss any future tips and make sure to join one of our groups that best serve your needs.
.
You can subscribe at
https://keystonehpd.com/ways-to-surprise-your-guests-innsider-tips-054
.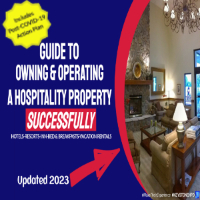 .
Take advantage of the Courses May Sale https://courses.keystonehospitalitydevelopment.com/
Use code – celebrate50
.
.
To find your best group option visit
https://keystonehospitalitydevelopment.com/private-groups
.
.
Get Your INNsider Tips
.
.
That's today's INNsider tips.
Until next time, have a fun day.
.
A Division of Keystone Hospitality Property Development
.