Due to the fact, things have been so topsy-turvy the last couple of years, hoteliers, and innkeepers need to stay on track with upcoming trends.
Here is our take on the top 12 hospitality property trends for 2023.
Welcome to another edition of Hospitality Property School
I am your instructor, Gerry MacPherson.
.
.
It is natural that trends can be fickle. Just because something is trendy today doesn't mean it will be tomorrow, but staying on top of the trends can help keep your hotel, resort, inn, bed and breakfast, vacation rental relevant.
.
Here are our top 12 hospitality property trends for 2023.
1. Short-term bookings remain
The short-term booking window remains, and this will continue to challenge both operationally and from a revenue perspective. This is not all bad news as an increasingly, short-term booking window represents an opportunity to connect with a more mobile, more astute, and engaged traveller.
.
There is still a great deal of pent-up demand for travel, even if it is decreasing slightly, there are still people that have got disposable income, although that is becoming less.
.
Properties that are learning to integrate customer data and loyalty profiles across the entire spend property can curate personalized offers for a more discerning guest.
.
.
2. Guest interaction will become more customized
The way we interact with our guests will enable increased value creation in 2023. You'll have to think about the value proposition that your specific property offers. Identify what makes you unique and tailor your efforts to reach this targeted guest segment by appealing to the guests. Your guests will want to be treated as individuals.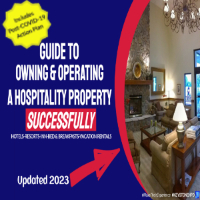 3. Bleisure travel
Bleisure travel or, as it has been recently coined, Mullet Travel is the combination of business and leisure travel that has emerged from those who continue to work remotely.
.
Remote working continues to open up opportunities. People are realizing that this means that they can work from anywhere, enabling them to explore new destinations before or after their workday.
.
Hotel public spaces and hotels with restaurants and bars have a chance to capitalize on this trend by adapting their offerings to meet the needs and wants of this emerging segment. This means free high-speed internet, ample plug sockets and great coffee.
.
.
4. Business travel
Business travel is returning and will be a big focus for many hoteliers and innkeepers. Some properties have already exceeded 2019 levels because they perform in that segment, and there is no reason that will not continue in 2023.
.
The next step is looking at offerings and making sure that service and amenities match that rate rise and exceed it.
.
.
5. Staycations
Many will continue to travel to destinations closer to home throughout 2023. There are many reasons vacationers may choose to stay closer to home, including budgeting or environmental reasons. Between airline price hikes and the complicated bureaucracy involved in going abroad now, many deem foreign travel too expensive or not worth the hassle. Those who operate in tourism-rich, drive-to markets will reap the rewards of uninterrupted demand.
.
.
6. Group business to provide stability
The focus is on groups to build out a solid business base for 2023.
.
More and more associations and groups are coming back. The challenge is to look for group-based businesses that will still be in business and have travel needs during a recession if one should occur.
.
.
7. The working nomad
There's an enormous opportunity for hospitality properties to accept this new generation of digital nomad remote workers who combine employment with international travel. Today's travellers want the best of both worlds, thanks to emerging barefoot workstation concepts and new definitions of the digital nomad.
.
For property operators, responding to this opportunity is about much more than just installing good Wi-Fi. This new generation of remote workers is interested in community, in being among like-minded peers, and in enjoying a better-balanced life. At the same time, when they are working to a deadline, they don't necessarily want to be surrounded by vacationers!
.
.
8. Training will be imperative
It is clear that employees who stepped up during the pandemic are now supervisors or even managers, and many of them have received limited to no training. This is crazy and has to change, as what has occurred is an elimination of middle management and promotions from line employees to middle management. Giving your employees the tools to succeed with proper training will benefit you tenfold.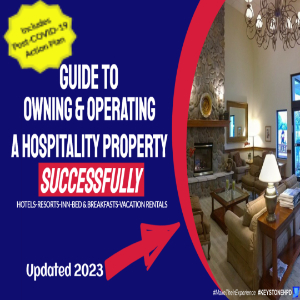 9. Sustainability and mental health
Sustainability and diversity are top causes for socially conscious travellers, but mental health is becoming a big focus. The Global Wellness Institute expects to see a 21% annual growth in the wellness tourism industry. That means more events focused on holistic health, including meditation, physical activity and farm-to-table food.
.
This will be accompanied by a rise in organic farming practices, allotments and rooftop gardens, healthier choices and provenance of food and food miles, along with a shift from farm-to-table to farm-to-spa guest experiences. 
.
.
10. Travellers will crave the outdoor experience
Following the pandemic, travellers are flocking outdoors for their vacations.
.
Households who took their first camping trip in 2020 increased by five times more than in 2019 and 64% of families with children said they planned to take more camping trips.
.
Other trends in hotels include more green spaces, fire pits, eco-friendly materials, and zoning outdoor spaces into smaller areas to decrease contact.
.
.
11. Digitized guest experiences
The hotel industry has an unbalanced relationship with technology. We haven't to be leaders in technological development, choosing instead to take on applications developed for the commercial real estate sector, airports, and the home, then look at how they can be integrated into so-called smart hotels.
.
The trend toward digital and contactless services has gained new momentum. A study found 71% of travellers would be more likely to stay at a property with self-service technology.
.
Make sure your check-in mobile keys and contactless payment processors are being monitored and maintained, as complaints are frequent..
.
.
12. Wellness travel
More and more hotels are looking to reposition into health and wellness tourism than any other trend. And no wonder – this market is booming. This was a trend declared years ago and now has become commonplace.
.
Preventive medicine and self-care are undisputedly trending due to the fallout from the pandemic. Travellers will still indulge but will prefer a better fitness centre, outdoor activities and healthy food options.
.
The full-service segment should carefully watch this rapidly growing demand for personalized treatment plans delivered by experts when modelling their spa department revenue outlook.
.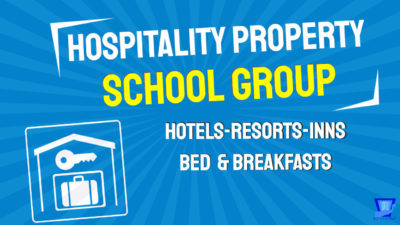 .
.
If you are a member of the Hospitality Property School Group, as a bonus, I will share 7 more hospitality property trends for 2023.
.
.
In conclusion
There's no doubt that technology, sustainability, and security will play a greater role in hospitality property operations in 2023. With a solid understanding and implementation of some or all of these hospitality property trends, we know it will add to the success of your property.
.
What changes do you see in the future of your hospitality property?
Let me know in the comments.
 .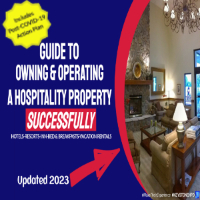 We cover more on independent hotels, resorts, inns, bed & breakfasts, vacation rentals in
"The Guide to Owning & Operating a Hospitality Property – Successfully" course.
You find more information at KeystoneHPD.com/course
.
You will have access to this episode for as long as you would like, but if you would like to see all the bonuses you would have access to as a member of the Hospitality Property School Group, have a look at the short video in this episode post-show notes.
.
.

.
In our next episode, I will be talking about 6 Strategies for Contending with Hotel Staff Shortages.
.
That's it for today's episode,
Until next time, have a fun day.
.
If you haven't done so yet, make sure to sign up for the INNsider Tips, say hi on social and join one of our groups. And make sure you get your free copy of the "How to Improve Your Hospitality Properties Success" e-book.
.
You can find all the links in the show notes.
⇒ TO READ OR LISTEN TO THIS EPISODE ON KEYSTONE HOSPITALITY PROPERTY DEVELOPMENT:
https://keystonehpd.com/top-12-hospitality-property-trends-for-2023-325
.
"The Guide to Owning & Operating a Hospitality Property – Successfully" course.
https://KeystoneHPD.com/Course
.
..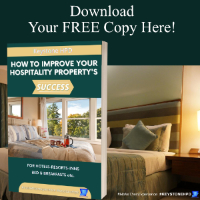 .
Did you get your copy of the "How to Improve Your Hospitality Properties Success" ebook?
KeystoneHPD.com/How-to-Improve-Your-Hospitality-Properties-Success
.
.
.
Get Your INNsider Tips
.
.
Join one of your private groups
https://keystonehpd.com/private-groups
.
.
Say hi on social
Facebook: https://www.facebook.com/KeystoneHPD
.
Twitter: https://twitter.com/KeystoneHPD
.
LinkedIn: https://www.linkedin.com/company/keystone-hospitality-development
.
.
Listen to The Hospitality Property School PODCAST here
keystonehpd.com/hospitality-property-school-podcasts
.
.
YouTube
.
.
A Division of Keystone Hospitality Property Development
.