Welcome to INNsider Tips.
In today's INNsider Tip, I will talk about More Ways to Surprise Guests.
.
.
In the last INNsider Tips episode #54, I talked about ways to surprise guests.
.
The following are some other ideas we have seen.
Handwritten notes left on a pillow saying "Have sweet dreams" and "Have a pleasant sleep".
.
Take-home puzzles of the property are left in rooms of families with children.
.
One property I stayed at was so proud of the cleanliness of their rooms, they challenged you to find dirt.
Under the bed was a card that said that "yes we clean here, and for finding the card come to the desk for a free speciality coffee".
.
I was travelling with a group in Newfoundland and Labrador, Canada and when we checked in, the front-desk employee offered each of us a small plate of a local fish speciality, cod cheeks & tongue.
This is something that I probably would not have chosen from a local menu, but they were delicious!
This happened 20 years ago and it's still a great memory.
.
After a week on the road in Ireland, my wife and I checked into a bed & breakfast in Galway. We had laundry to be done and ask the owner for the closest laundromat we could take our wash.
She said "you'll do no such thing", took our wash and told us to go enjoy the sights.
.
When we arrive back, the wash was done and neatly folded in our room.
.
These were little extras that would not have been missed if not done, but have since become memories and stories to be shared.
.
If at all possible, when a guest checks out, do not let them leave empty-handed.
.
These are items that should not be expensive but are tangible, such as:
A coffee mug and cover with the property logo, filled with coffee.
.
A reusable water bottle with the property logo.
.
A small book with the history of your property or region
.
Your house speciality or local recipe
.
.
The small framed picture of the property or region
.
Something in the region is known for, i.e. chocolate, jams, or fruit
.
The ideas are endless.
.
Remember, your goal is to stand out from your competitors.
.
That is it for today's INNsider Tip.
.
If you haven't done so yet, make sure to subscribe, so you don't miss any future tips and make sure to join one of our groups that best serve your needs.
.
You can subscribe at
https://keystonehpd.com/ways-to-surprise-your-guests-innsider-tips-054
.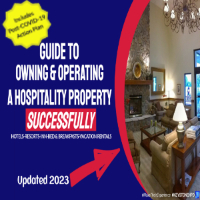 .
Take advantage of the Courses May Sale https://courses.keystonehospitalitydevelopment.com/
Use code – celebrate50
.
.
To find your best group option visit
https://keystonehospitalitydevelopment.com/private-groups
.
.
Get Your INNsider Tips
.
.
That's today's INNsider tips.
Until next time, have a fun day.
.
A Division of Keystone Hospitality Property Development
.