Welcome to INNsider Tips.
In today's INNsider Tip, I will talk about More Ways to Empathize with Your Guests.
.
.
In the last INNsider Tips episode #52, I shared six ways to empathize with your guests. In this episode, I will give you seven more.
.
Time Management Skills
If you're dealing with two situations at the same time, or a situation where you do not know the answer, find the best person available to help you.
.
Ability to "Read" Customers
You won't always be able to see customers face-to-face, and in many instances, you won't even hear a customer's voice!
Look and listen for subtle clues about their current mood, patience level, and personality.
.
A Calming Presence
This is the ability to stay calm and even influence others when things get a little hectic.
.
Ability to Handle Surprises
It is in these situations when it is best for you or an employee to be able to think on your feet… but it's even better to create guidelines for yourself in these sorts of situations.
.
Persuasion Skills
If you have a property that offers additional services or products, being able to upsell is a skill that can be beneficial to both your employees and your business.
.
Resolve
A great work ethic and a willingness to do what needs to be done is a key skills when providing the kind of service that people talk about.
.
Willingness to Learn!
This is probably the most general skill on the list, but it's still necessary. If you're following the guidelines I have shared so far, this is a skill that you definitely have.
.
That is it for today's INNsider Tip.
.
If you haven't done so yet, make sure to subscribe, so you don't miss any future tips and make sure to join one of our groups that best serve your needs.
.
You can subscribe at
https://keystonehpd.com/more-ways-to-empathize-with-your-guests-innsider-tips-053
.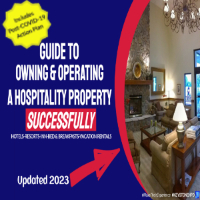 .
We cover more on independent hotels, resorts, inns, bed & breakfasts, vacation rentals in
"The Guide to Owning & Operating a Hospitality Property – Successfully" course.
You find more information at KeystoneHPD.com/course
.
.
To find your best group option visit
https://keystonehospitalitydevelopment.com/private-groups
.
.
Get Your INNsider Tips
.
.
That's today's INNsider tips.
Until next time, have a fun day.
.
A Division of Keystone Hospitality Property Development
.