Welcome to INNsider Tips.
In today's INNsider Tip, I will talk about Improving the Work Atmosphere.
.
.
Enhancing the work atmosphere, how can you do this? You can start by having fun.
.
The workday can be as fun and as exciting as your property wants to make it.
.
Many successful hospitality property owners that I've talked to over the years have one thing in common, they enjoy what they do. Not that every day is a barrel of laughs, but there is enough happiness generated over time to see them through the rough times.
.
Here are some examples of things you could try:
Encourage your employees to take a few minutes every day to get out and walk around.
It has been proven that just a few minutes can energize the body and boost creativity.
.
Let your employees make their work environment a place they enjoy being.
For example, housekeepers keep notes of thanks or pictures of their family or vacation in their work area.
Any memento from a pleasant experience that might make them smile when they look at it.
.
Yes, professionalism is very important, but that doesn't mean you can't smile or joke. A smile or a laugh can be contagious and when you're happy, endorphins are released, which are natural pain and stress relievers.
.
Compliment your co-workers every day
You'll actually feel just as good giving the compliment as you do receiving it.
.
Check-in with your colleagues
Just saying "hi" or dropping a note to see how they're doing can brighten up everyone's day significantly.
.
If someone is always willing to go the extra step, let them know how meaningful that is, which makes any workday better.
.
If you're lucky enough to find something you're good at and love doing, you're less likely to think of it as "just work."
.
You don't have to come up with these ideas yourself. Go online for ideas or ask your employees.
.
Giving employees a few minutes a day to cut loose can make them much more appreciative and productive when they do need to put their noses to the grindstone.
.
That is it for today's INNsider Tip.
.
If you haven't done so yet, make sure to subscribe, so you don't miss any future tips and make sure to join one of our groups that best serve your needs.
.
You can subscribe at
https://keystonehpd.com/employee-responsibility-innsider-tips-046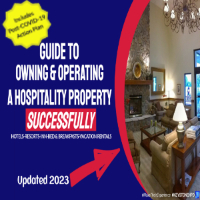 .
We cover more on independent hotels, resorts, inns, bed & breakfasts, vacation rentals in
"The Guide to Owning & Operating a Hospitality Property – Successfully" course.
You find more information at KeystoneHPD.com/course
.
.
To find your best group option visit
https://keystonehospitalitydevelopment.com/private-groups
.
.
Get Your INNsider Tips
.
.
That's today's INNsider tips.
Until next time, have a fun day.
.
A Division of Keystone Hospitality Property Development
.