Welcome to INNsider Tips.
In today's INNsider Tip, I will talk about How to Handle Conflicts.
.
.
When you have more than two people working together 8 hours a day, day after day, week after week, month after month, year after year you're going to eventually have some issues.
.
Minor issues will quite often take care of themselves, but those that blow into major issues can be very disruptive and stressful.
.
In any situation like this, you want to nip it in the bud immediately.
.
A good start is to let all employees know from day one that your door is always open. You have to create a safe environment in which employees feel comfortable, can be honest, and openly voice their frustrations.
.
Encourage them to come to you with any problems, and make sure all conversations held in your office remain completely confidential.
.
This is very important when responding to conflicts.
.
You have to be neutral and keep an open mind. Ask questions, and really listen to the answers, so you understand how each person in the dispute feels.
.
Here, you can help the two parties reach a resolution that's acceptable to everyone. If you have a policy in place in your operations manual for this type of situation, use it. If the policy is to blame, change it and if there is no policy for this issue, and you feel one is justified, add it.
.
That is it for today's INNsider Tip.
.
If you haven't done so yet, make sure to subscribe, so you don't miss any future tips and make sure to join one of our groups that best serve your needs.
.
You can subscribe at
https://keystonehpd.com/how-to-handle-conflicts-innsider-tips-044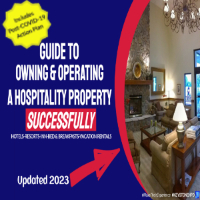 .
We cover more on independent hotels, resorts, inns, bed & breakfasts, vacation rentals in
"The Guide to Owning & Operating a Hospitality Property – Successfully" course.
You find more information at KeystoneHPD.com/course
.
.
To find your best group option visit
https://keystonehospitalitydevelopment.com/private-groups
.
.
Get Your INNsider Tips
.
.
That's today's INNsider tips.
Until next time, have a fun day.
.
A Division of Keystone Hospitality Property Development
.