Welcome to the INNsider Tips.
In today's tip, I am going to be taking a closer look at how to design an operations manual.
.
.
If you missed any of the past five tips about setting up your organizational strategy, it will be worth your while to go back and check them out before moving on.
.
If you're up to speed you have assigned the right people for each job necessary to operate your property, determine the specific tasks for each job and what is required to complete each task. This was to be done in an easy-to-follow, step-by-step checklist form.
.
When all the checklists are completed and compiled you have a working "Operations Manual".  
.
I would now like to dive into the actual operations manual itself, what is it going to look like, and how is going to be used.
.
When opening up your completed operations manual, you should have nothing but a series of checklists and the checklists should be easy to find. 
.
To do this you divide your checklists into categories and each category is assigned a colour.  
For example,
.
.
.
.
.
And on, and on, you get the idea.
Each checklist details the specific steps each housekeeper, front-desk agent, maintenance person, accountant etc, must take to do their job.
.
The checklists have to be very specific, with step-by-step instructions on what to do and in what order. 
.
That is it for today's tip. Make sure to subscribe so you don't miss any future tips and make sure to join one of our groups that best serve your needs.
.
You can subscribe at.
https://keystonehpd.com/how-to-design-an-operations-manual-innsider-tips-010
.
.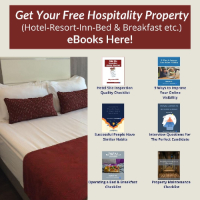 >Do you know how to get more views on your property's website?
>How about the right interview questions to ask to find the perfect employee candidate?
>Do you have a checklist for your bed and breakfast?
All these and more, are all available as eBooks and they are yours for free.
Help grow your business and get them now. You can find them at KeystoneHPD.com
.
.
Find your best group option visit
https://keystonehospitalitydevelopment.com/private-groups
.
.
Get Your INNsider Tips
.
.
That's today's INNsider tips.
Until next time, have a fun day.
.
A Division of Keystone Hospitality Property Development
.