.
.
A broken window at your hospitality property could cost you your business. Does this sound outrages?
I'll explain along with ways to enhance your housekeeping.
Welcome to another edition of Hospitality Property School.
I am your instructor, Gerry MacPherson.
 .
.
The Broken Window Theory Introduction
The broken window theory was introduced in a 1982 article by social scientists James Wilson and George Kelling.
.
It reads; Something as small and seemingly insignificant as a broken window sends a negative symbol to those that pass it each day, indicating that the owner of the building doesn't care enough. The result is more broken windows. Before long, a negative perception of the building and the area is formed leading to more and more urban decay and crime.
.
The principle of Broken Window can have the same effect on your business.
.
If your property isn't up to standard and feel safe for your guests when things return to the 'new normal', it will not take long for them to form a negative impression.
.
Along with your customers, your most valuable employees will seek opportunity elsewhere.
.
You will experience more complaints and less revenue. The result, could be the end of the business.
.
.
How you can prevent this from happening
Think of your customers. What do they see when first locking eyes on your property?
.
Is the sign faded?
.
Is there garbage in the parking lot?
.
Is your property in need of a paint job?
.
Is the lobby cluttered?
.
Are the windows cracked?
.
The customer observes all this before they walk up to the front desk. You could have the nicest rooms but, what is this passer-by's perception?
.
If you aren't obsessed with the details in your business, there will be a competitor who is. Your customer's perception is vital. Allow too many broken windows and you will lose your loyal guests to a brighter, shinier competitor. Your customer will simply walk past.
.
Are you going above and beyond the call of duty to meet your customers' expectations?
.
Are you living up to your brands promise?
.
Is your advertised product what you promise it to be?
.
Are you prepared to fire any employee who consistently delivers bad service?
.
Are you just hiding the cracks in the window or fixing them?
.
Sometimes we stop noticing the small things that are broken, but now is the time to step back and fix the small things.
.
Spelling mistakes on property material, a coffee stain on a waiter's shirt, a rude or disinterested receptions answering your phone, a dirty glasses in the rooms, or a stubborn attitude. These are all broken windows.
.
Attention to detail demonstrates competence and a company that cares about their guest. Once you have decided to fix everything that is broken, you'll stay ahead of the competition and survive one of the toughest trading periods we have ever experienced.
.
Fix your windows!
.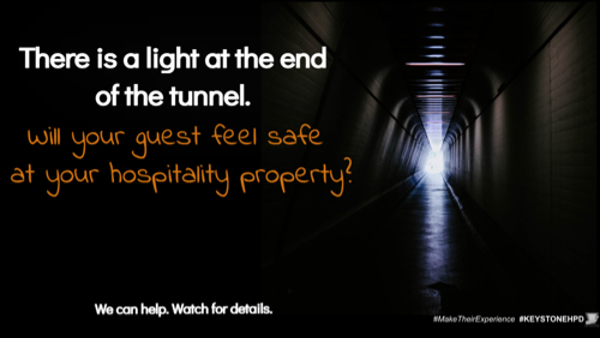 .
While often not at the forefront of hospitality property owners or managers minds, housekeeping is arguably one of the most important departments on a property.
.
Your housekeeping team takes care of the "house" that you invited your guests into and concentrates on the main product of your property's operation – the rooms.
.
With COVID-19, housekeeping has become more critical than ever.
.
Those teams put their health at risk to look after the other staff and guests and even once the worst of the virus is over, the threat is unlikely to disappear overnight. Once hospitality properties can reopen safely, guest attitudes and your operations will likely be impacted in the long-term.
.
Before the virus, 78% of property guests felt cleanliness to be the most crucial factor affecting their accommodation choice. Post-Covid-19 that percentage will increase, as guests will expect the highest standards of sanitation to feel comfortable.
.
For this reason, it is imperative that hospitality property owners and managers work with their housekeeping teams to better prepare for these impacts after re-opening.
.
Keep in mind: searches for 'book a hotel' have plunged since the beginning of the pandemic, but searches for 'are hotels safe' are at their highest-ever level.
.
.
Where to start
Stay on top of health guidelines. The best place to start is with the WHO's, Coronavirus disease (COVID-19): Staying at hotels and accommodation establishments guidelines, and then research your local guidelines.
.
Partner with a local or regional cleaning company to use their product and post product signage around the property.
.
If you haven't reviewed your cleaning policies and housekeeping practices, now is the time.
.
Talk with your housekeepers. Most housekeeping departments I have witnessed are comprised of very hard-working individuals who take a lot of pride in their work and contributions to a property as a whole.
.
The expertize they have could be invaluable when it comes to suggesting procedural changes.
.
Making sense so far? Let me know in the comments
.
Anticipate the questions guests will have about your cleaning standards and proactively provide the answers wherever guests are searching.
.
Cleaning has traditionally been a back-of-the-house or behind-the-scenes tactic, now is the time to bring it center stage. Let your guests see what you're doing.
.
Best practices such as the wearing of gloves and cleaning agents have remained the same but put a greater emphasis on disinfecting surfaces and high touch areas such as elevator buttons, door handles and faucets.
.
.
Plan for increased room cleaning times to account for additional sanitation measures.
.
Assign location-based room assignments to save time and reduce cross-contamination.
.
Housekeeping managers should stay in touch with room attendants and use online platforms to help with any retraining.
.
Include with the room information packet, a pamphlet signed by the housekeeping team that details the steps taken to maintain the room's hygiene and guests' health.
.
It could also be beneficial to wrap more items in plastic/paper after a room's turnover to help signal sanitation measures to wary guests.
.
Many standards that had to be put in place during the virus, such as installing automatic hand sanitizer dispensers in public areas, should be kept long after the passing of the crisis.
.
After re-opening, guests will have a keener eye on the work of the housekeeping team, which is why they need to be prepared.
.
If you are a member of the Hospitality Property School Group, I'm going to give you four more strategies to safely prepare for the return of property events.
.
.
In conclusion
With occupancy rates low in most properties, now is the perfect opportunity for hospitality property owners and managers to work with their teams and make sure they're mapping out how they're going to clean the rooms, how they're going to be efficient and how they're going to keep their guests and employees safe.
.
At the end of the day, the plans you create and implement should make your housekeeping team more efficient when tackling additional hygiene measures that are necessary post-COVID-19.
.
Following the steps outlined in this "Ways to Enhance Your Housekeeping" episode will help reassure your guests to stay at your property more than once. We encourage you to begin reflecting on how specific departments, like housekeeping, can be improved and leveraged in time for when thing return to the 'new normal'.
.
Have you found ways to enhance your housekeeping process?
Let me know in the comments.
.
You will have access to this episode for the next six weeks and then it's locked in the vault for Hospitality Property School Group members only. 
To see all the other valuable material you'd have access to as a member of the Hospitality Property School Group, check out the short video in the episode post-show notes.
.
.

.
.
In the next episode, I will talk about how revenue management can support your cash flow.
.
.
That's it for today's episode,
Until next time, have a fun day.
.
Are you getting your weekly INNsider Tips? You can find the link in the show notes.
.
⇒ TO READ OR LISTEN TO THIS EPISODE ON KEYSTONE HOSPITALITY PROPERTY DEVELOPMENT:
https://keystonehpd.com/ways-to-enhance-your-housekeeping-guaranteed-ep-252
.
.
Get Your INNsider Tips
.
.
Join one of your private groups
https://keystonehpd.com/private-groups
.
.
Say hi on social
Facebook: https://www.facebook.com/KeystoneHPD
.
Twitter: https://twitter.com/KeystoneHPD
.
LinkedIn: https://www.linkedin.com/company/keystone-hospitality-development
.
.
Listen to The Hospitality Property School PODCAST here
keystonehpd.com/hospitality-property-school-podcasts
.
.
YouTube
.
.
A Division of Keystone Hospitality Property Development
.