.
.
As more and more countries begin their reopening, how can you make sure your hospitality property message doesn't get lost in the clutter.
I'm talking about messaging to guests.
Welcome to another edition of Hospitality Property School.
I am your instructor, Gerry MacPherson.
.
.
Is there a no-fail way for a hospitality property to avoid getting lost in the crowd as they get ready to open up again?
.
The simple answer is – No.
.
However, is that there are key steps hoteliers and innkeepers should consider as you start communicating with former and potential guests.
.
.
Messaging to Guests Introduction
Keep guests up-to-date
Once all your policies are in line and your employees are on board, an easy way to reassure guests of your hygiene standards is to set up a dedicated page on your website. If you are currently open, another quick and simple way to reassure guests is to take your 'cleanliness' ratings from your OTA listings and display them prominently on your site. Potential bookers care what other guests have to say as much as they care about your official policies.
.
In terms of how you communicate the details of your COVID-19 policies, keep your content simple, well-structured and reassuring in tone and if you have the available resource, consider a short video that demonstrates the measures you have put in place. If you don't have the resource to film your own content; a slideshow-style reel of text over images may well be enough to get your key messages across.
.
.
Get to the point quickly
Don't be wishy-washy with your messaging, get to the point as quickly as possible, so that it is impossible to ignore. Benefits and incentives – if they are appealing and relevant – always increase bookings.
.
A strong lead in your message will compel people to continue and to hopefully act. In this environment, your readers do not have the time to wade through subtle approaches, so be sure to let your potential guests know immediately "what's in it for them."
.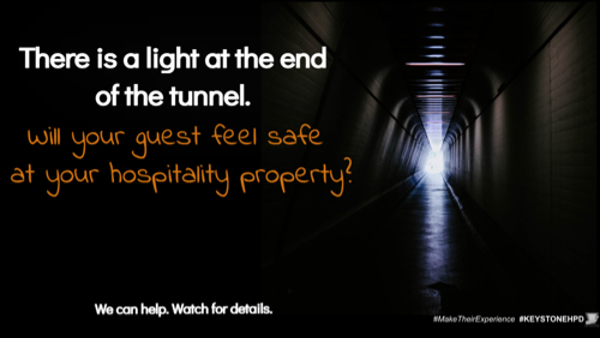 .
Choose your images and words carefully
Headings, pictures, videos and captions tend to attract the most attention whether you are using a traditional or non-traditional form of advertising.
.
Reader's eyes tend to scan for keywords or images they are either searching for or which are particularly relevant to them so, make sure your headline is concise, and your key message, benefits and incentives are prominently featured wherever the reader's eye might land.
.
.
Close the deal 
Your messaging should provide every reason why your prospective guest should respond. The copy should overcome any reasonable objection they might have and then, ask for the booking.
.
.
Give reasons to believe what you are saying is true
Why should anyone take your word?
.
For this reason, you should consider including testimonials and recognitions of your property in your messaging if room allows.
.
If you do not have a testimonial file, start building one. To do so, just ask your customers to tell you what they think.
.
.
Show people at your property
"How often have you looked at pictures of different hospitality properties and there aren't any people?" People look at people (or pets). Make it easy for your potential guest to relate and to see themselves at your property.
.
.
Avoid wasting space
Every word, picture and offer must contribute to the message you are trying to communicate. If you can't see the consequence that each word or sentence should deliver, take it out. You are wasting your reader's time.
.
.
End on a strong note
Every element in an ad, email, landing page, video, post, etc. needs to be strong if you are going to get results. The most important elements, the opening and the close. The close should be powerful and persuasive, to compel them to act. You also must make it easy for your prospects to respond. You got them this far. Make sure you get the booking.
.
It is important to recognize the implication and possible impact of your messaging. As the world's economy slowly starts moving again – and travelling again – it is utterly important to make your message stand out and be seen.
.
Do these make sense? Let me know in the comments.
.
What about messaging to guests when you see them face-to-face
Although important, great customer service is more than your policies and procedures, your smile, positive words, and open body language are just as important, and to some even more important.
.
Since a lot of open properties require guests to wear a facemask – as well as all employees – it's almost impossible for your guests to see your smile. But a smile can be felt through the words you say and how you say them.
.
.
Speak expressively
We need to be more expressive with our greetings during this time of mask-wearing. Instead of simply saying "good morning" to your guest, stretch out your greeting like this – "Gooood mooorning".
.
Vary the pitch of your voice to imply excitement or happiness.
.
Make eye contact, and acknowledge their presence. Remember, you must be heard through your mask and may even need to speak louder. By taking these steps, your words may be muffled but the feeling will be felt and valued.
.
.
Upbeat body language
Use upbeat body language. Take an open stance and face your customer. Don't cross your arms or keep them behind your back. A face-up palm conveys openness and honesty when speaking to or directing your guests.
.
.
Words have special meaning
Follow up with phrases like these and smile, even under your mask.
.
To returning guests:
It's great to see you. How have you been?
.
To all guests:
I'm so happy you came in today.
.
Is there anything else I may help you with today?
.
I appreciate you stopping by. Hope to see you soon.
.
Thank you for your business.
.
You get the idea.
.
For nervous guests who have been housebound, these words could have special meaning now. How you say them can make a difference.
.
Be animated, move freely and it's ok to wave goodbye. It may even be preferable because it's an outward show of how much you care. Many guests will need to feel the warmth of communication and the welcome of renewed friendship.
.
There's a reason guests book with you. Let's reinforce the reason(s) with your ability to put your customers at ease.
.
These are also good rules of thumb for the future.
.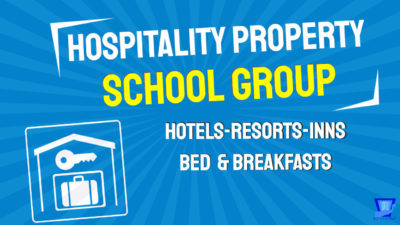 .
.
If you are a member of the Hospitality Property School Group, I am going to share an extra section with ways to message your employees.
.
.
.
.
In conclusion
Your hospitality property's individual situation and people management plan will greatly rely on the impact of COVID-19 on your region. This will make positive messaging to guests imperative to your success.
.
This unprecedented situation creates a lot of unknowns, especially regarding the re-opening and continuation of operations per usual.
.
That being said, it is essential that we remain positive as we continue to learn and adjust to the current situation. This experience will prove that your property and employees are capable of handling more than ever thought possible.
.
Have you developed a plan to message your guests?
Let me know in the comments.
.
You will have access to this episode for the next six weeks and then it's locked in the vault for Hospitality Property School Group members only.
To see all the other valuable material you'd have access to as a member of the Hospitality Property School Group, check out the short video in the episode post-show notes.
.
In the next episode, I will talk about your employees and the pandemic.
.
That's it for today's episode,
Until next time, have a fun day.
.
Are you getting your weekly INNsider Tips? You can find the link in the show notes.
.
⇒ TO READ OR LISTEN TO THIS EPISODE ON KEYSTONE HOSPITALITY PROPERTY DEVELOPMENT:
https://keystonehpd.com/the-importance-of-messaging-to-guests-matters-more-than-ever-256
.
.
Get Your INNsider Tips
.
.
Join one of your private groups
https://keystonehpd.com/private-groups
.
.
Say hi on social
Facebook: https://www.facebook.com/KeystoneHPD
.
Twitter: https://twitter.com/KeystoneHPD
.
LinkedIn: https://www.linkedin.com/company/keystone-hospitality-development
.
.
Listen to The Hospitality Property School PODCAST here
keystonehpd.com/hospitality-property-school-podcasts
.
.
YouTube
.
.
A Division of Keystone Hospitality Property Development
.