.
.
There's no denying that the pandemic has wreaked havoc on the hospitality property industry. This has left many of us feeling overwhelmed and fearful, not sure how to adapt through Covid-19.
I have a checklist that will help.
Welcome to another edition of Hospitality Property School.
I am your instructor, Gerry MacPherson.
.
.
What we can say for certain, as history has proven, is that we're a resilient industry, and that market volatility is something we must accept. With this in mind, preparing as best as you can for unexpected events can go a long way in helping weather unwanted economic events or sudden downturns.
.
I have gathered some functional tips and put together a 17 part checklist to help you adapt through Covid-19 and adjust to a 'new normal'.
.
.
How to Adapt through Covid-19 Checklist
Be prepared to alter your business plan
Seasonal fluctuations are nothing new to the hospitality property industry and having a quiet season or even a shutdown for a short time is normal. With this downturn, you might want to consider other ways that you can leverage any opportunities in order to make up shortfalls in the future.
Where could you make up revenue? Research, to see if there are events, promotions or incentives you could take advantage of once the market begins to pick up again.
.
.
Talk to your accountant
Your planned 2020/21 budget is no doubt out the window. Use the knowledge and experience of your accountant or advisor to help you get a true and clear picture of your current financial situation, and projected performance. At times of uncertainty or volatility, it's so important to understand where your business is financial.
Get a clear understanding of any support that may be or if other agencies such as tax and business liabilities are offering some leniency.
.
.
Operate efficiently
Keeping a close eye on expenditure and operational efficiency puts you in the best position to react to and manage economic downturns. When you have complete visibility over your business, you can see exactly where costs can be reduced or efficiencies tightened.
.
.
Review & adjust your standard operating procedures
Evaluate the processes around guest check-in, check-out and on-site service.
Do you need to modify your lobby environment that ensures social distancing rules are observed?
Do you need to source contactless payment machines?
Do you need to adjust the cleaning procedures around shared facilities such as spas, pools, or gym facilities?
What other measures need to be put in place to ensure the safety of your guests and your staff in all areas of your property?
Factor in these changes so that you're already prepared to safely and confidently welcome guests when you can.
.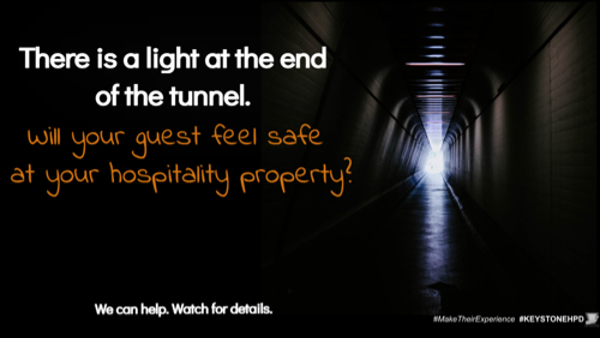 .
Consider new staffing prototypes
Explore different staffing prototypes and choose one that may allow you to maintain staff, just with reduced or changed hours, therefore reducing payroll costs. This will allow you to retain good staff, and scale up again once restrictions are lifted and things start to pick up.
Work through a hierarchy of responsibilities and requirements, and understand your financial obligations should you need to let your employees go.
.
.
Make sure all staff have access to information
With COVID-19 spikes happening in different parts of the world, at different times, specific guidelines are all over the place. Make sure you have the safest, most up-to-date guidelines in your region for cleaning, as well as precautions that must be followed in order for employees to protect themselves while at work.
Create clear standard operating procedures that must be followed and add them to your operations manual.
.
.
Assess supplier agreements
Check your variable costs and reduce where you can. Many suppliers are also facing challenges of their own and will be somewhat understanding and flexible if you approach them professionally and with transparency.
Cancel all non-essential accounts to limit outgoings to only critical fixed costs.
.
Are these making sense so far? Let me know in the comments
.
Maintain communication
Your staff, suppliers, and partners are all unsure about the future. Good communication brings comfort. Even if the news isn't always positive, being proactive and clear in your communication about the situation and developments as they happen is fair.
This goes for your guests as well.
Communicating with your guests should be more understanding, clear and factual when you share it. Let your customers know that you are there for them. You may not be able to change things, but can have compassion and adapt to the circumstances.
.
.
Bookings management
Occupancy restrictions are in position in most places. Use your property management system (PMS) to enable 'out of order' room designation so you can track these accurately. You'll need to determine which rooms are out of use by considering social distancing requirements and the use of amenities such as elevators or stairwells.
.
.
Managing cancellations
In instances like the Covid-19 outbreak, it's reasonable to be waiving cancellation fees.
Doing right by your customers with empathy and understanding in the short term potentially leads to long-term loyalty and guest satisfaction.
Of course, it's worth offering your guests the option to re-book or hold on to the booking credit should they wish. Many customers are also conscious of continuing to support hospitality businesses and are themselves choosing to not request a refund and instead delay their booking.
.
If you are a member of the Hospitality Property School Group,
you will have access to 7 more ways for your hospitality property to adapt to Covid-19.
.
.
In conclusion
Evaluating your regional situation, streamline your operations processes, researching if and how your target market may fluctuate and establishing a marketing plan puts you in a good position to take action once you have more certainty about what's ahead.
Sitting on your hands and waiting to see how things develop will not only leave you behind your competitors but out of the race completely. Following this 17-part checklist will not only help you adapt through Covid-19 but give you a huge advantage when adjusting to the 'new normal'.
 .
What ways are you adapting to prepare for when things return to the 'new' normal'?
Let me know in the comments.
.
You will have access to this episode for the next six weeks and then it's locked in the vault for Hospitality Property School Group members only. 
To see all the other valuable material you'd have access to as a member of the Hospitality Property School Group, check out the short video in the episode post-show notes.
.
.

.
.
In the next episode, I will talk about your property and cleanliness.
.
.
That's it for today's episode,
Until next time, have a fun day.
.
Are you getting your weekly INNsider Tips? You can find the link in the show notes.
.
⇒ TO READ OR LISTEN TO THIS EPISODE ON KEYSTONE HOSPITALITY PROPERTY DEVELOPMENT:
https://keystonehpd.com/how-to-adapt-through-covid-19-a-hospitality-property-checklist-251
.
.
Get Your INNsider Tips
.
.
Join one of your private groups
https://keystonehpd.com/private-groups
.
.
Say hi on social
Facebook: https://www.facebook.com/KeystoneHPD
.
Twitter: https://twitter.com/KeystoneHPD
.
LinkedIn: https://www.linkedin.com/company/keystone-hospitality-development
.
.
Listen to The Hospitality Property School PODCAST here
keystonehpd.com/hospitality-property-school-podcasts
.
.
YouTube
.
.
A Division of Keystone Hospitality Property Development
.